There is a nice transition between summer and fall in Maine where the weather is really perfect. It is not too hot, but it is still warm enough to wear sandals. My mom and I decided to take advantage of the beautiful weather and head to the coast of Maine for a little day trip.
You wouldn't think that there would be so many things to do and see in the little town of Rockland, Maine, but I assure you there is plenty. We didn't even have time to fit it all in. Before you head to the coast on your own adventure, check out my list of things to do in Rockland, Maine!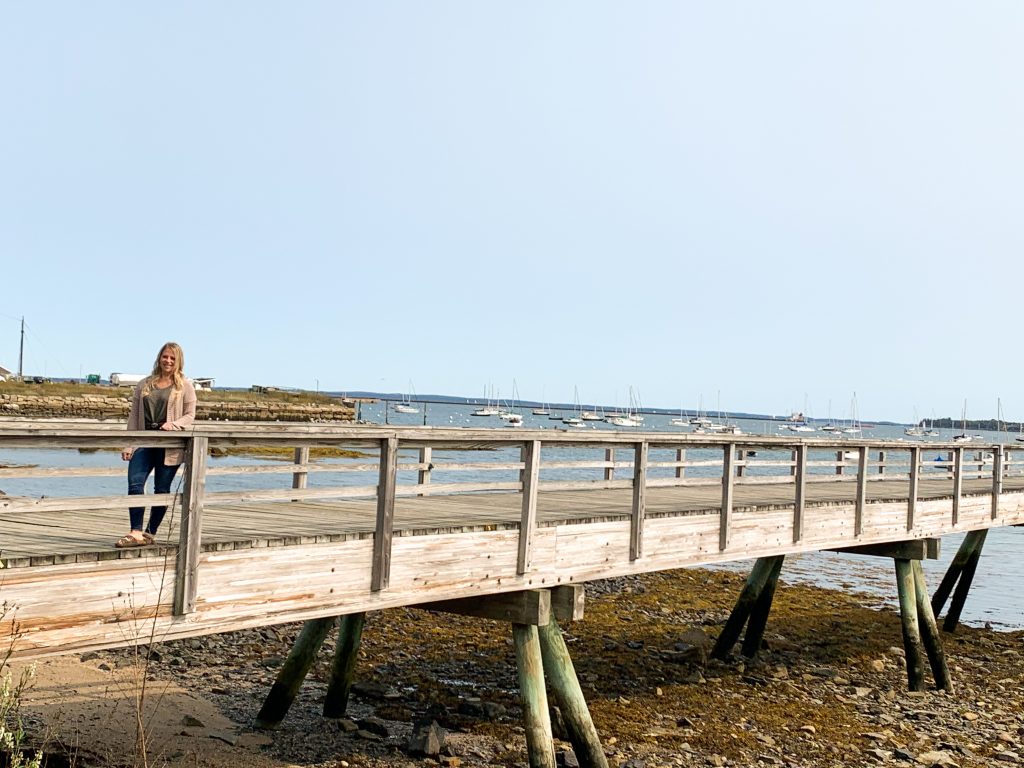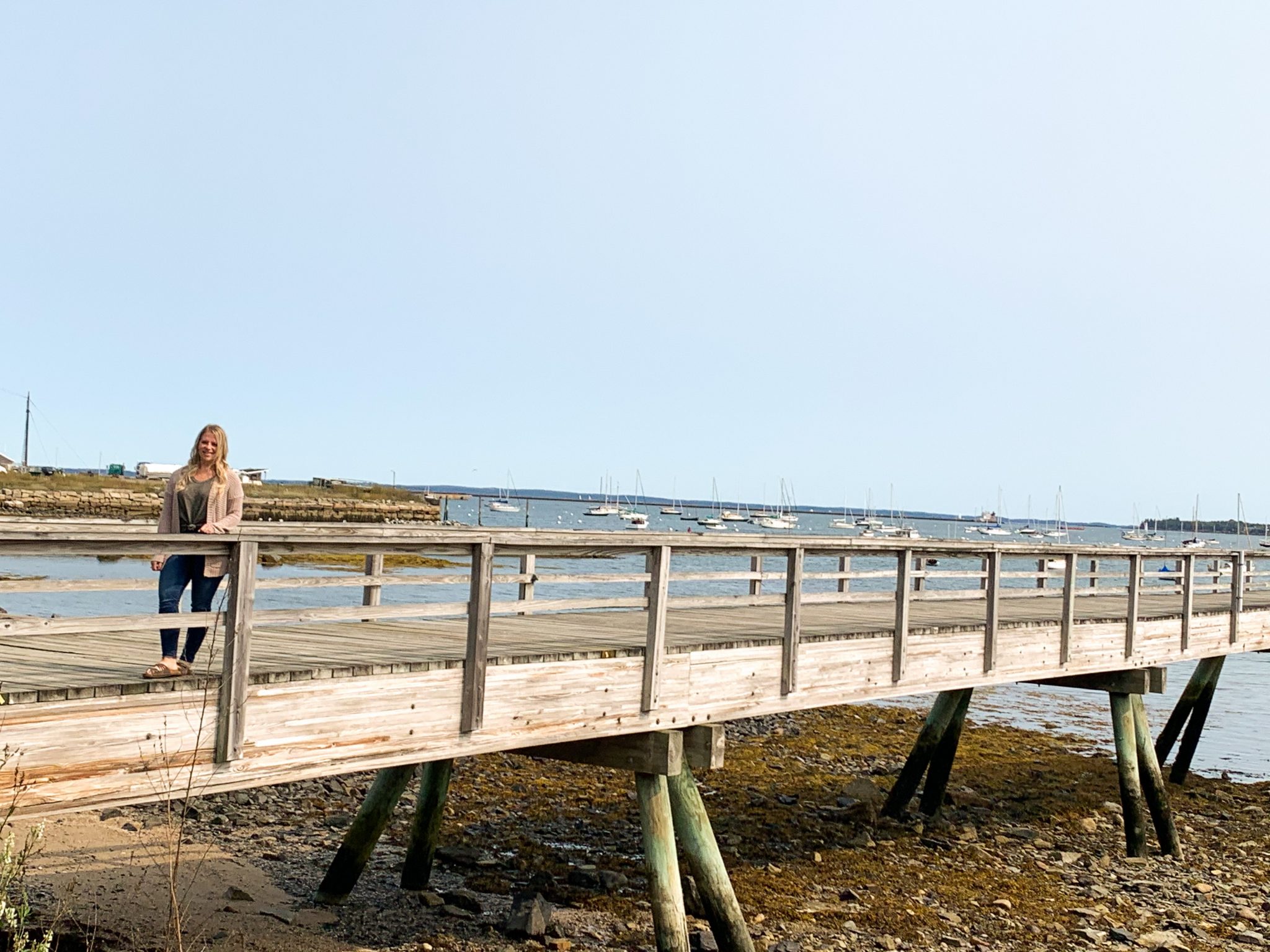 Down Town Rockland
We started our adventure in downtown Rockland so we could grab some coffee and something to eat. I recommend parking somwhere near Strand Theater and then you can see the full down town in Rockland. There are lots of locally owned shops and restaurants as well as a great view of the harbor.
Atlantic Baking Company
First on the list of things to do in Rockland, Maine is head to the bakery! The smell coming from this bakery was amazing and we found exactly what we were looking for. The bakery had a wide variety of breads, pastries, sweets, sandwiches and salads. We grabbed a croissant with prosciutto and cheddar and a coffee and went on our way to explore. I won't lie, after we were done with our day of adventuring, we went back to the bakery to grab some cookies and sweets for the ride home. The food was delicious and the staff was so friendly.
Main Street Markets
One of my favorite things to do when visiting a new place is to check out local markets. I love browsing the different snacks and drinks and picking out some new things to try. This market had lots of fresh produce and local goods. It was absolutely adorable and I loved perusing the shelves.
The Lobster Shack
If you guys know me at all, you know that I love a good lobster roll. I knew that we had to have lunch at The Lobster Shack and I was not disappointed. I ordered a lobster roll and my mom got half lobster roll and half crab. The outdoor seating area at the Lobster Shack is adorable and the perfect place to enjoy your food in the sunshine. The lobster roll came with a side of chips and a homemade pasta salad, which was fantastic. This lobster roll was especially good because the lobster meat and the butter were hot and the roll was grilled to perfection. If you aren't a fan of lobster rolls, they have other options including some seafood chowders that sounded delicious. This place is a must do on your list of things to do in Rockland!
Fiore
If you have never been to a Fiore location, I would highly recommend checking one out. Fiore is a Maine based company that specializes in artisan olive oils and vinegars. They use ingredients from Maine and around the world. At the Fiore locations you can sample their different oils and vinegars. We start off tasting the balsamics and we tried dark chocolate balsamic, pomegranate balsamic, italian herb balsamic and peach balsamic. We were also able to sample some vinegars. Lastly, we tried the olive oils. There were so many to choose from but we tried basil oil, garlic oil, butternut squash seed oil and a bacon oil. They were all so good!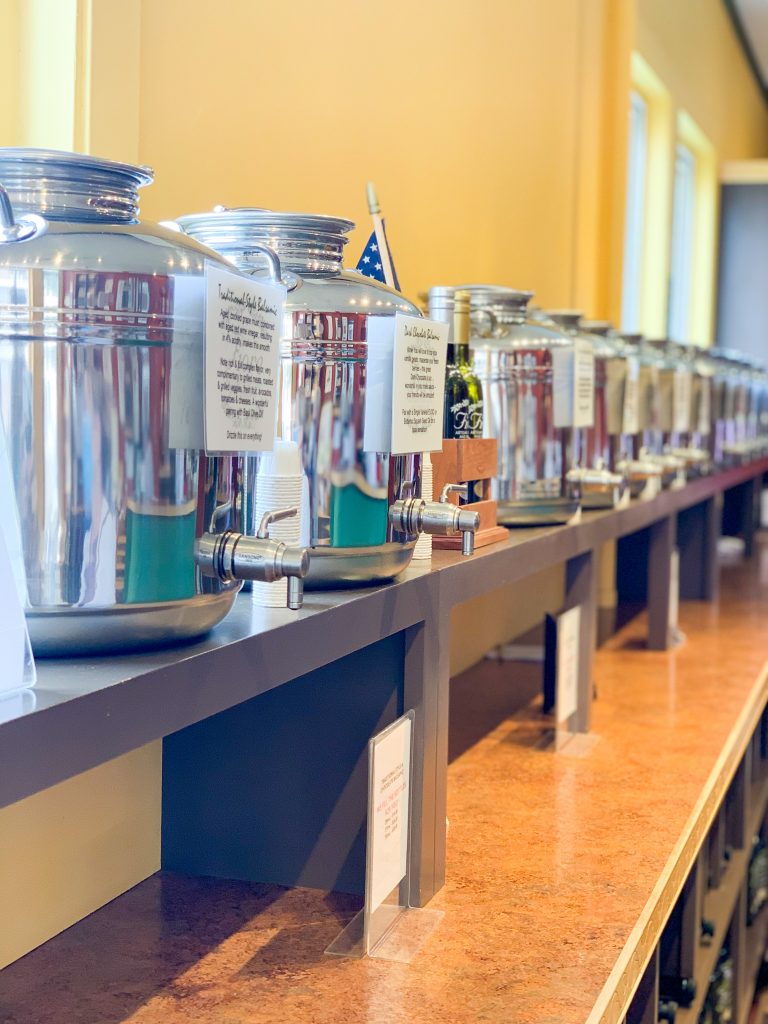 Chocolate Factory and Tasting
When we saw the sign that said chocolate factory tour and tasting, we were so excited. Unfortunately, the place was closed that day. If you are in the area stop by and see if they are open!
Shopping
Downtown Rockland has plenty of cute little local shops. I fell in love with the coastal home decor that I found in many of the shops. The staff were always very friendly and helpful. Since we went on a Tuesday, there were not a lot of people and we could roam around as much as we pleased. I love supporting local businesses.
Rockland Breakwater & Lighthouse
The Rockland Breakwater starts at the shore and stretches for just under a mile into the ocean all the way to the breakwater lighthouse. The entire path is made over 700,000 tons of granite and took almost 20 years to build. You can walk along the granite path from the shore all the way to the lighthouse and get the most fantastic views. You can climb the stairs to the top of the lighthouse for even better views.
Tips: There are no bathrooms or running water at the lighthouse. If it is raining or the waves are crashing onto the granite then the granite can be slippery. There is usually a cool breeze when you are out on the breakwater, so bring a jacket. The granite is a little uneven so wear comfortable shoes.
Rockland Harbor Trail
The Rockland Harbor trail is a 5.5 mile walking trail around the harbor with great views of the ocean. We had a little trouble finding this at first. The video I watched said that the trail started in Snow Marine Park. There is parking at Snow Marine Park, but you will have to walk along the road to get to the rest of the trail. We drove to a small parking lot located beside Archer's on the pier. This part of the trail was paved and has a small beach by it that we walked along and collected seaglass. We did not walk to entire trail, but according to the city website, you should be able to walk from Snow Marine Park to Rockland Breakwater.
Beaches
Our day trip to Rockland was too cold to lay on the beach, but there certainly are some nice beaches in the area. Whether you plan on soaking up the sun or taking a quick walk you can find a beach to enjoy.
Samoset Resort
On your drive to the breakwater, you will probably drive by the Samoset Resort. The Samoset is on my bucket list of places to stay. The resort is right on the ocean and has the most beautiful views. Accommodations include rooms, suites and guest cottages. Visit their website rooms and availability.
More Things to do in Rockland, Maine…
I told you in the beginning that we didn't get to everything on our to do list. But we had so much fun, that we started a list of things to do on our next trip!
Strand Theater
We parked near the Strand Theater, but never made it inside. This cute theater is a great place to catch a show, check out there showtimes online before hand!
Maine Lighthouse Museum
The lighthouse museum is a great place to learn about the history and traditions of Maine lighthouses. The museum also has a large collection of Coast Guard artifacts and history.
Rock Harbor Brewing Company
I love visiting of different breweries, but Rock Harbor Brewing Company wasn't open when we were visiting. This brew pub offers pints, flights and food. Check out their website to see what's on tap and their schedule for entertainment. This is at the top of our things to do list for our next trip to Rockland, Maine!
Farnsworth Museum
The Farnsworth Museum is an art museum located in downtown Rockland. The museum offers collections from some of the greatest American artists. You can read about the museum's history and learn about their exhibits on their website.
For more day trips in Maine, check out my other posts
Things to do in Augusta, Maine
Things to do in Bar Harbor this Summer