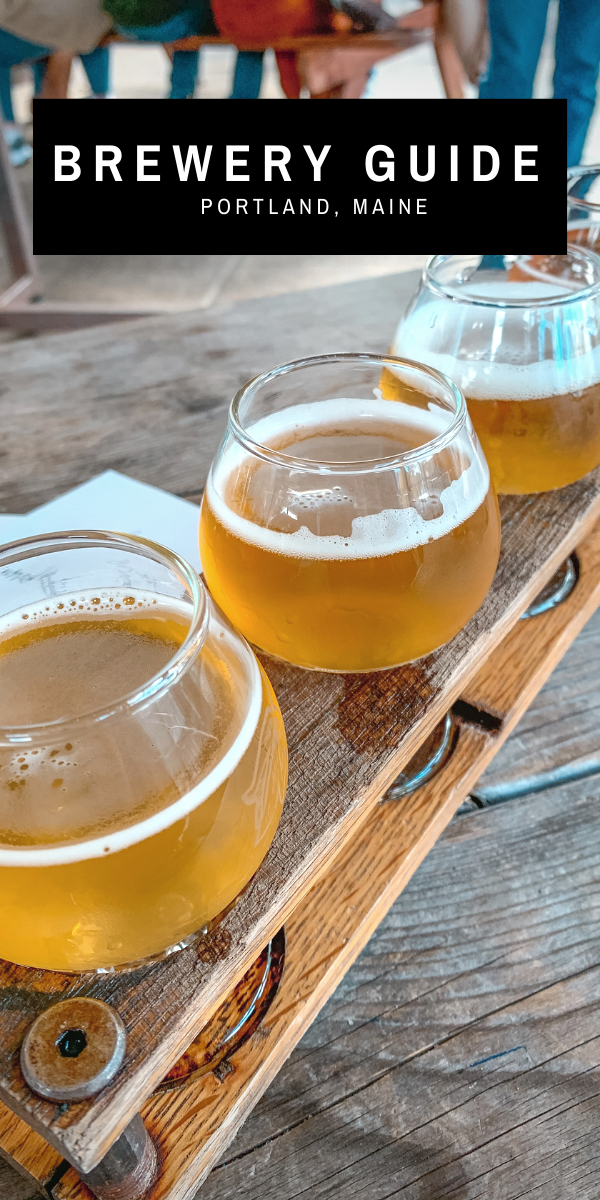 If you like craft beer, you have to visit Portland, Maine. The city offers many craft breweries that are coming up with new recipes and flavors all the time. Some areas of outer Portland (Westbrook) offer multiple breweries within walking distance of each other. You can also follow the Maine Beer Trail or take the Brew Bus around if you want to make a full day of it. In this post I cover some of the best breweries in Portland, Maine. I will start by saying I am no beer guru, but I like to try new things and I like to learn. These breweries have tasting rooms where you can enjoy what's on tap. Some also offer tours where you can learn about the brewing process for those that are interested. Trying new craft beers and visiting different breweries has become something we really enjoy.
My list of Portland breweries aren in no specific order (I love them all)
Shipyard is one of the larger and more well known breweries in Maine. In the summer time they offer their summer ale, a clean crisp wheat beer. As well as a smashed blueberry, a mix between a porter and a scotch ale with a taste of blueberry. A fall favorite is always the pumpkinhead, a crisp and refreshing pumpkin beer. The winter months include darker beers like nightwind. They also offer tons of year round options.
This brewery and restaurant has a great beer selection and fantastic food. The brewery has a few different locations in Maine, including a nice spot in the Old Port. Sebago offers year round beers as well as smaller specialty batches. If you make it to Sebago, you should try their Simmer Down, it is crisp, clean and refreshing!
With many locations in Maine and Florida, this is another brewery and restaurant that offers craft beer and great Maine eats. Seadog offers one of my personal favorite beers, Sunfish, a light bodied beer with peach essence and a grapefruit finish. Their menu offers a lot of authentic Maine seafood and great sandwiches.
Allagash is another one of Maine's largest and well known breweries. Their brewery offers tastings and tours at their Westbrook location. They have many year round options to chose from as well as some new brews and seasonal favorites. Their outdoor seating area is the perfect place to relax and enjoy a flight or play some cornhole. They allow dogs in their outdoor seating area. If you have never had Allagash before, you have to try their Allagash white, a Belgian style wheat beer.
You can find this brewery within walking distance of Allagash. There are actually four breweries right across the street from Allagash at Industrial Way. The brewers have over 25 years of brewing experience and continuously keep their beer menu exciting. Battery Steele is always offering new flavors and has a wide variety of styles to try at their tasting room. Grab a flight and try them all!
Also located in Industrial Way, this brewery offers a variety of flavors. You can try their year round favorites, which are also offered in cans at many local retailers. Their tasting room has rotating taps of some of their limited editions and series beers. I personally love some of their sours and fruited options.
This brewery started as a one barrel brewing systems and has grown to 160 barrels of fermentation space at their two tasting rooms. Their tasting rooms are located at Industrial Way and Fox Street. Austin street offers an excellent variety of styles and flavors to satisfy any craft beer lover.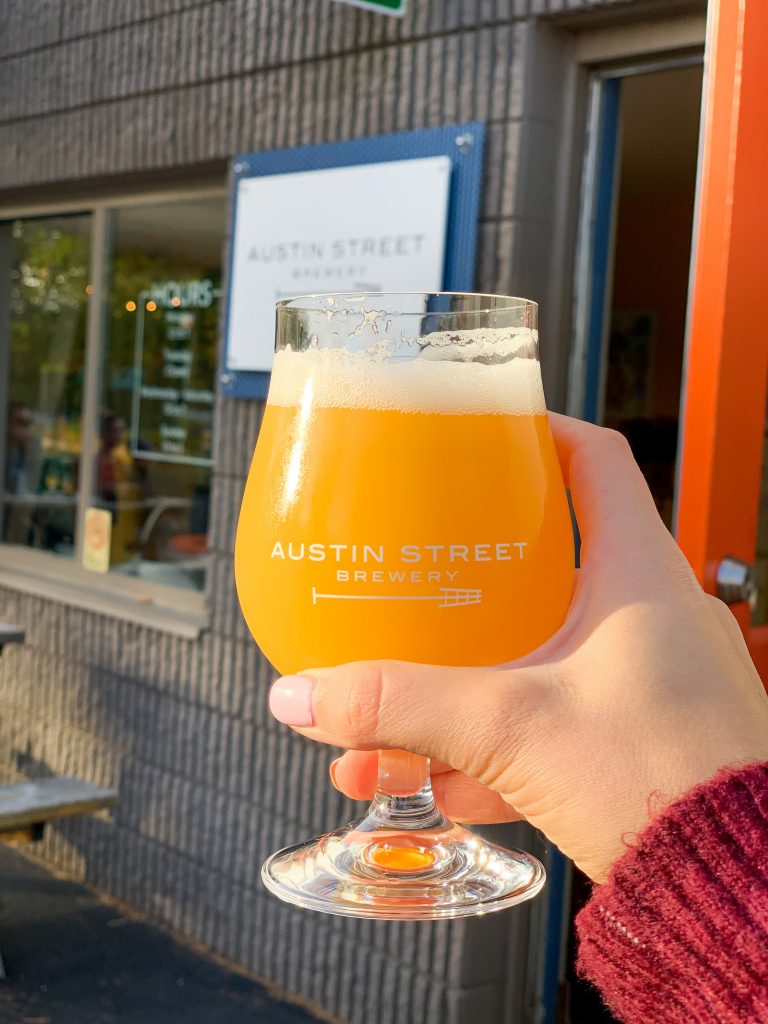 Another brewery that made its way to Industrial way is Definitive. The first time I went to the Portland location, I was impressed with their outdoor seating area. Plus, they had a food truck! Definitve makes a cookies and cream stout called stuffed that you have to try if it is available. So good! I am also a huge fan of their Portals flavors. Definitive has a wide variety of styles and flavors as well as some wild combinations. There is something for everybody!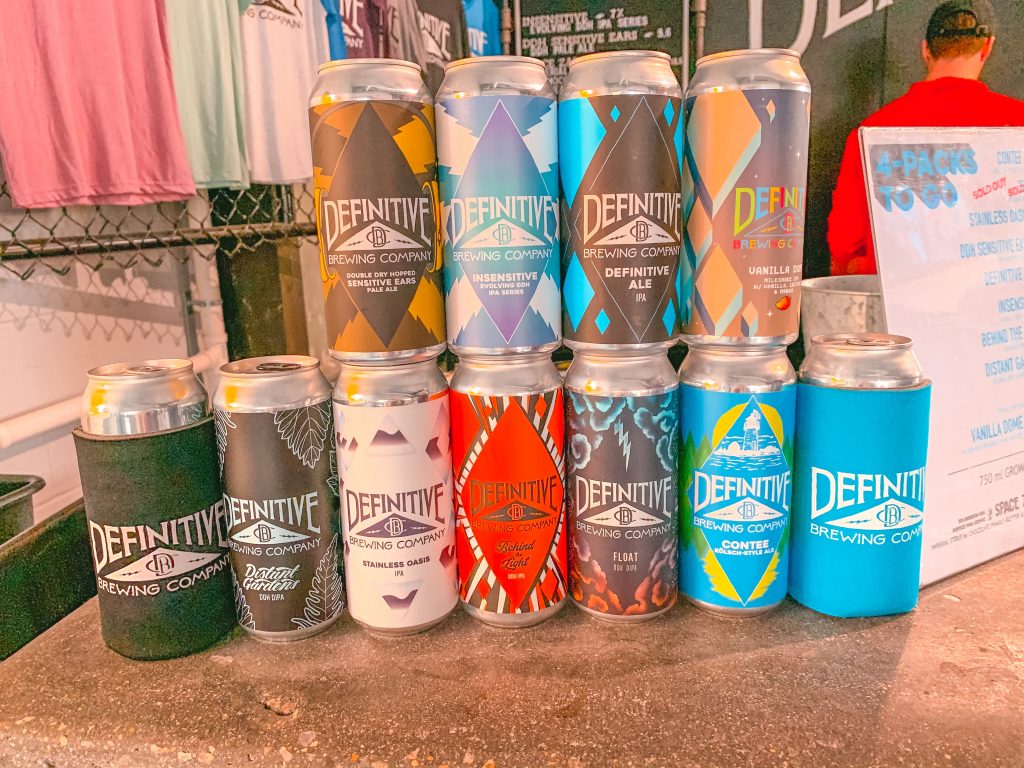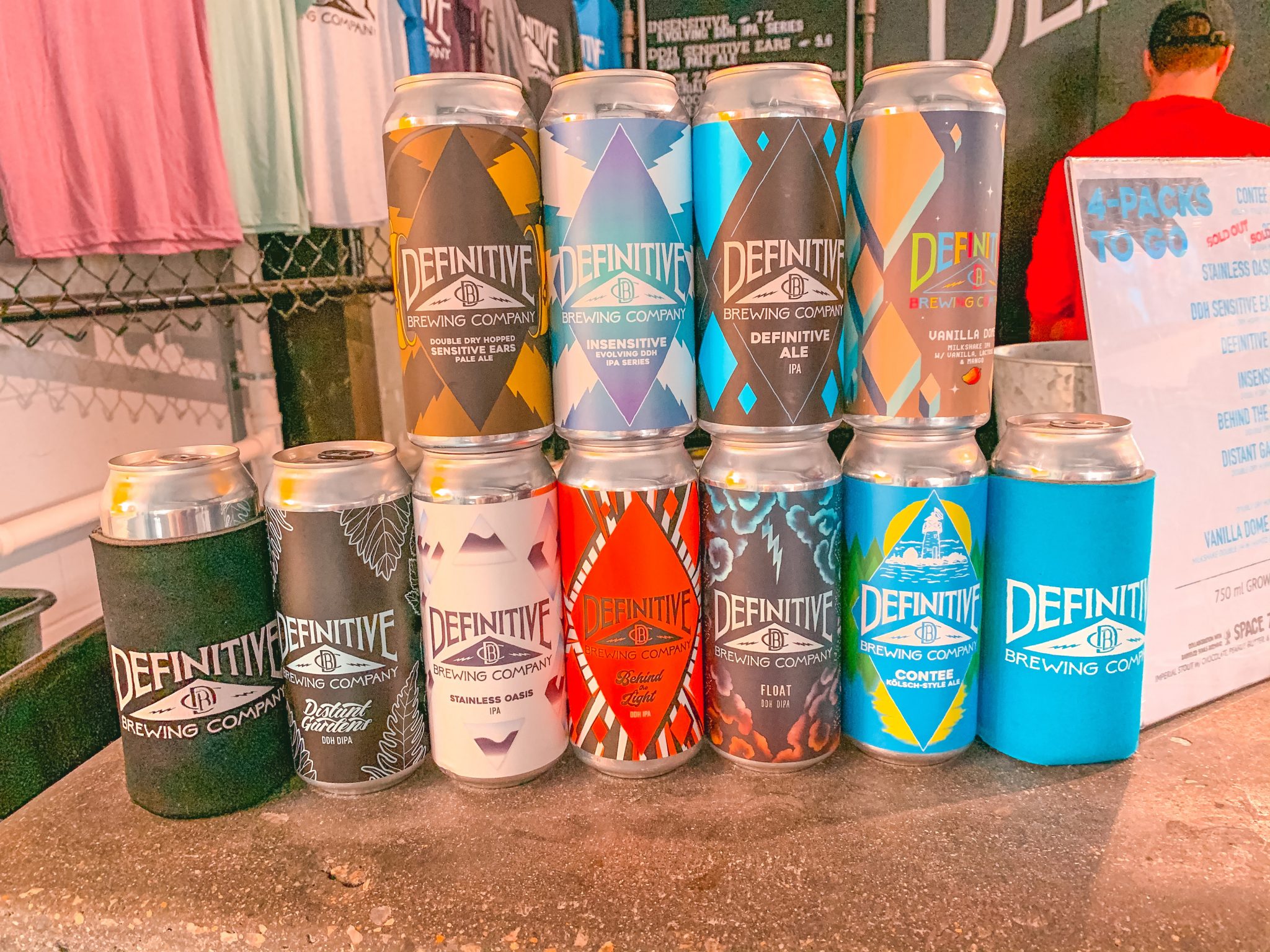 While visiting the Portland area, you have to hit at least one of the two Lone Pine tasting rooms. Lone Pine offers a wide selection of craft brews. Their tasting room has rotating taps or you can get some cans to go. This brewery has some fantastic flavor combinations with even more interesting names. Be sure to check out their animal names DIPA series and their collaboration beers with the Holy Donut.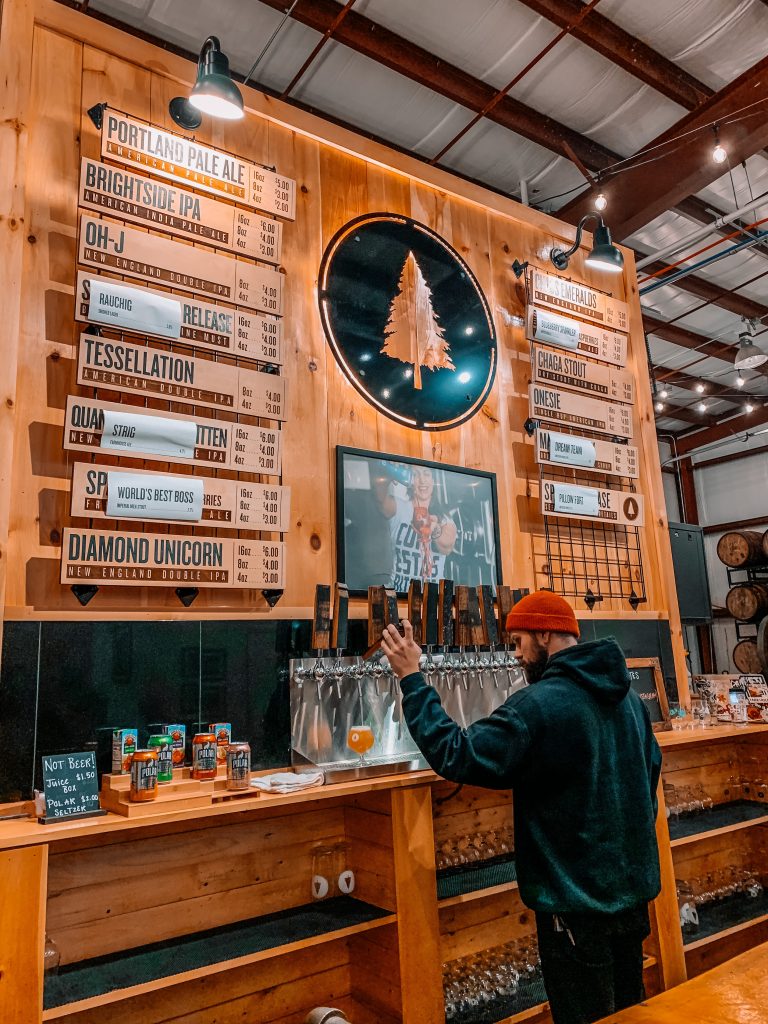 Geary's has been in the Portland area for a long time. The are the first New England craft brewery in the post prohibition era. Read all about their history on their site! The have a newly renovated tasting room for sipping or you can take a tour of the brewery. On the weekends you can sometimes find food trucks and live music. Gearys flagship ale is their Geary's Pale Ale, a must try when in the area. They also offer many varieties of craft beers that you can check out on their website.
Located in Westbrook, not far from Industrial Way is Mast Landing. You can enjoy indoor or outdoor seating at their tasting room. Check out their website before you go to see what is on tap. A personal favorite of mine is their Gunner's Daughter, a peanut butter milk stout with note of peanut butter, coffee and dark chocolate. You can really taste the peanut butter!
If you are in the Portland area, you have to make the drive out to Thompson's Point for Bissell Brothers. The founding brothers of Bissell Brothers are from my neck of the woods and they have really grown over the last several years. Their flagship beer, Substance is a must try. Check out their online schedule for special releases that will be sure to sell out. Seed is one of my personal favorites and I always try to snag some during their special release. You can't go wrong with anything from Bissell Brothers.
Located in South Portland, Maine, this brewery offers unique beer flavors to pair with some really great food. The brewery is actually located in an old auto garage! How cool is that? Their beer and food offerings rotate seasonally keeping their menu fresh. Grab some hand cut fries and a burger to pair with your beer.
Also located in South Portland is Fore River Brewing. I am a big fan of sours so I really love their Preble series. The offer a cranberry sour, blueberry sour, raspberry sour, tart cherry sour, peach mango sour and a strawberry rhubarb sour. I have not tried the strawberry rhubarb sour so I am super excited to get my hands on that! They also offer other varieties such as their John Henry milk stout and their Estuary Douple IPA.
Visit the tasting room or take a tour of the brewery in located on Fox Street in Portland, Maine. Rising Tide offers a nice patio for you to sit and enjoy your flight. Rising Tide is a family owned brewery who values Maine farmers by using local ingredients in all of their beers. The have a variety of craft beers to offer and you can bet that they will all taste fresh. Their beers are unfiltered and unpasteurized.
Goodfire brewing is located on Anderson Street in Portland. They have a indoor and outdoor seating at their tasting room. At their tasting room, they offer draft beer, cans, snacks and sometimes food trucks. Goodfire has a wide selection of craft beer guaranteed to please. If you make the trip, see if you can get your hands on their Portland IPA, CMYK. You can check out their full beer archive on their website.
Not only does Liquid Riot brew their own beer, they also have a full restaurant, distillery and bar in the Old Port. You can sit down and enjoy a meal or take you beer to go in cans, crowlers or bottles. Be sure to check out their website ahead of time to see if there are any events coming up.
This is a long list of breweries and this is just in the Portland area. Probably much more than you can handle in one day. There are many more breweries in Maine, but Portland provides the most breweries without having to travel too far. Check out the Maine beer trail for a full list of breweries across the state. Even if you aren't a fan of beer, it is so much fun to go for the atmosphere and the food.
If craft beer and breweries are still not your thing, there are plenty of things to do in the Portland area. Check out my list of the best lobster rolls in Portland, Maine.
Save this post for later!