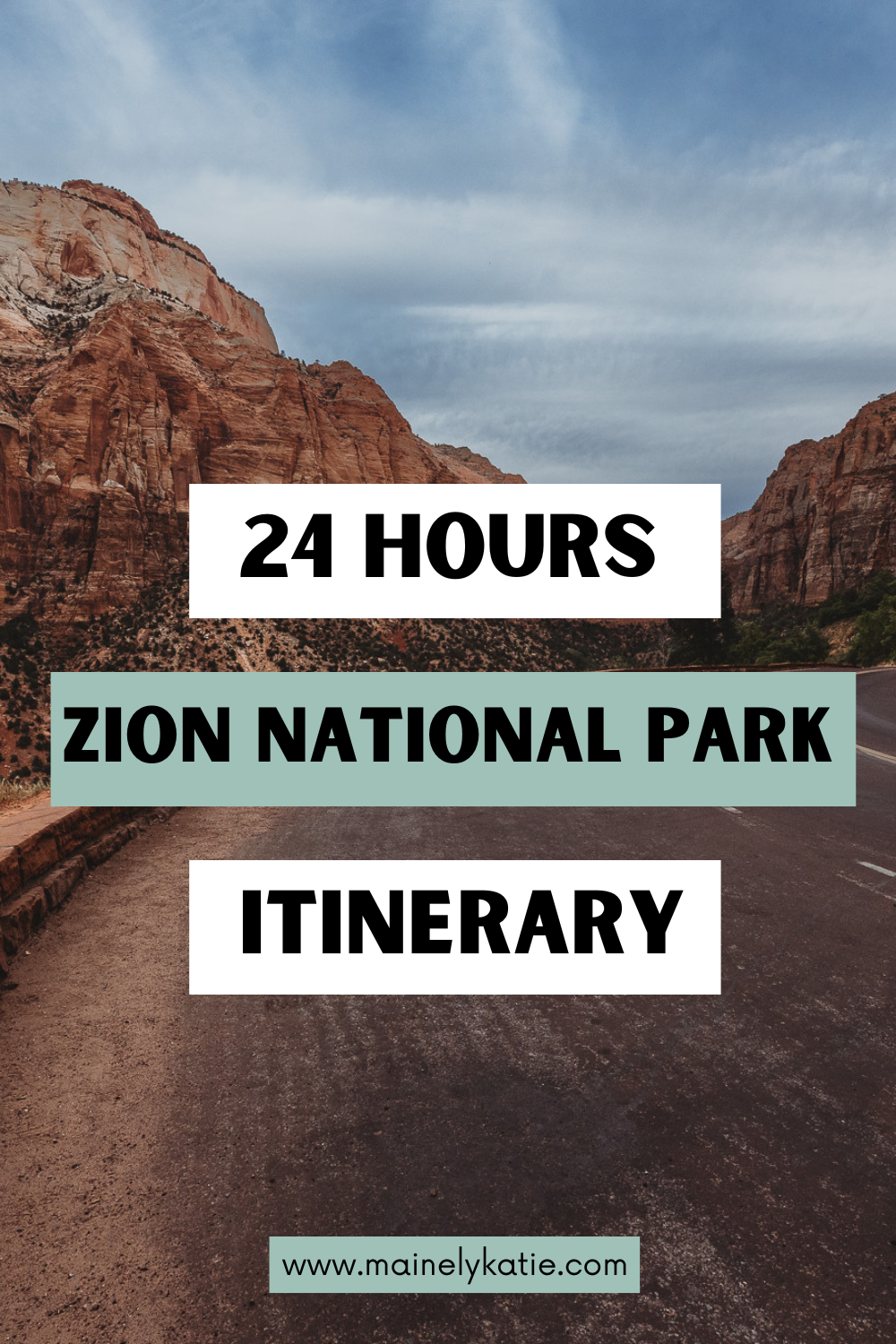 Zion National Park has been on my bucket list for years. So when my husband planned a trip to Vegas for my 30th birthday, he also planned for a day trip to Zion. You can read all about our four day weekend in Las Vegas here.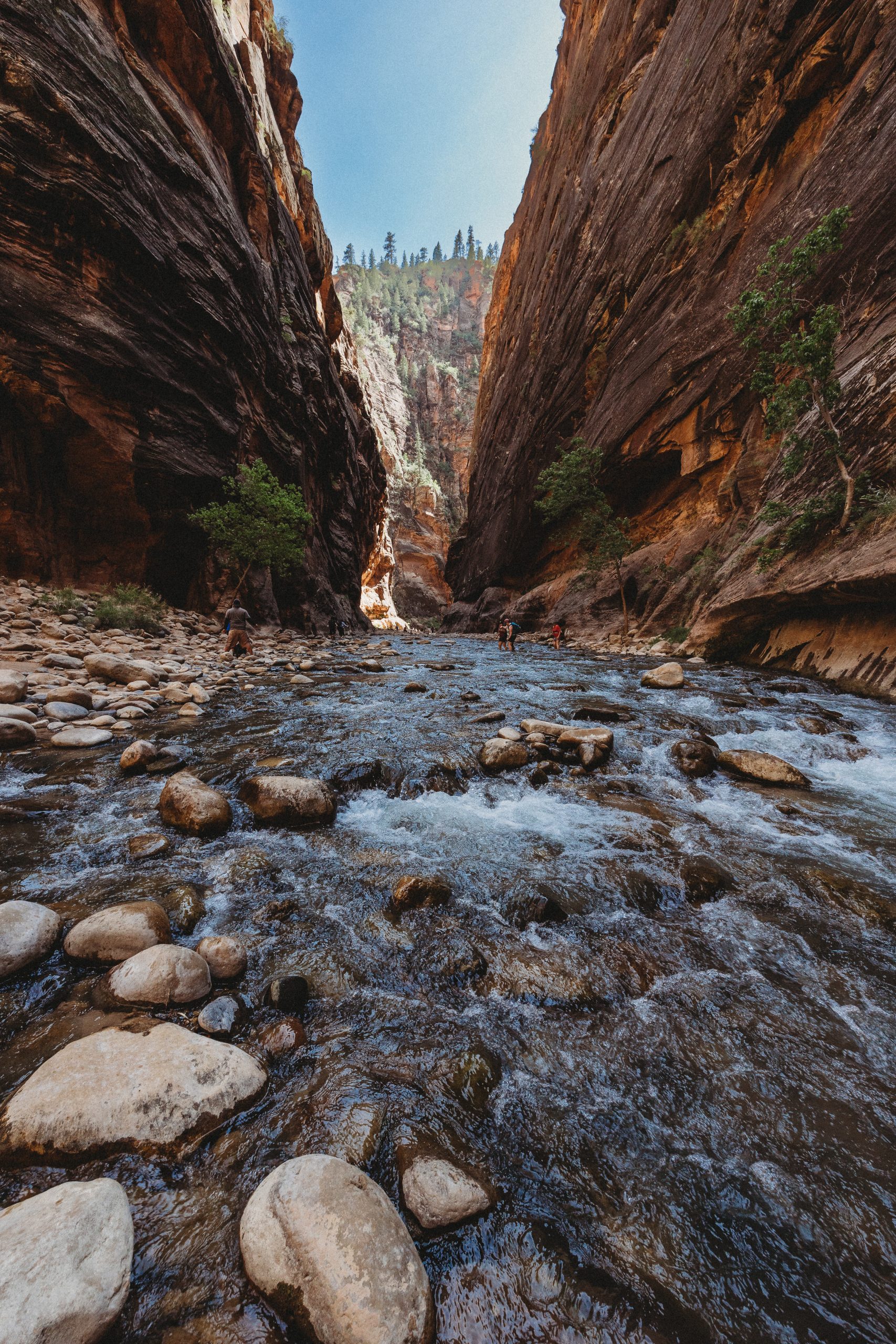 I was so looking forward to this day trip and I was so nervous because I thought we didn't leave early enough to do everything we wanted to do. And in reality we didn't leave early enough, but we still had time for a lot. The drive from the strip in Las Vegas to Zion National Park was about two hours and 45 minutes. You should account for some traffic and we stopped to get breakfast and some snacks for our hike.
Tips for Your First Time at Zion National Park
I spent the two hour car ride doing all kinds of research about the hikes and how to get around the park. Once we arrived in the park we went to the park rangers booth to see how we could make the most of our time. I highly recommend checking in with one of the park rangers before you head in so you know the trail conditions for that day. The Narrows was at the top of our priority list and the park ranger recommended we do this first so we wouldn't feel rushed. The Narrows is the last stop on the bus route and then we could make our way back towards the entrance and make stops depending on how much time we had left.
Getting Around Zion National Park
During peak season (March to November) you can't drive your own car around the park, you have to take the shuttle. The shuttle has 9 stops that take you to the different locations for hikes and runs until 8pm. I'm sure that the schedule can vary, so make sure to check these times before you go in.
We visited Zion National Park in May around memorial day weekend. Although this was a holiday weekend, we did not have any trouble parking and we did not have to wait in long lines to get on the shuttle. There were crowds at start of some of the trails, but people thinned out the farther into the hike you go.
The Narrows
I was most excited for this hike! If you haven't heard of the Narrows before, you can hike through the slot canyon and through the Virgin River for the most incredible hiking experience. The Narrows is the last shuttle stop in the park. Once you get off the shuttle you have to hike in about two miles on a flat trail to actually get to the beginning of the Narrows. I was so intimidated for this hike because I read that you need to be prepared with all kinds of food, clothing and supplies. While this may be true in some scenarios, don't let it stop you from at least walking the two miles to the entrance.
Cons of doing the Narrows first are that your clothes and shoes will be wet depending on how high the water is and how far you hike in. We had so much fun and we were in awe of the views that we didn't care one bit that we were up to our waist in water. Our shoes and socks were soaked, but actually dried pretty quickly once we finished our hike. Keep this in mind when you are deciding what to wear and what to pack. The Narrows is a one way in and one way out trail meaning that you can go for as long or as little as you would like. If you wanted to go all the way in it is about 9.4 miles out and back. We spent a total of 3 hours here before getting on the shuttle to our next location.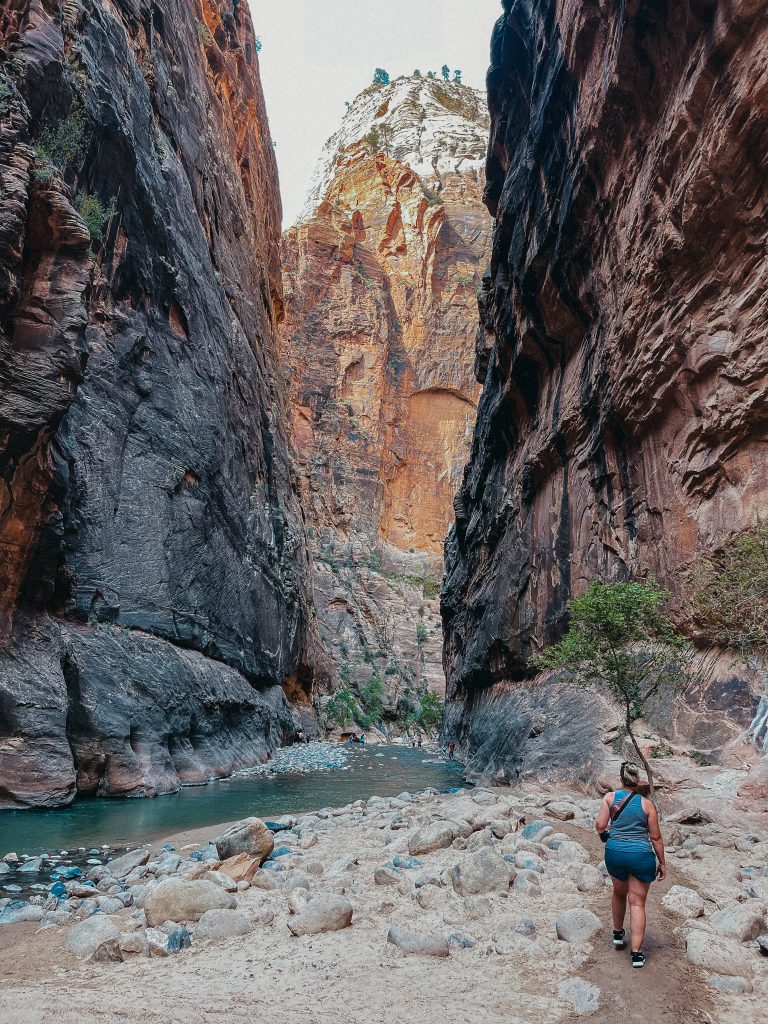 Preparing for the Narrows
Look at the weather forecast before you go. The water could be really cold depending on the time of year so you will want to pack appropriately. Make sure you pack some water resistant or fast drying clothing. You can rent water shoes and a hiking stick in Springdale that can be very helpful walking this trail. When you hike, The Narrows, you are trekking through water between in the slot canyon so the rocks are slippery. The water is moving, also making it difficult to see where you are placing your feet. I wish I would have rented water shoes and a hiking stick before going in, but not having those things didn't stop me from hiking this iconic trail.
We saw all kinds of different hikers on this trail. Some in full hiking gear with full backpacks and walking sticks and others were in jeans and t shirts and carried nothing. I think the amount of gear you bring will really depend on how long you plan to spend on this trail.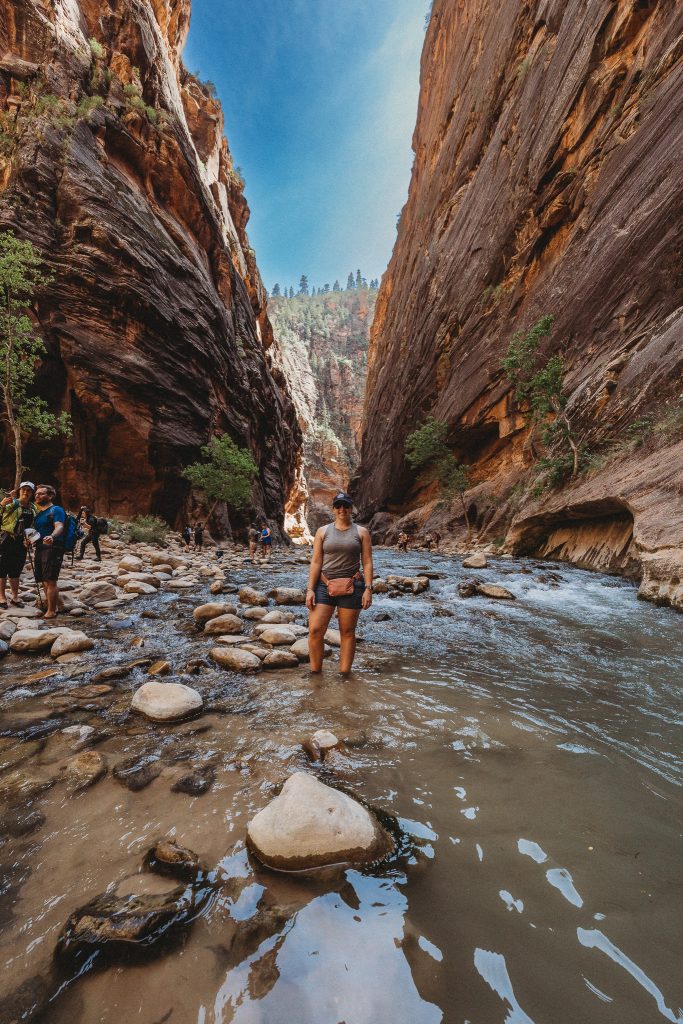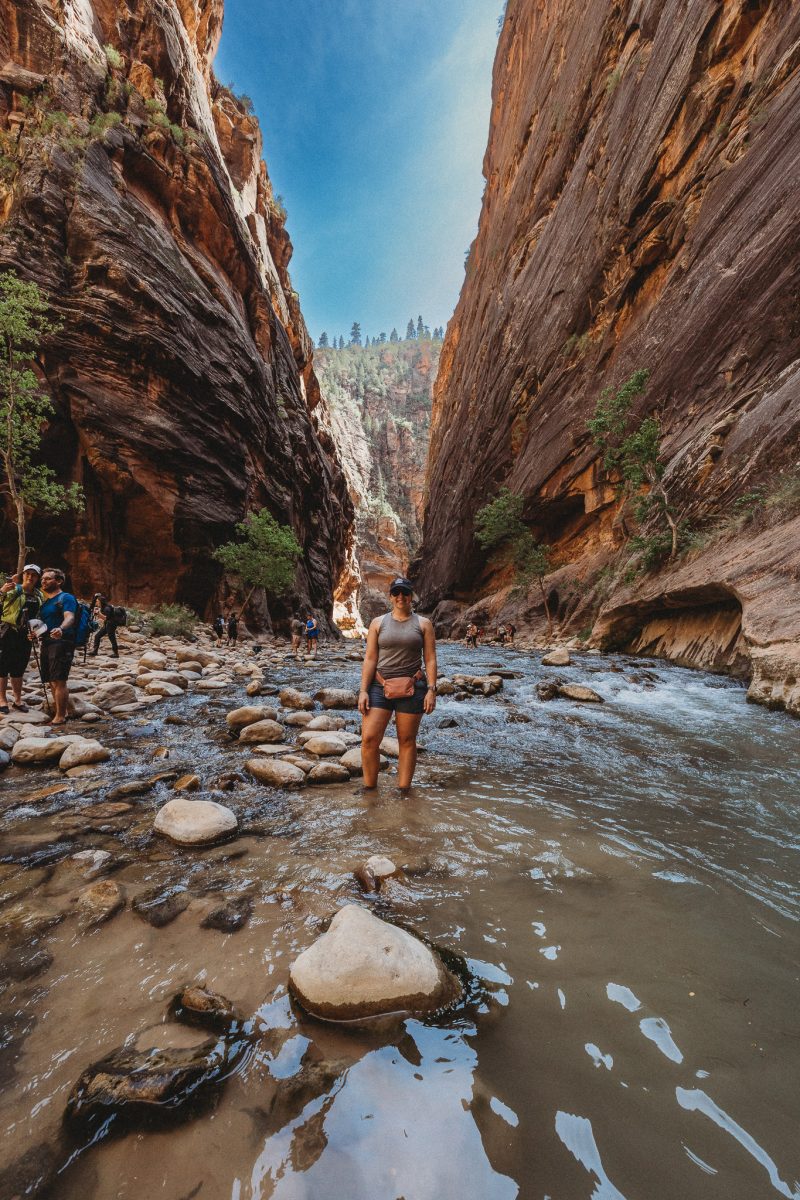 Emerald Pool Trails (Lower and Upper)
We wanted to squeeze in a few more easy hikes after spending most of our time at The Narrows. There is an Upper and Lower Emerald Pool trail that is not super difficult. The trail is steep and wide with some fantastic views of the canyon and some waterfalls at the end. The volume of the waterfall at that time of year was low, but still made for a fun little hike. The entrance to these trails are near Zion Lodge so you can stop for something to eat before heading to your next stop.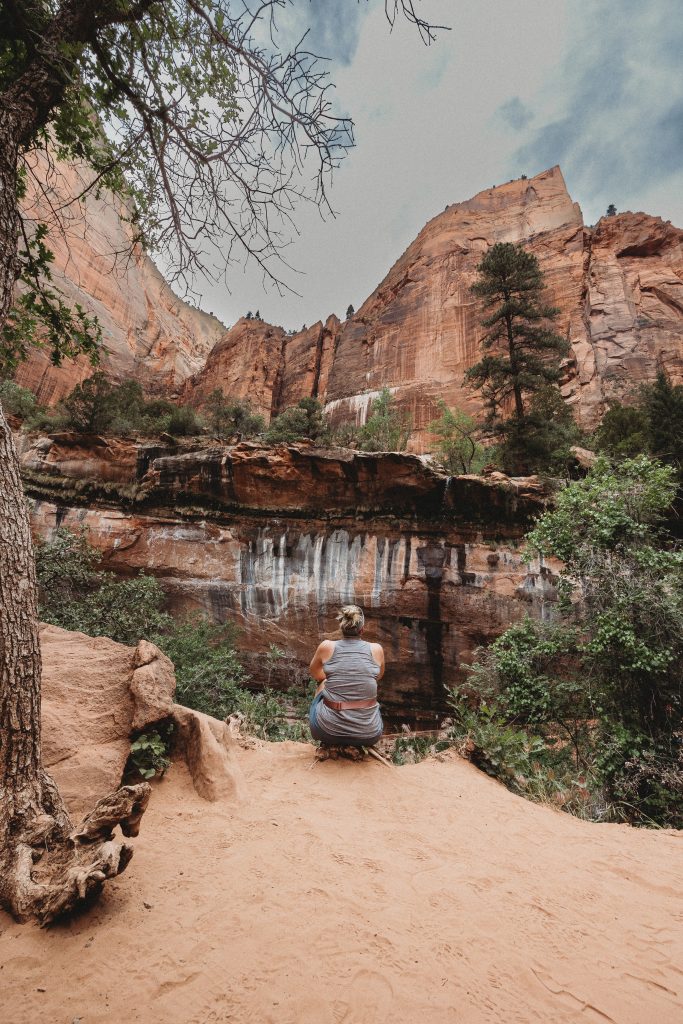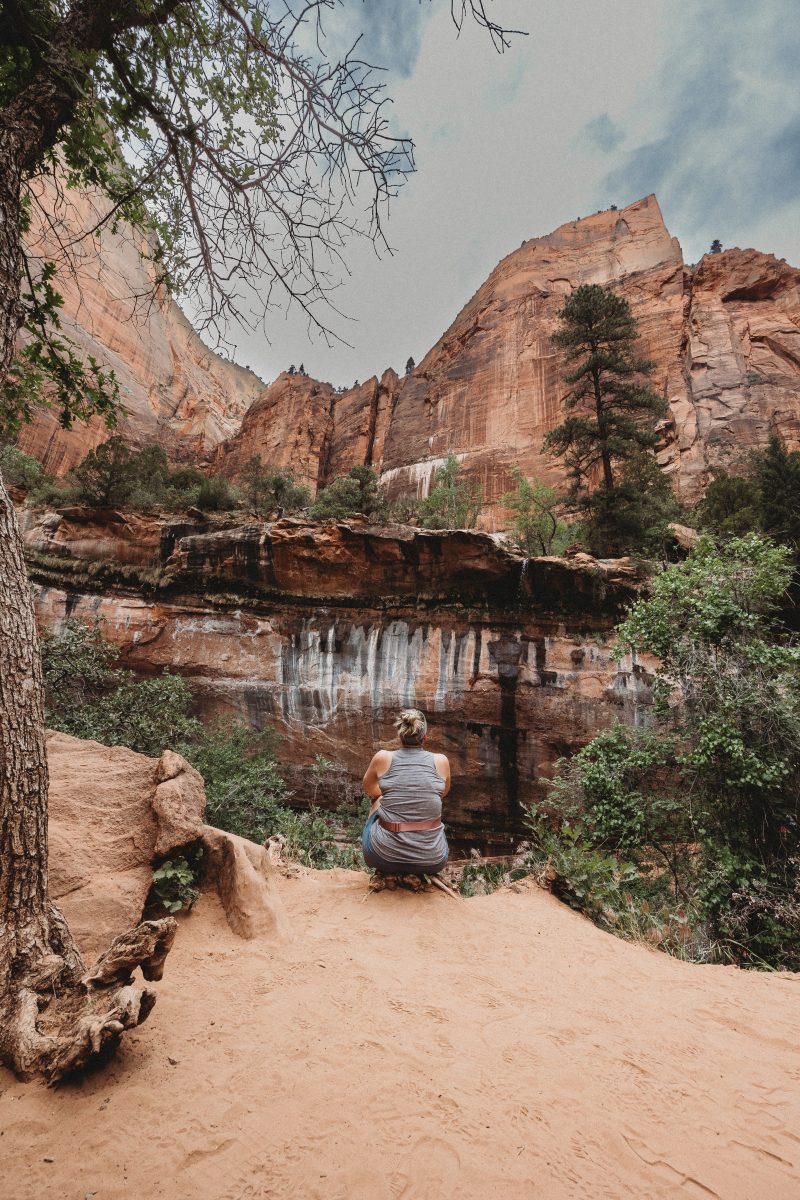 Drive up the Canyon for the best views of the day
Once our legs were tired from hiking, we decided to drive for one last view at the top of the canyon. Once you leave the parking lot, you can drive the winding road to the top of the canyon for some pretty impressive views. I won't lie to you, the roads are narrow (but paved) and we chickened out after about getting 3/4 of the way up. I am terrified of heights. After taking some great photos we turned around and drove back down.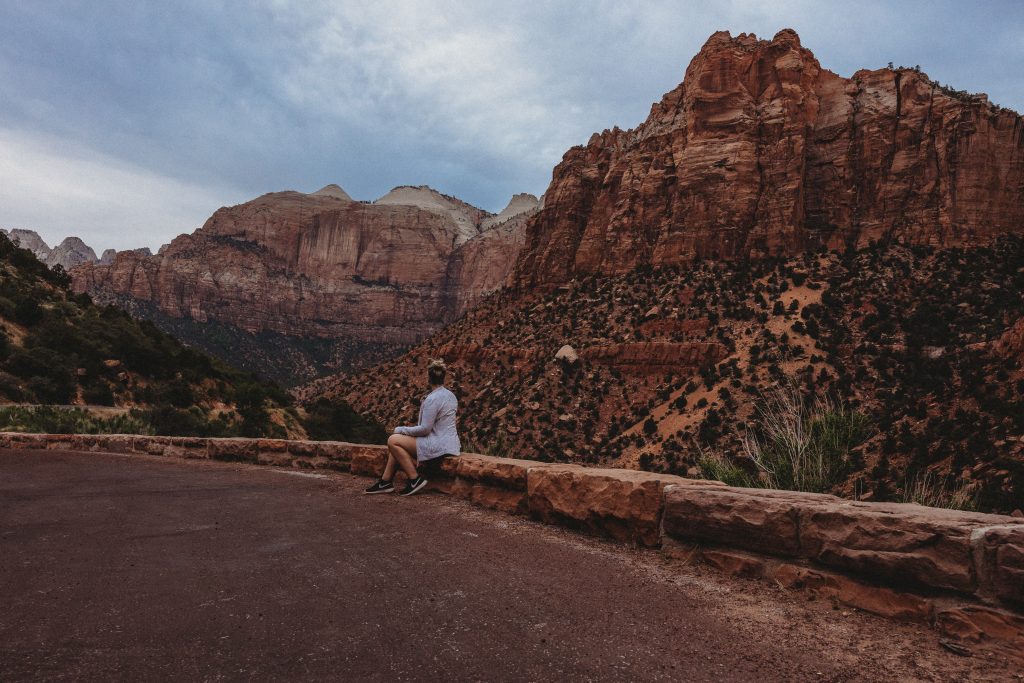 Dinner in Springdale
We didn't leave the park until around 7-8pm and by this time we were starving. Luckily, there are a few good places to eat in Springdale. So we stopped for dinner before making the drive back to Vegas. We did try to get a hotel in Springdale for the night, but they were already booked. This would be a good option if you don't want to drive after a long day of hiking.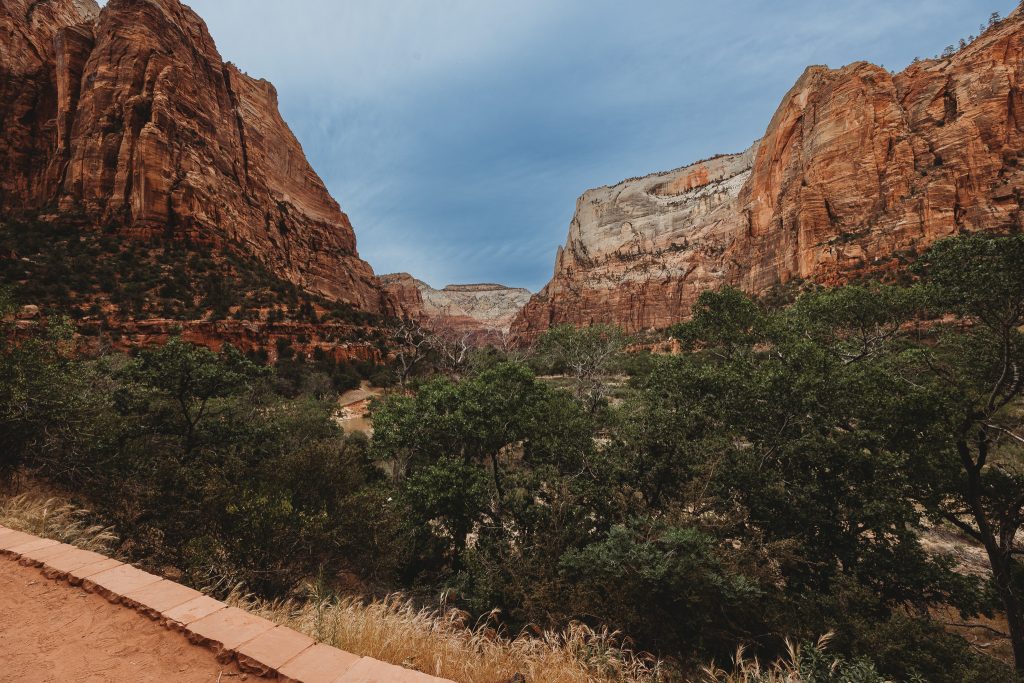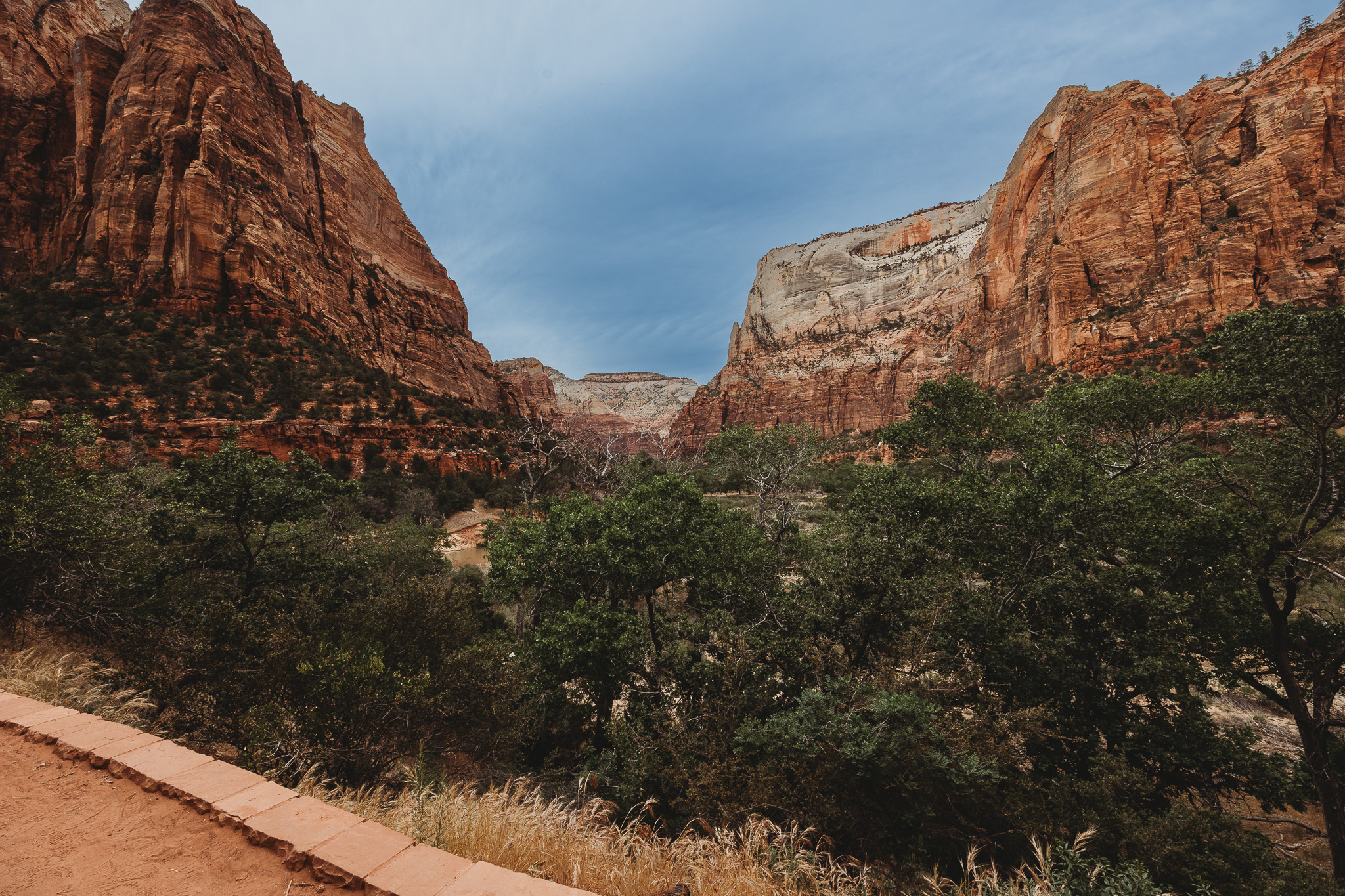 Drive Back to Las Vegas
Our legs were tired from all the hiking so we did not mind the two hour drive back to Vegas. We had a blast exploring Zion National Park and we are already planning our next trip back. Don't let the drive from Vegas to Zion intimidate you. If you leave early and don't mind driving back late, this day trip is totally worth it. If you are looking for more day trips to take from Las Vegas, make sure you check out this post.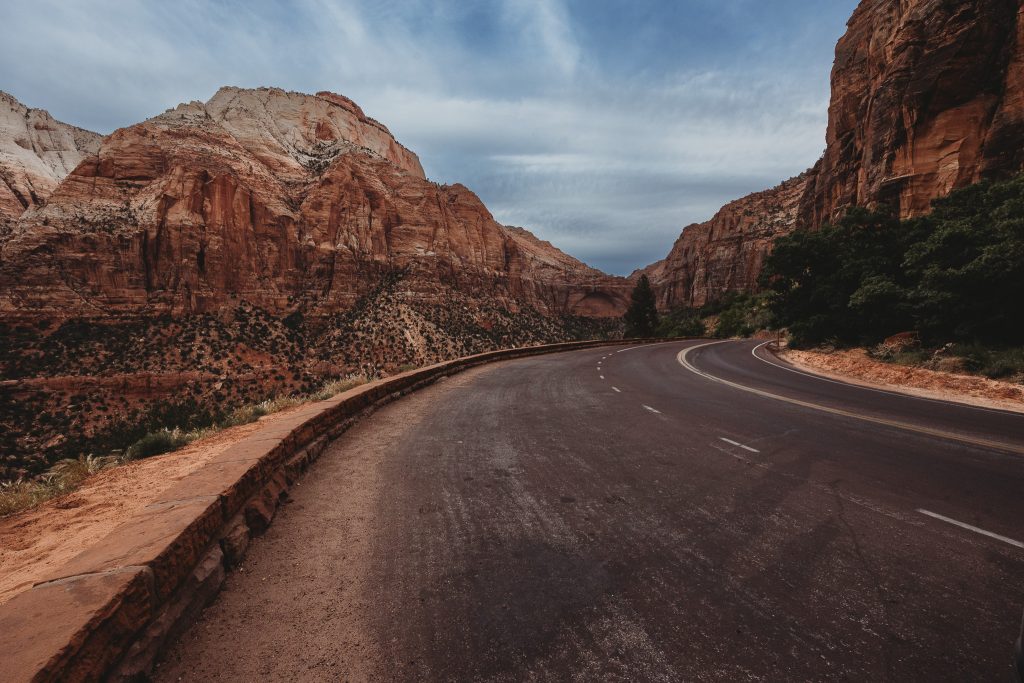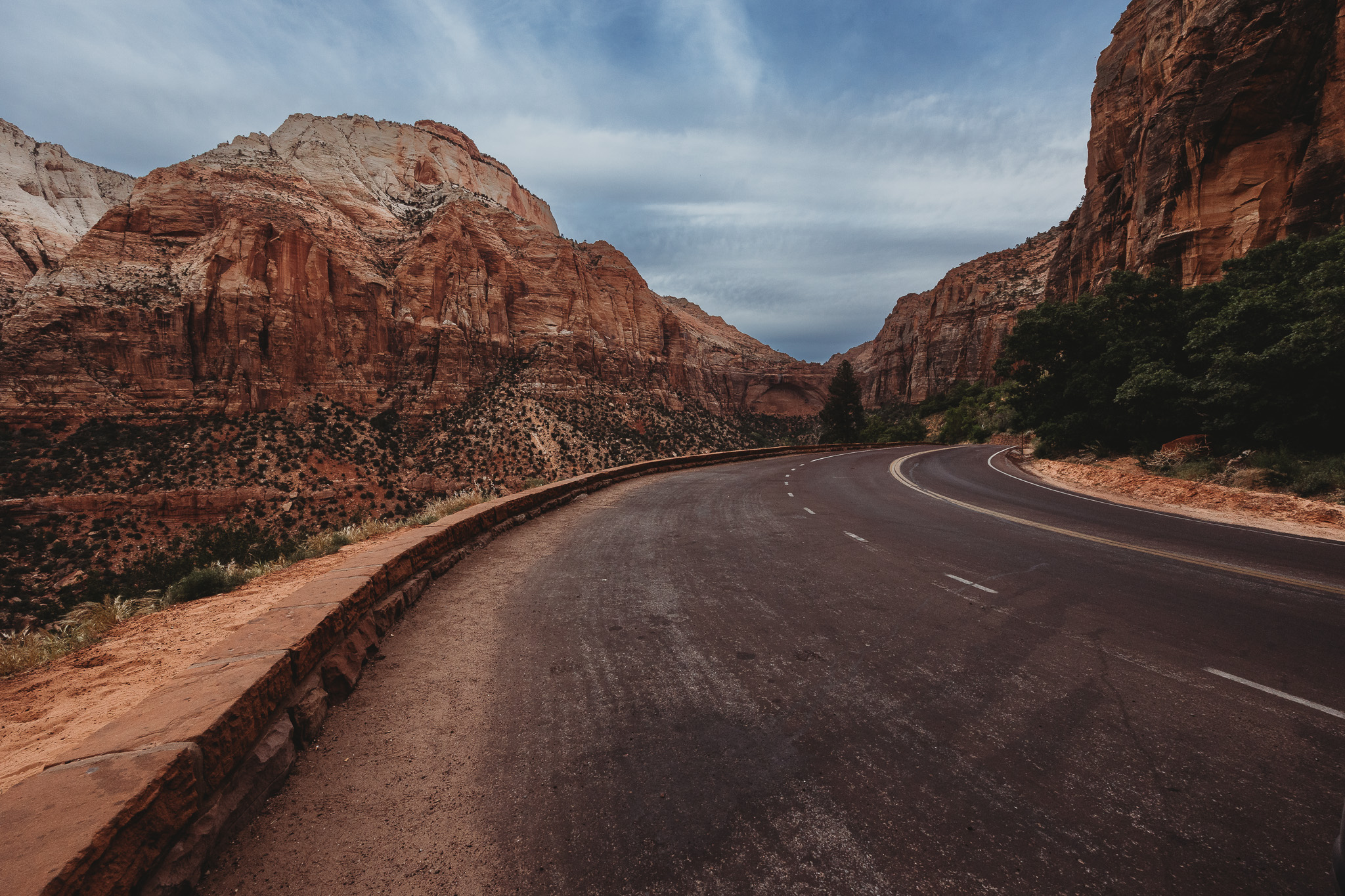 For Our Next Trip to Zion National Park
See the sunrise at Canyon Overlook
Hike Angel's Landing
Lunch at Red Rock Grill
See the stars
Drive the Zion – Mt. Carmel Highway to Bryce Canyon
Save this Itinerary for Later!