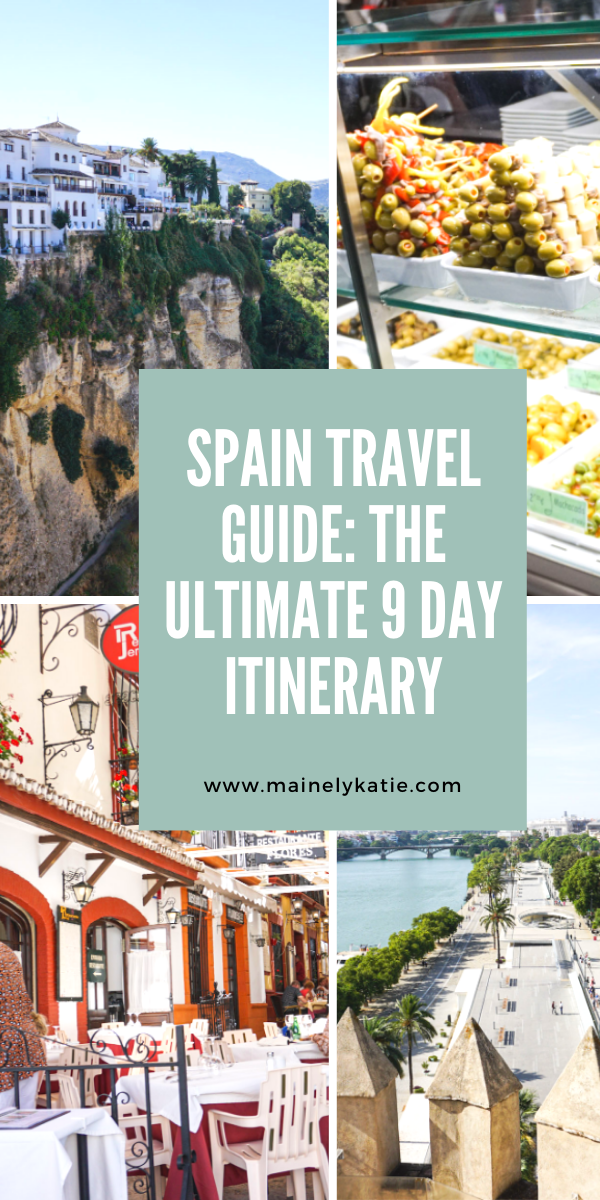 Our yearly family vacation for 2019 turned out to be Spain! Not just because we love visiting Spain, but also because we found some pretty inexpensive flights. Check out my post on how to find cheap flights. There were so many places we wanted to visit in Spain, that it made the most sense to turn it into a road trip. I took detailed notes on our entire trip to put together the ultimate 9 day Spain road trip itinerary!
Day 1 (September 27)
Day one of any international flight is always a day of travel. I started by working four hours at the pharmacy before heading out for our 7pm flight from Boston. We drove from Augusta, Maine to Boston to catch our flight to Lisbon and then a connecting flight to Madrid. On our way to Logan we stopped at a deli to grab something to eat before out seven hour flight across the country. It was an Italian deli in East Boston. We had sandwiches and pasta. The food was good and the service was great. It's a good idea to eat before you get to the airport because food at airports can be expensive.
Flights
Our first flight was from Boston to Lisbon, Portugal. We flew TPA. This was my first time on this airline and I wasn't disappointed. Our tickets were inexpensive and I don't have any complaints about the airline. I normally fly economy so in comparison to other airlines, TPA was somewhere in the middle. The seats were comfortable enough and reclined. Entertainment included a decent selection of movies and TV shows. There was a USB port to charge electronics and we got free drinks including alcohol. Once we got to Portugal we waited through a long line to get our passports stamped and then off to the next flight.

Lisbon to Madrid was a one hour flight. I have the hardest time sleeping on flights. We take evening flights when we fly to Europe so when we arrive, we have a full day to explore. The downside is I also miss a whole night of sleep.
Day 2 (September 28th)
We technically spent out whole first day in the air, so we will count this as Day 2 and where our Spain road trip begins! Once we arrived in Madrid we rented a car and drove to Segovia to see the aqueduct. This was such a cute little town with cobble stone streets and shops along the way. We were tired and needed a shower, but we couldn't resist stopping for a bite to eat and to check out the aqueduct.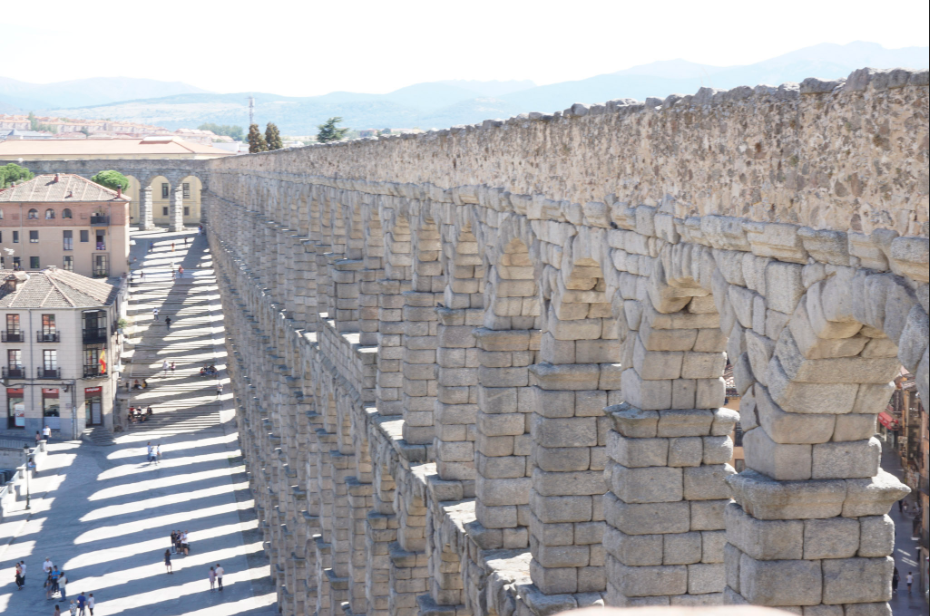 We ate at ZaZa Keban Pizza for sangria, coffee and chicken donars. At first, I wasn't sure what a chicken donar was, but it was delicious.

The aqueduct in Segovia is one of the most well preserved aqueducts remaining. It was build to transport water from the river to the locals. This structure is over 93 feet at its highest point. The architecture is incredible and the structure contains many arches.

Toll Booths
I wanted to take a minute to mention the tollbooths because they are hard to avoid on a Spain road trip. Although they are not super complicated, if you can't read Spanish you may hold up traffic. We found two different kinds of tollbooths in our travels. The first on we came across was like a coin vending machine that you put change into and then the bars opens and you can drive through. Another was like a parking garage meter where you take a ticket and the gate opened up. Then when you get off your exit, you pay the ticket. Just handy info if you decide to rent a car and drive from city to city.
Logrono
We checked in at the Marriott in Logrono and only stayed one night here. I was super impressed with this hotel. The lounge and dining area were very well decorated. There was a bar that was open late and a glass of wine was 2.50 euro. Our main reason for stopping in Logrono was to go to the Pinchos crawl. I wrote a more detailed post on our pinchos crawl experience, but I will give you the basics.
When we booked our flights to Spain, we came across the pinchos crawl in our research. This site had super helpful information about the pinchos crawl. The pinchos crawl is basically an eating and drinking experience on a small street in Spain called Calle Laurel. There are bars all along the street that serve a special small dish called a pincho for a very reasonable price. We read that it happens twice a day in the afternoon and evening and all the locals go. Pinchos are small appetizers that are usually served on a stick or on bread so you can eat it with your hands. Sort of like a street where you can order alcohol and snacks. There are no tables or chairs, just room to stand at the bar or outside at wine barrels.
Once we found Calle del Laurel, with the help of the hotel staff, we made our way from place to place ordering wine and small appetizers. The food and wine were inexpensive, costing only a euro or two a piece. The street was packed with people doing the same thing. Eating and drinking and enjoying each other's company. There were also children out too, even until 11 pm. The crawl runs from around 9pm to 11pm every night. This night was so much fun. I highly recommend finding this street if you are close to Logrono.
The Pinchos
They were small appetizers. We had bread with fried zucchini filled with ham and cheese, croquetas (stuffed with ham and cheese or spinach and cheese and then fried), shrimp and octopus skewers, toast with a garlic cheese spread, tiny green peppers with sea salt and cayenne pepper fried without breading (pimientos de Patron), crispy fried pork (almost like thick bacon), patatas bravas with an aoli and spicy tomato sauce. They were all so good and a great way to try authentic food for a great price.
Day 3 (September 29th)
We spent the morning catching up on sleep and grabbed croissants for breakfast from the hotel. Our plan was to take a winery tour and I was looking forward to learning about Spanish wine. Unfortunately, there were no tours open that were in English. The wine tour was a last minute decision for us, but I highly recommend taking a tour of Franco Esposito if you are in Legrono area.
Winery Tour- Franco Esposito
The inside of the winery was very impressive. We were able to see the giant barrels used to store the wine, fermenters, and the storage area for old bottled wine that was up to 120 years old. After the tour we enjoyed a wine tasting. Our tour guide knew that we did not speak Spanish and after her presentation in Spanish, she came and translated for us. We tasted their award winning white wine, red wine and a second red wine. The tasting were generous pours and we had a samples of a couple different kinds of meats with crackers.


Day 4 was mostly spent driving because our plan was to get to Barcelona as soon as possible. We stopped for lunch in Tudela and ate at an outdoor café. At the cafe, we shared different appetizers and seafood paella. We continued to drive for most of the day making quick stops for water, coffee and bathroom breaks. Our hotel for the second night was a castle in Cardona called Castell de Cardona.
Castell de Cardona
The castle was incredible! We had dinner and got there just in time to order. We ate a big meal because we were tired and hungry from being on the road all day. We took pictures (or attempted to) of the lights in the city from the top of the castle. Our rooms were clean, but less impressive than the rest of the castle.
Day 4 (September 30)
We left the castle bright and early in the morning to make our way to Barcelona. This was about an hour and a half drive with a few stops on the way. Once we arrived in Barcelona we parked the car and jumped on a hop on hop off bus tour (~30 euro/person). This made it easier for us to get around and see the sites without having to worry about parking. Barcelona is a busy city!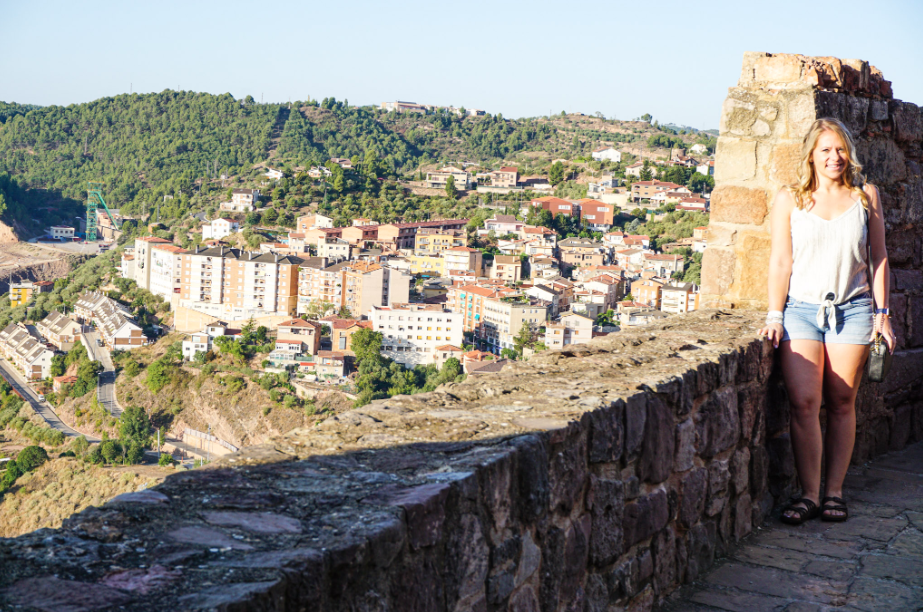 Barcelona
My favorite part was the cathedral. They have been working on the cathedral for hundreds of years. We spent the rest of the day hopping on and off the bus and wandering around the city. We walked around to the different stores and restaurants and made our way to La Rambla. In Barcelona we wanted to go to the Bocaderia for lunch. This is a huge outdoor covered market selling prepared foods, fresh fruits and veggies, seafood, meats, desserts, drinks and anything else you can think of. It was amazing to see everything that was available (fresh meats, seafood, vegetables, fruit, candy, spices, homemade foods like sandwiches, empanadas etc).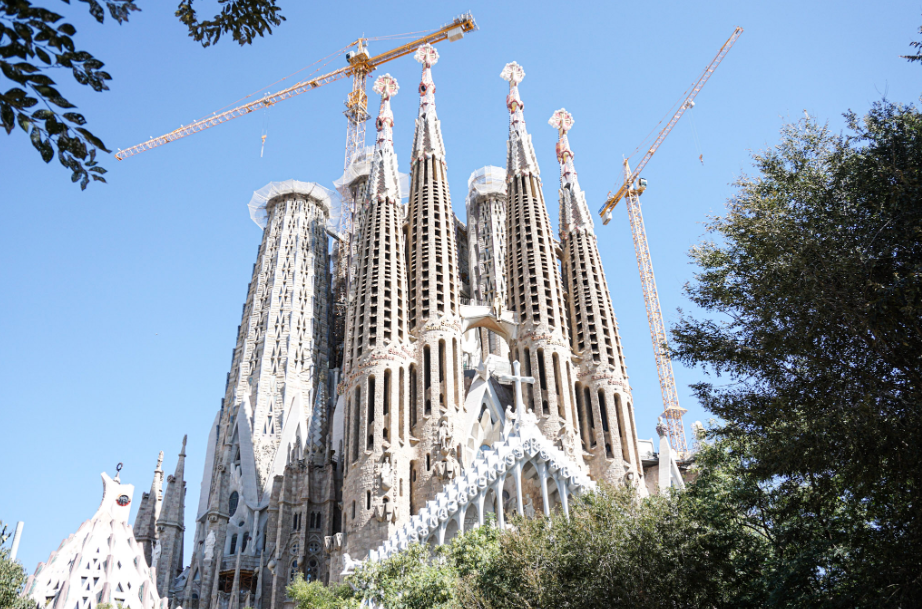 Then we took a 9pm flight to Malaga via Vueling airline. This plane was small, but the flight was less than an hour and a half. We stayed at a Holiday Inn Express in right near the airport in Malaga.
Day 5 (October 1)
Rhonda
We left early in the morning and drove to Rhonda to take pictures along the bridge. I would highly recommend making the trip to Rhonda if you are in southern Spain. We ate at Taperia Cafeteria Las Campana's and had tapas for lunch. We spent the next few hours walking around to the different shops and taking photos from the bridge. For the rest of the afternoon we took the afternoon to explore, relax and drink some Sangria. If you have never been to Rhonda, it is surely worth the visit. It's also on your way to Gibraltar!
Gibraltar
We drove another hour and a half of winding roads to get to Gibraltar.
Gibraltar is a British territory along the strait of Gibraltar that is the only entrance into the Mediterranean Sea from the Atlantic ocean (this is why it is so important and fought over).


This is actually a part of England so we had to show our passports on our way through. You used to be able to drive to the top of the rock of Gibraltar in your own car. If you have ever been up that road, you would agree that it was a very good idea that this is now banned . Now, you can hire a tour guide to take you to the top. I would highly recommend taking a ride to the top of the rock because it was probably my favorite part of the trip. Our driver was so knowledgeable and talked to us about, history, monkeys and current events all the way up to the top. Our driver helped us to feed the wild monkeys and we got some great pictures.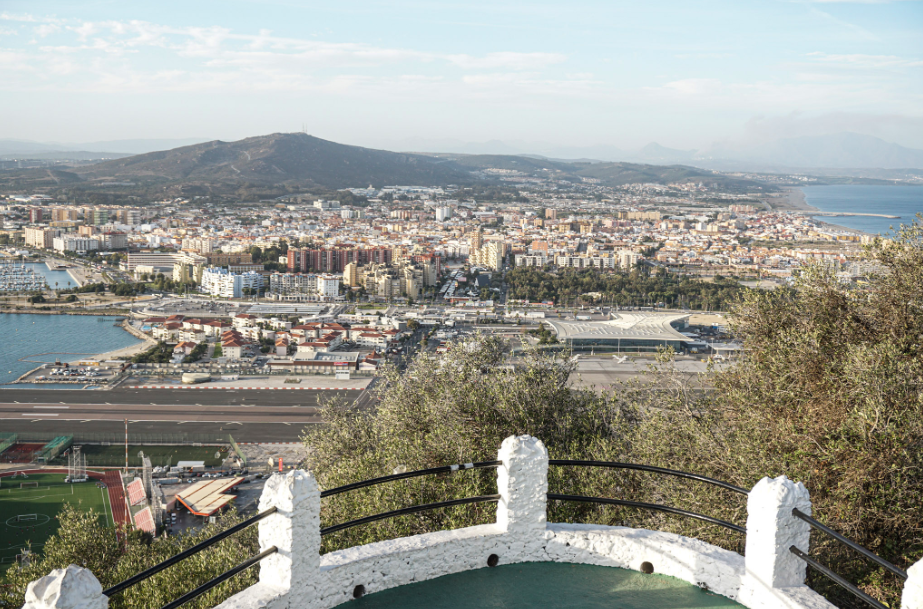 You can also take a Gondola up to the top. I'm sure the views would be incredible!
Day 6 (October 2)
I know this is a Spain travel guide, but Morocco is so close, we couldn't pass up the opportunity to visit. It is so easy to take a day trip to Tangier. We spent a second night in Los Barrios, but woke up early to catch and 8am ferry ride to Morocco. We drove our rental car from the hotel to the boat port and then boarded the ferry. Just a friendly heads up that the ferries do not always leave on time. Just like planes, they have to make sure everything is ready to go before they take off.
Ferry Ride to Morocco
It is about an hour and a half ferry ride from Spain to Morocco. I would suggest buying ferry tickets in advance. There are two ports where you can take a ferry across to Morocco. There is a commercial line and tourist line. We accidentally took the commercial line, but there were less people!

If you want to know all the tiny details about the ferry ride keep reading, if not, skip this next paragraph.
Once you get to the port (which was 10 minutes from our hotel) and show proof of ticket purchase, they hand you tickets to get on the ferry and a receipt to show you already purchased tickets for the way back. Once you have arrived at the port, you have to go through a quick security and show your passport before boarding. Inside the ferry there was a small cafe where you could get coffee and pastry. After the ship departs, inside the café an officer has everyone line up and checks there passports and stamps them.
After about an hour and a half, you get off the ferry you have to show your passport again and then you can get on a bus that takes you to customs to go through security again. (Lots of security checkpoints).
Transportation in Tangier
In customs you can exchange your money at the bank or use the ATM. From customs you can take a taxi or a city bus to Tangier. It is about 55km from the boat port to Tangier. If you take the bus, it is cheaper but it drops you off outside the city center and then you have to take a taxi into the city anyway. The buses also run every hour. We took a cab right from customs to the center of Tangier, but we paid for it. We had to negotiate the price of the cab and then they tried to convince us to ride back with them too.
Tangier
In Morocco, we walked around the streets and just took it all in. We only went to Tangier and it was A LOT to take in. We ate some lunch, walked around the streets. After that, we went to Café Baba and Café Hefe. Morocco was an interesting place. Walking around the streets reminded me a lot of Egypt and Ghana. There were lots of people and lots of smells. Almost every street you took had some sort of market.
Eventually we made our way out to costal Tangier and it was absolutely beautiful. It reminded me a lot of Santorini. There were restaurants on the cliffs and you could walk out the edge and see the ocean. I wish we had spent more time along the cost because the food was good and the scenery was unbelievable.
We spent 6 hours in Morocco and decided to head back because we were exhausted. First we took a taxi to customs, we showed our receipts for the tickets for the way home, went through security and then took the bus to the actual boat. Showed passports again in customs before we got on the boat. I napped on the ferry ride back because I was so tired.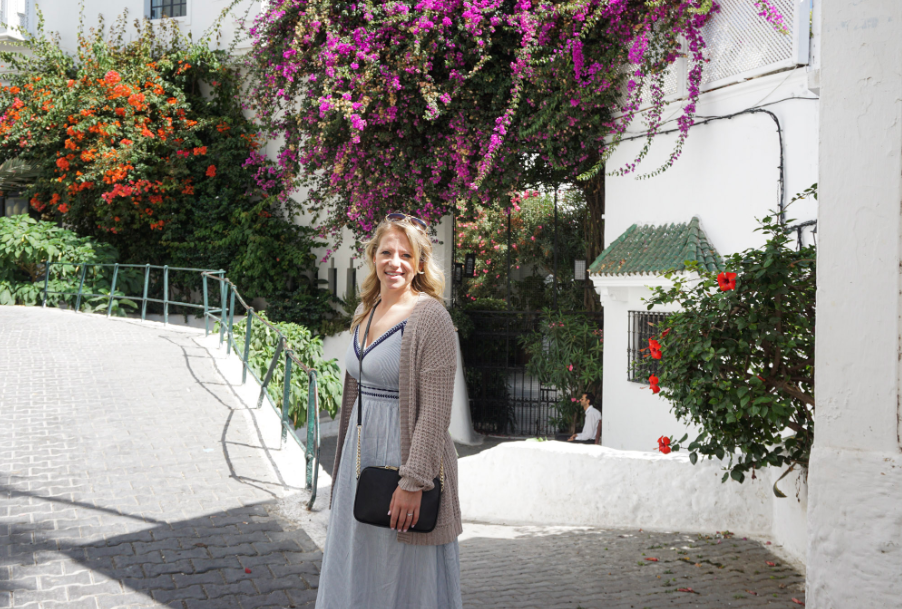 Once you get off the boat, you go through security once again. Then we hopped in the car, validated our parking pas and drove back to the hotel. We were all pretty hungry when we got back to the hotel so we found an Italian restaurant close to our hotel and just ate pizza, salad, appetizers and drank wine.
Day 7 (October 3)
Today we drove to Seville from Los Barrios. As you have probably noticed, we spent a lot of time in the car. There were so many places that we wanted to visit! We had to choose between spending the day in Seville or making the trip to Portugal. I am so glad that we chose Seville because it ended up being one of my favorite days in Spain. We stopped at Café Borras for lunch and coffee. There are so many plazas and parks in Seville that made it such a beautiful place to travel. We found a great Airbnb right in Alfalfa, near Plaza de Alfalfa. I was so pleased with where we stayed. The Airbnb had three bedrooms, a good-sized kitchen and a rooftop patio. Getting our luggage to the Airbnb was a bit tricky because cars cannot get down most of those streets. We parked our rental car in a parking garage and took a cab with our luggage to the closest street.
Seville
To get a better view of the scenery in Seville, we took a boat cruise down the river. It was a nice way to relax and just listen to the history of the city. After our cruise we took a tour of The Torre de Oro, a former military watchtower. Inside, you can view the art and artifacts inside. It was only a few Euros for the tour and you could get a great view of the city from the top. We spent the rest of the afternoon getting gelato, beer and picking up groceries. Later in the afternoon, we rested on the rooftop patio and then headed out around 10pm to get drinks and tapas. Right outside our Airbnb we found a nice restaurant with outdoor seating in Plaza de Alfalfa. We had tapas to share and drank wine until midnight. I was amazed that there were so many people out at this hour, just eating, drinking and socializing. Seville is also a great city to see some flamenco performances.
Day 8 (October 4)
We woke up early the next morning to drop off our car and head to the train station to get back to Madrid. This was my second time on a train and both were pleasant experiences, once you figure out which train you are supposed to be on. We purchased our train tickets ahead of time and made it to the station early enough to figure out which train to get on. Train stations are similar to airports where there are a few cafes and restrooms available while you wait. After getting off the train, we took and Uber to Hotel Indigo in Madrid. This hotel was a bit of a splurge, but worth it.
Madrid
We spent hours walking around the city in Plaza Mayor and Puerta Del Sol. For lunch we ate at Bi & Bi and shared some tapas and a pitcher of sangria. We walked around the shops until it was time to go to our bullfight. We purchased these tickets online only a few hours before the fight. It was a quick subway ride to the stadium. All I have to say about the bullfight is that we left early because we could not watch it any longer. After taking the subway back into the city we continued to walk around an explore without any agenda. We walked to Puerta del sol and ate churros and chocolate sauce at a chocleteria. We wandered into different bars and made it back to our hotel to enjoy our complimentary drinks on the rooftop bar. It was a perfect way to end our last night.
Day 9 (October 5)
Our hotel was kind enough to hold our bags until we were ready to leave for the airport. We grabbed some breakfast and made our way to Plaza Mayor and to the market. We ate lunch at DCORAZON in the plaza and just shared tapas and sangria. These were some of the best tapas we had during our stay. They were traditional Spanish tapas with a little bit of a twist. Our flight home was at 7 pm so we made our way to the airport with plenty of time.
Alternative
This was my second trip to Spain. My first experience was when I was a pharmacy student and I spent six weeks in Granada. This Spain travel guide would not be complete if I didn't include visiting Granada. I would recommend taking a day, if you have time, to see Granada. It is a beautiful city and the Alhambra is definitely worth the visit. We did not take the time to go because the majority of our group had already been before.
I hope you guys got a lot of good information out of this post. I tried to include important details and problems we ran into along our trip. This Spain road trip itinerary includes a lot of driving time, because Spain is a big country. You could divide the trip up differently to cut out some driving time, but I honestly wouldn't cut out a single day!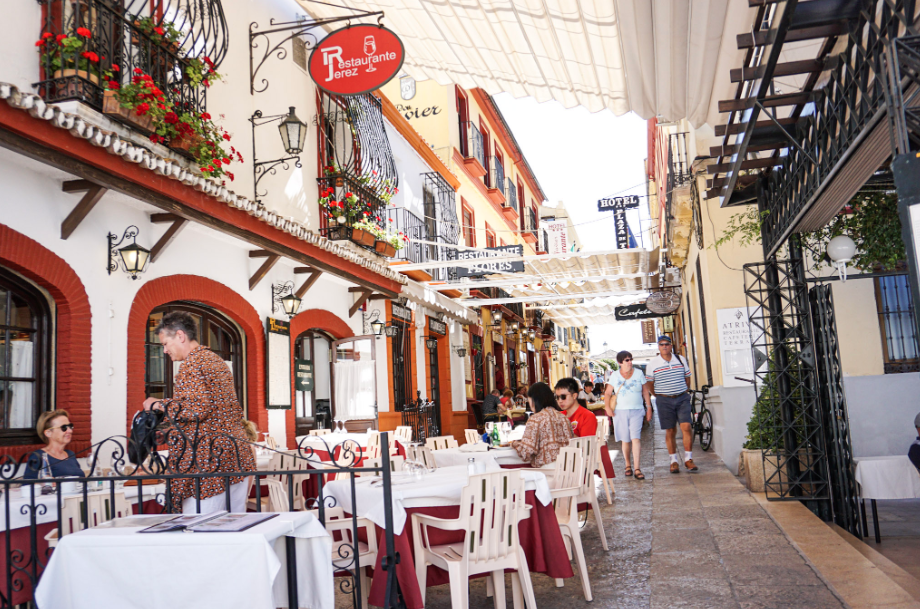 Save this travel guide for later!