Nashville is one of the most fun cities to visit in the United States and perfect for a long weekend getaway. There is an abundance of good food, drinks and incredible live music everywhere you go. There are attractions for everyone, music lovers, history fans and foodies. Not to mention that the weather is pretty great most of the time. Nashville is also a very popular destination for bachelorette parties.
One our favorite things to do is take long weekend trips. This trip to Nashville was supposed to be a girls trip, but the boys also love Nashville so we let them come too.
After almost a full day of work, Alex and I drove to Portland and took a 6pm flight, Ubered to our Airbnb to start our long weekend in Nashville. The only thing on our itinerary was non stop food, drinks and music. If you are traveling with a large group, Airbnbs are most cost effective. If there are just a few of you traveling, I recommend staying at a hotel close to Broadway. Check out my post on my first trip to Nashville for hotel info, brewery and restaurant details.
Day One Itinerary
Breakfast at Nashville Jam Co
Broadway Bars Round 1
Hillsboro
The Ryman
Nashville Jam Company
This cute little breakfast spot is known for their homemade biscuits and homemade jams. They had a wide variety of jams from your traditional raspberry to peach habenero. You can also enjoy a variety of breakfast options from sweet potato hash to giant stuffed French toast. Personally, I could just eat their biscuits all day. I highly recommend this place to grab a great southern style breakfast.
After we stuffed our bellies, we headed to Broadway for an afternoon of bar hopping. We hardly made a dent in our list of bars to go to. It is almost impossible to see them all in just one long weekend in Nashville, so while you're there, plan for round two.
Broadway Bars Round 1
The Stage- live music and big dance floor
Tootsies Orchid Lounge- Famous honky tonk with lots of history
Roberts- cheap PBR and their special of fried bologna sandwiches with a side of moon pies and potato chips
Big Shotz- Jello shots and karaoke
Hillsboro
We took an Uber to Hillsboro that afternoon to go to a spot called the Villager for a hot pot roast sandwich. This place is a bit of a dive, as the room was filled with smoke, but the atmosphere was fun. Just a half a mile up the road, we went to a local Pub called Brown's Pub. They served your typical hamburgers and hotdogs and had live music. We went to Hillsboro for their dive bars, but most people go to Hillsboro for the shopping and cute boutiques. Hillsboro is a nice place to spend a leisurely afternoon of shopping and restaurants. The street is just so cute and you can pop in and out of the little boutiques.
The Ryman
We headed back to our rooms to relax and freshen up before heading to the Ryman for a show. If you planning a long weekend in Nashville, catching a show at The Grand Ole Opry or The Ryman should be at the top of your list. In the winter months, the Opry shows are held at the Ryman. It is a good idea to buy tickets online ahead of time. You can view the nights line up online ahead of time, but things can change at the last minute.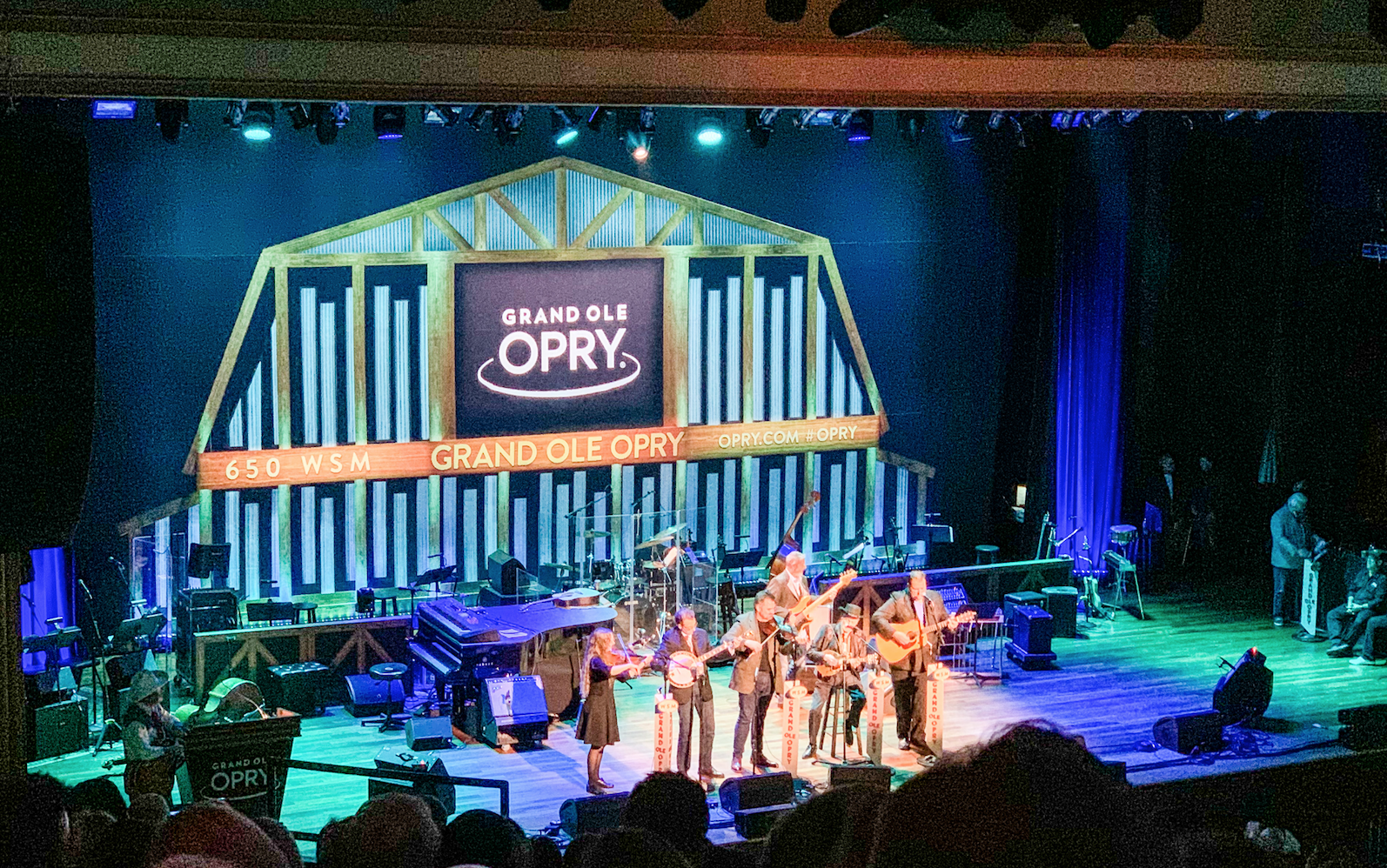 Day Two Itinerary
FGL House Sundaze brunch
Uber Scooters
The Gulch for Biscuit Love
Photos at the Wings
Jackalope for a flight of beer
Printers Alley
Edleys BBQ
FGL House Sundaze Brunch
If you haven't heard about the Sundaze brunch at FGL House, check out my post from my first trip to Nashville. I really like going there for their bloody marys and great live music. Instead of taking another Uber to the Gulch, we decided to take Uber scooters. If you guys have not tried these, I highly recommend it. They were so much fun! You do have to be careful in all the traffic, but they were quick and efficient. We scootered to on of my favorite breakfast places in Nashville called Biscuit Love.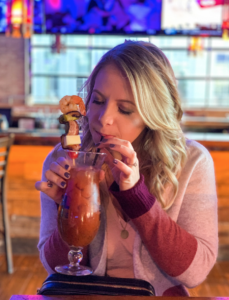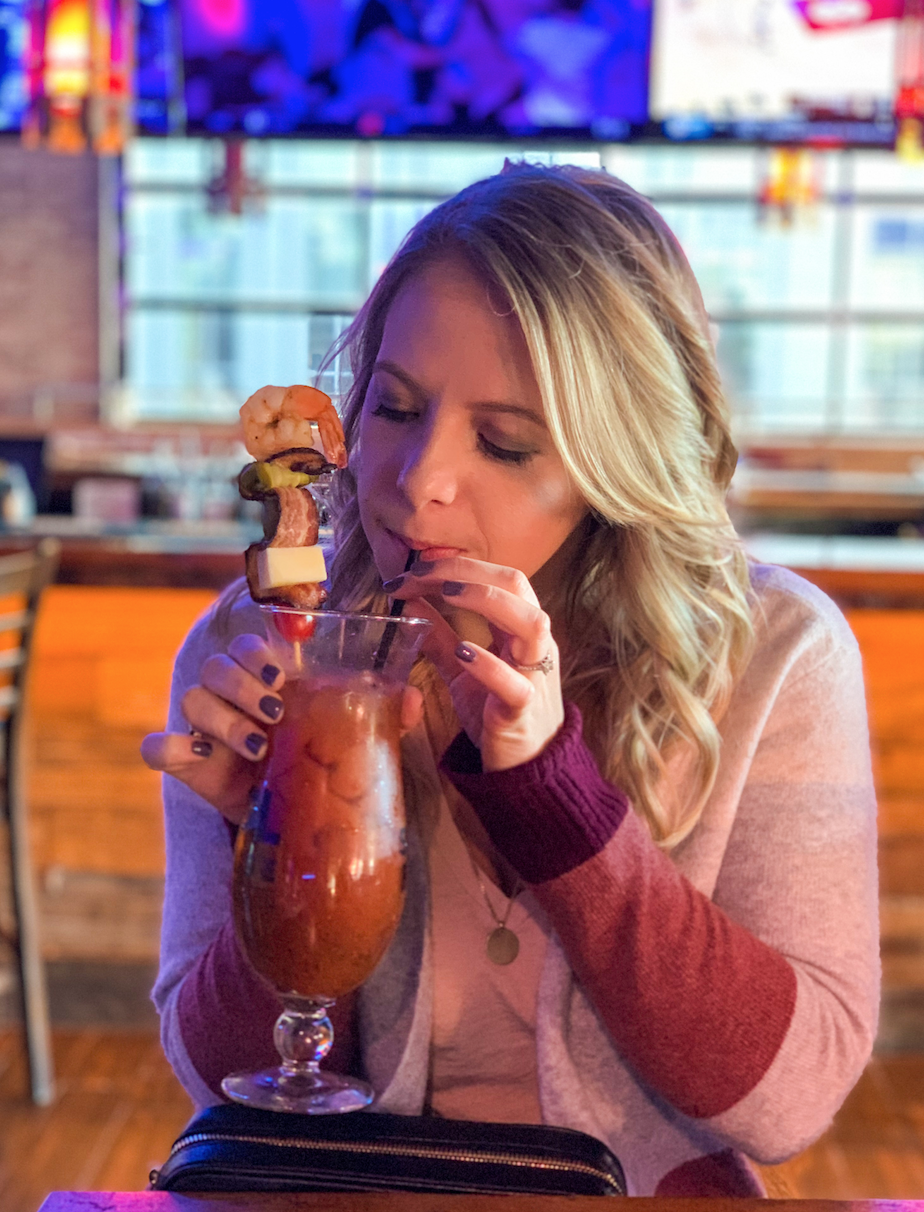 Biscuit Love
This adorable restaurant is open for breakfast and lunch and should be at the top of your list for your trip to Nashville. This place uses biscuit dough for the majority of their menu. I am not one for biscuits and gravy, unless it is from Biscuit Love. Their menu includes things like Princess, a biscuit served with a hot chicken thigh, pickles mustard and honey; bonuts which are fried biscuit dough rolled in sugar and topped with lemon mascarpone and blueberry compote and Lily which is buttermilk French toast served with blueberry compote. These are just of a few of their creative biscuit style dishes. You can check out their menu ahead of time online. Get there early because the line can be long!
The Gulch
While we were in the Gulch we took a few minutes to go take a picture at the famous "What Lifts You" wings. There is a long line if you go in the middle of the day, but first thing in the morning would be a good time to go. Even if you don't you're your photo taken, you should walk by just to see the mural. There are a couple cute shops in this area too including, Kittenish, one of my favorites. It is a nice little area to walk around and there are plenty of places to eat.
Jackalope
We couldn't pass up to opportunity to stop at a brewery while in Nashville, so we hit up Jackalope for a flight. I talk more about the local breweries in my previous post about Nashville. Jacakope happened to be our favorite brewery in the area and we love their beer called Lovebird.
Printers Alley
I had never heard of Printers Alley, but it was a short Uber scooter ride away. We ended up spending a few hours at a Louisiana themed bar called Boogie Bourbon Street. Printers Alley used to be THE place to be in Nashville. The street had lots of saloons, restaurants and hotels back in the 1940s. We only made it to one bar on the street but there were many more, all with great music your could here from outside.
Edleys BBQ
We ended up at Edley's BBQ for dinner and it was absolutely fantastic. I had pulled pork nachos and they were to die for. The offered a variety of BBQ platters and sides and the place was packed when we were there. I would definitely recommend trying this place for some good BBQ.
Day 4 Itinerary
GooGoos
Ole Red
Shopping on Broadway
Broadway Bars Round 2
GooGoo Cluster
GoosGoo's was the original inventor of the combination candy bar. Googoo clusters are a mound of chocolate, caramel, marshmallow and peanuts. They have a shop right near Broadway where you can buy their stuff. You can buy their original, peanut butter or nut googoo candies. There is also an option to build your own candy bar! They also offer chocolate classes.
Broadway Round 2
For lunch we decided to try Ole Red, the Blake Shelton themed bar. We heard some great live music inside and it drew us right in. It was raining so we headed back to the Airbnb to rejuvenate before hitting up Broadway again for the nightlife. When we made our way back out, we went to Tequila Cowboy for music and appetizers, Luke 32 Bridge which is Luke Bryan's bar, and ended the night at Jason Aldean's bar. All these bars had great live music and everywhere we went they took song requests. The week we decided to visit Nashville was actually the week of the CMA awards. All week we saw tour buses parked on the streets. Each time we walked by the Bridgestone arena, I knew there were some of my favorite country artists rehearsing inside. We didn't see anyone famous while we were there, but we had so much fun!
Day 5 Itinerary
On our last day, we went into all the bars and stores on Broadway we hadn't been into yet. Our long weekend in Nashville was actually a day longer than planned, but we spent the last day just roaming around. By this time it was pretty cold out and walking around the city was too cold.
Broadway Round 3
Hattie B's Hot Chicken
Broadway Round 3
Nudies- live music and room to dance, with tons of country music memorabilia
Whiskey Row- Dierks Bentley's Bar, live music and a second floor
Second Fiddle- Live music and a great atmosphere
Tootsie's Orchid Lounge- second floor for drinks and live music. They have a live band on every floor
Wildhorse Saloon
Wildhorse Saloon is one of my favorite places to eat and listen to music while in Nashville. The stage is so big that it feels sort of like you are at a mini concert rather than a bar/restaurant. I have been there for dinner as well as just out for drinks. You can check out their artist lineup online. There are many artists who are now famous that I performed at the Wildhorse Saloon. They also offer free line dancing classes. The classes only last 15 minutes to half an hour and the instructor makes it super easy. It is a fun and free activity while you are in the area.
Hattie B's Hot Chicken
Even if you don't like spicy chicken, you have to try Hattie B's. You can get bone in or boneless chicken and pick how spicy you want your chicken to be. The line was long when we got there, but it moved fast. I highly recommend adding this to your itinerary if you're planning a log weekend in Nashville. It was so good!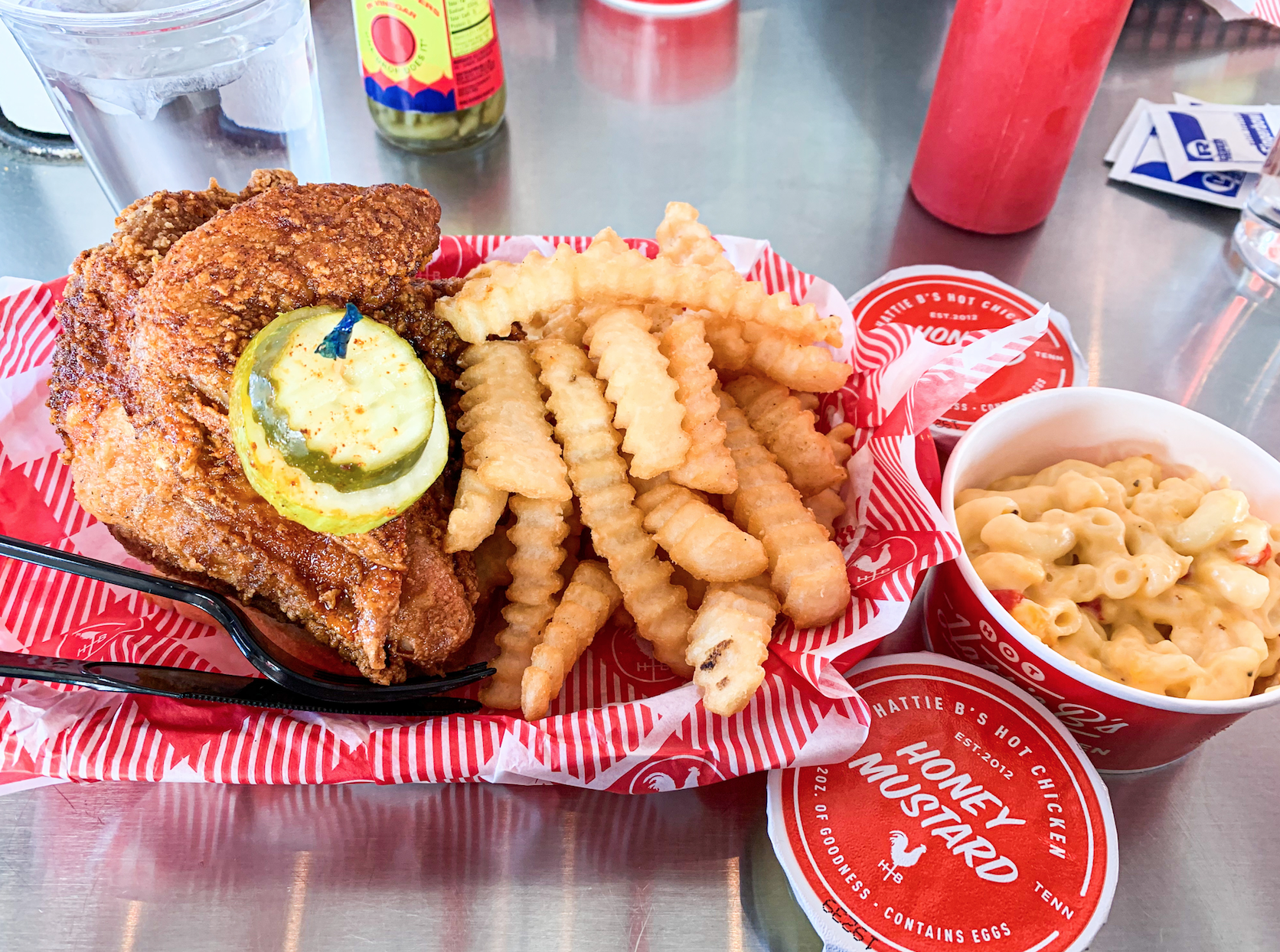 I have been to Nashville three times now and I still feel like I havaen't seen half of what the city has to offer.
Activities still on my bucket list
Peddle Tavern
Titans Game
Predators Game
Tour of the Grand Ole Opry
Five Daughter's Bakery
Country Music Hall of Fame
Tribe Kelley Boutique
Save this post for later!