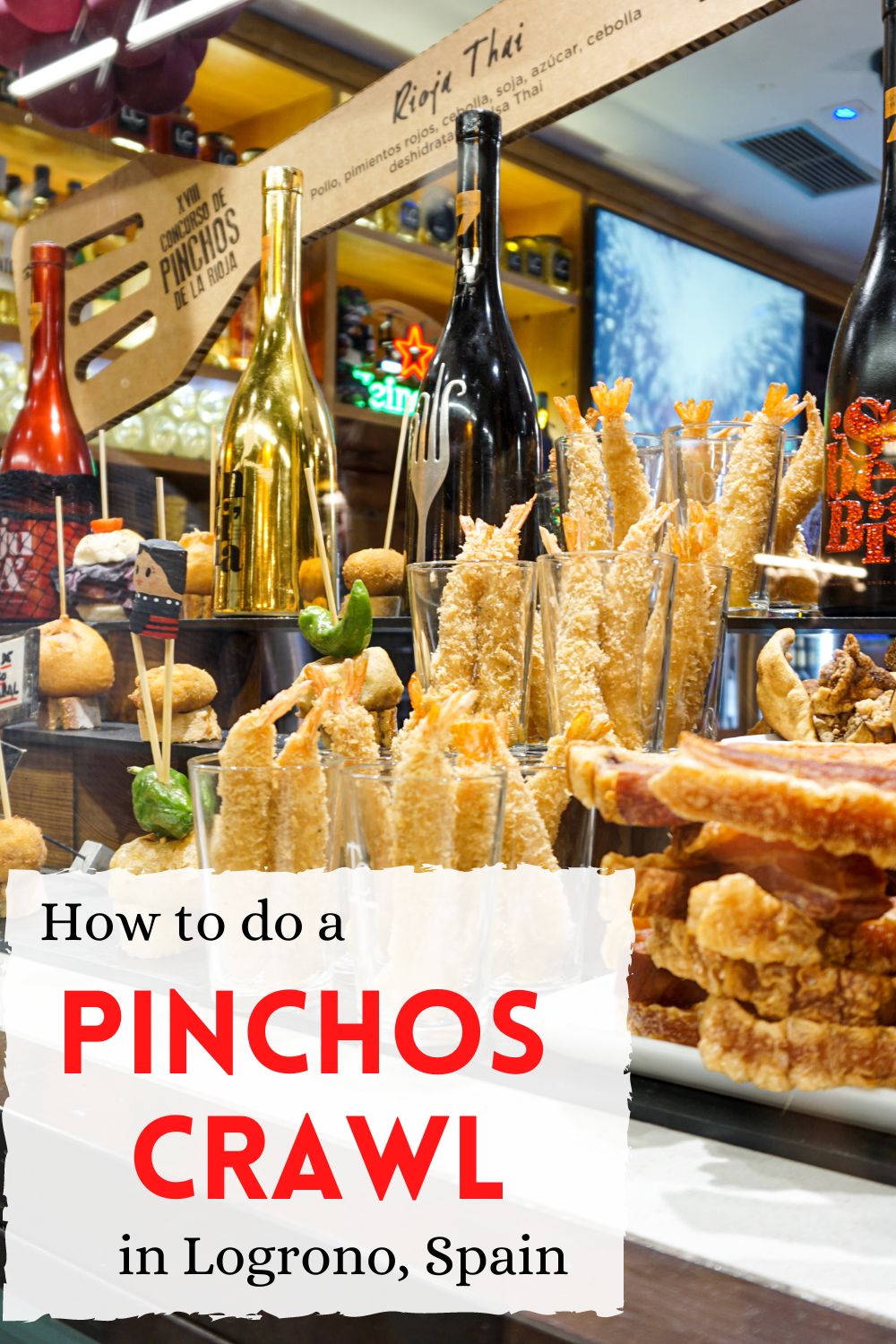 When you are planning a trip to Spain, you dream about the incredible Spanish wine, tapas, cervesas (beer) and homemade paella. And let me tell you, the food and wine in Spain are some of the best I've ever had.
When I traveled in Granada, I learned about tapas. We went out almost every night for drinks and tapas. Basically, tapas are a small appetizer you get complimentary when you order alcohol. A glass of wine, sangria or tinto was my go to every night in Spain.
Something that you may not know about, is something called a pinchos crawl. The pinchos crawl, is a whole eating and drinking experience along a street in Logrono, Spain. Each restaurant along the street serves a small dish called a pincho for a few euros as well as wine and beer. Pinchos are bite sized appetizers and usually served with a toothpick or on a piece of bread. Pinchos are similar to tapas but called something different depending on what part of the country you are in. Each restaurant offers a variety of options.
Pinchos
Bread with fried zucchini filled with ham and cheese
Croquetas (stuffed with ham and cheese or spinach and cheese and then fried)
Shrimp and octopus skewers
Toast with a garlic cheese spread
Tiny green peppers with sea salt and cayenne pepper fried without breading (pimientos de Patron)
Crispy fried pork (almost like thick bacon)
Patatas bravas with aoli and spicy tomato sauce
These were just some of the options that we had while we were there. They were all so good and a great way to try authentic Spanish food for a great price.
Where to Go
If you are in Logrono you can ask a local about the pinchos crawl and where to find it. We found that most of the action takes place on Calle Laurel. The street is lined with restaurants and bars. There are a few surrounding side streets that are part the crawl as well, but the main street is called Calle Laurel. Each place offers alcohol and a display of their specialty pinchos. We usually ordered wine or beer and then a couple pinchos to share. Most of the places don't have places to sit so you can stand at the bar or stand outside. Because there is only standing room, it is probably a good idea to send one person inside to do the ordering and have everyone else wait outside. When we went every restaurant was packed with people.
The crawl happens twice a day, once in the afternoon from 1pm to 4pm, and again in the evening from 9pm to around 11pm. We went to the evening crawl and it was so much fun. The restaurants open earlier than this, but the crowds really start at this time.
What to Bring
I would suggest wearing something nice, but comfortable. I wore a summery dress. Make sure you are wearing comfortable shoes. There is lots of standing and walking from one restaurant to the next and one street to the next. Bring small bills (euros) to pay. Each item is only a few euros and these places are very busy, so having exact change will help make things easier.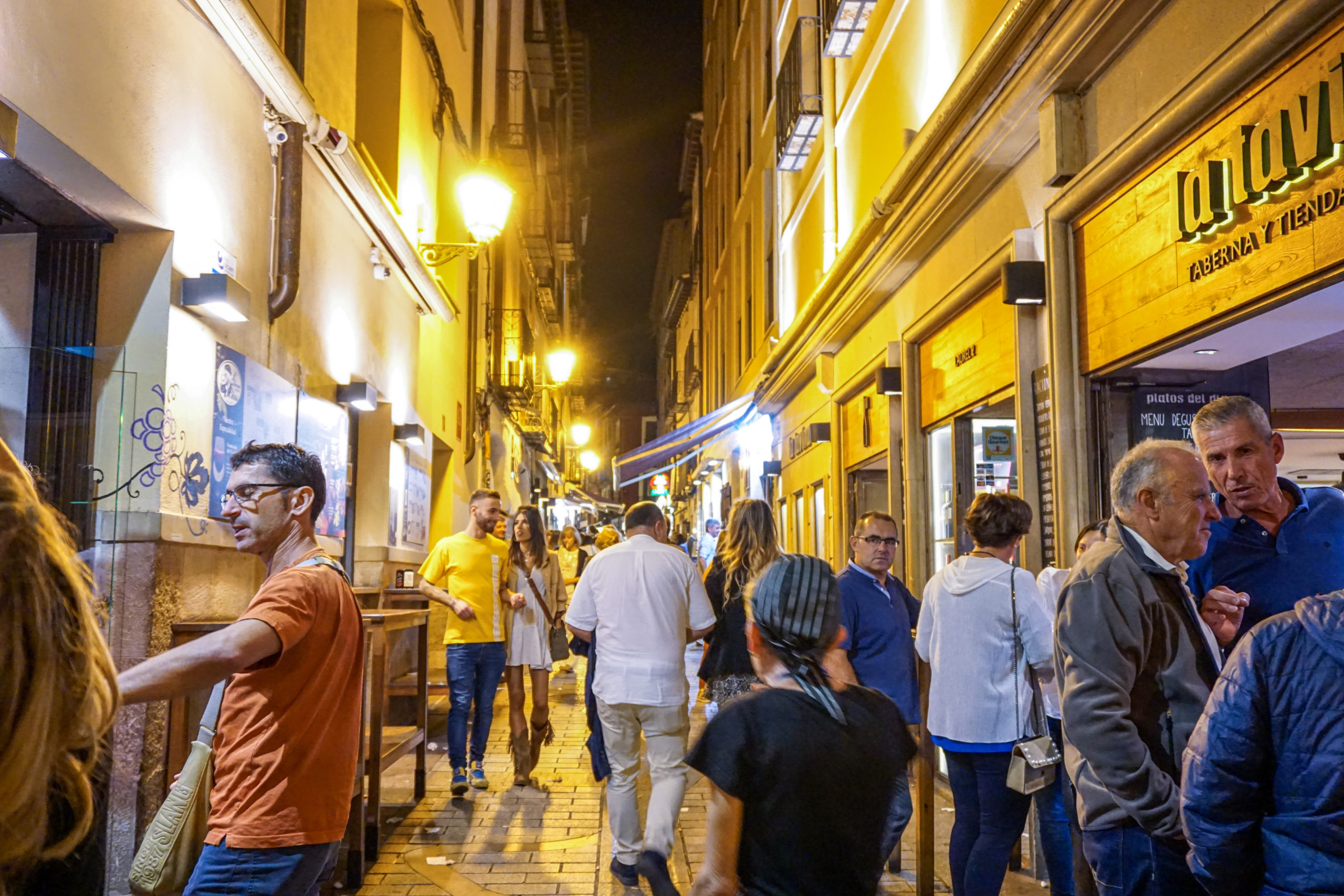 The pinchos crawl is a great way to try some local food for a reasonable price. This ended up being one of out favorite parts of the trip because we had so much fun. I honestly loved all of the food we tried. Spain is such a wonderful country with some of the best food. If you are thinking about planning a trip to Spain, be sure to check out my post on my full 9 day itinerary.
Save this guide for later!