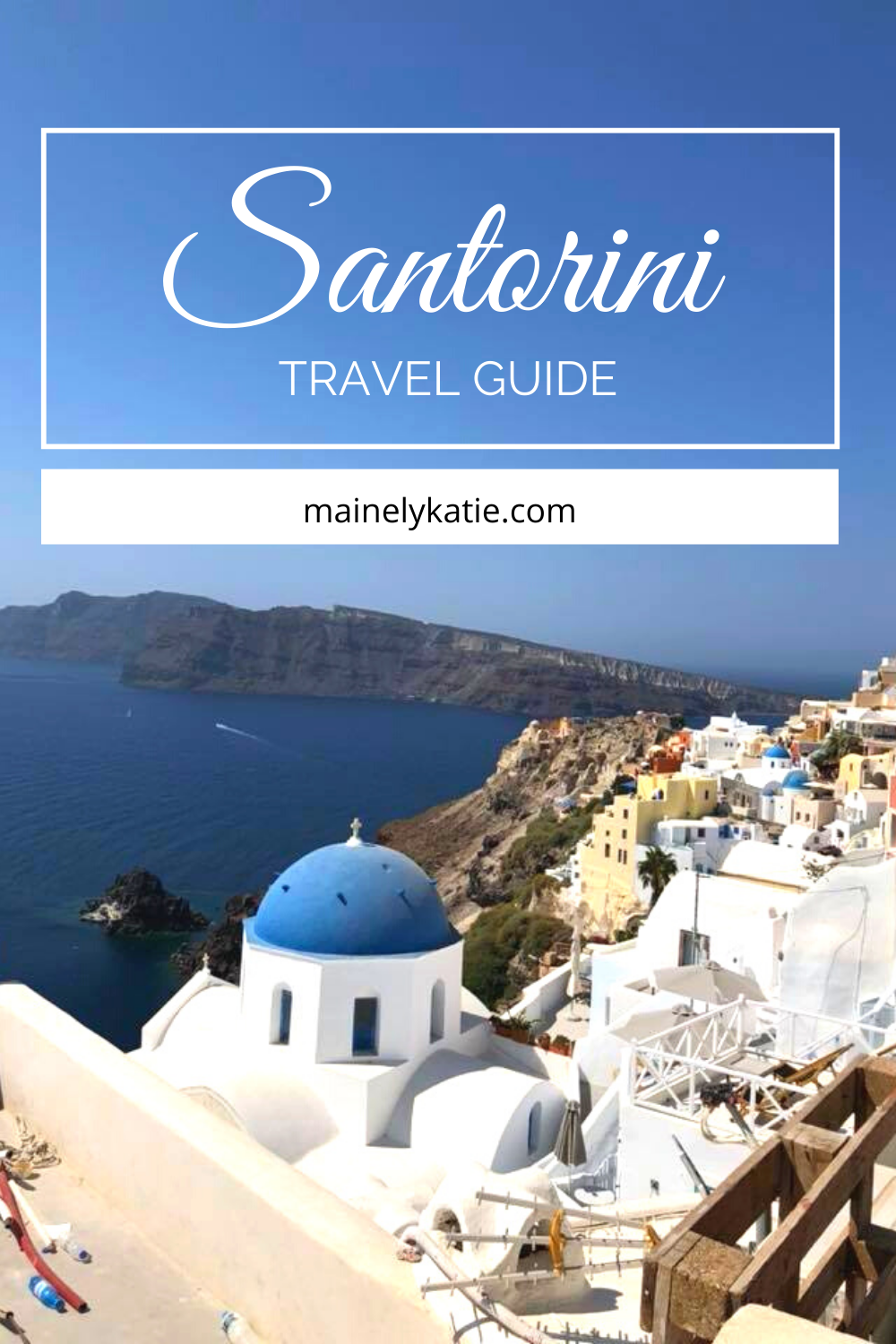 We had the BEST time on out first trip to Santorini and we cannot wait to return. I put together this Santorini travel guide for first time travelers so you can make the most out of your first trip to Santorini.
Full Day of Travel
Day 1 of vacation is always a long day of travel because I cannot for the life of me sleep on a plane. Usually, I can fall asleep for 15-30 minutes at a time and then I am back up again. I also get really dehydrated on planes because of that weird air and I don't like to drink too much water so I don't have to get up to go to the bathroom a thousand times. The first day of vacation I'm usually just full of excitement and can't wait to reach our destination.
All of that being said, out first flight was 9 to 10 hours from JFK to Athens. We flew into Athens and then took another flight to Santorini. You can also take a ferry over. I would highly recommend staying in Athens for a couple days to see the sites and walk around the city.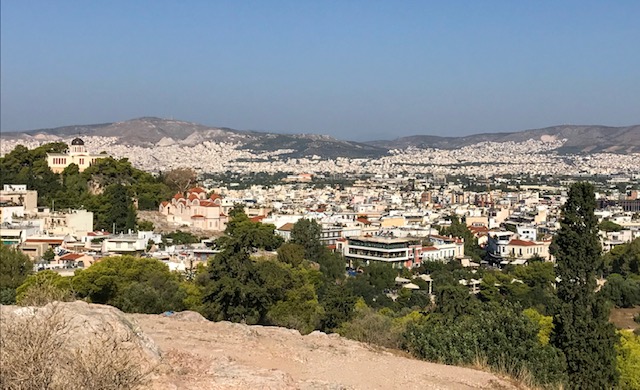 Hotels & Rooming
As a first time traveler to Santorini, finding hotel options can be a bit overwhelming. There are many different hotel/resort options in Santorini. Many of them are privately owned. Some of the resort are very nice and include you own private pool, but make sure to read the reviews. The downside is that sometimes these resorts/hotels are farther from the city center. We opted to stay in an Airbnb. It was also the cheaper option as we were traveling with 8 people.
I would recommend staying in one of the cute little white huts on the side of cliffs like you see in all the photos. You can find these on Airbnb. We rented out one that was large enough for all 8 of us and when we got to our door we were blown away. Our house was located right off the cliff in Oia so we could easily walk to restaurants and shops. But you guys…. our Airbnb was literally in the most iconic spot in Santorini. We knew that we would be close to the blue domes but to literally have our balcony connected to them was unbelievable. It gets better, so more about this balcony later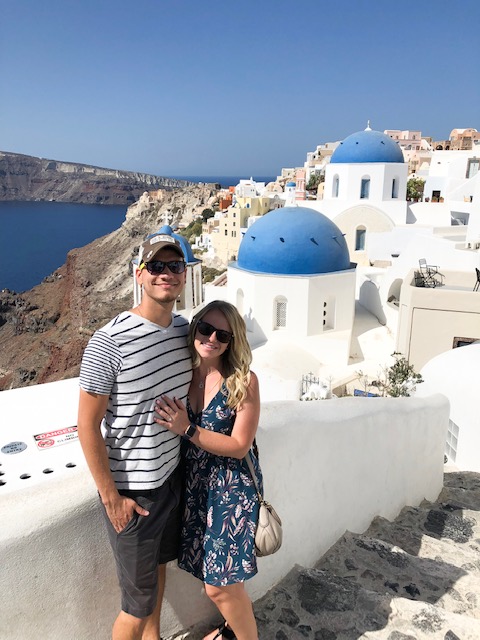 If you cannot find an Airbnb that you like, I would definitely recommend getting a room at one of the hotels or resorts. These are so nice when the sun is incredibly hot and also an amazing place to just relax in and watch the sunset. Many of the hotels offer rooms with private pools so you shouldn't have trouble finding one. These are usually a little more outside the city, but super nice. We noticed that some Airbnb rentals had the options of a private pool.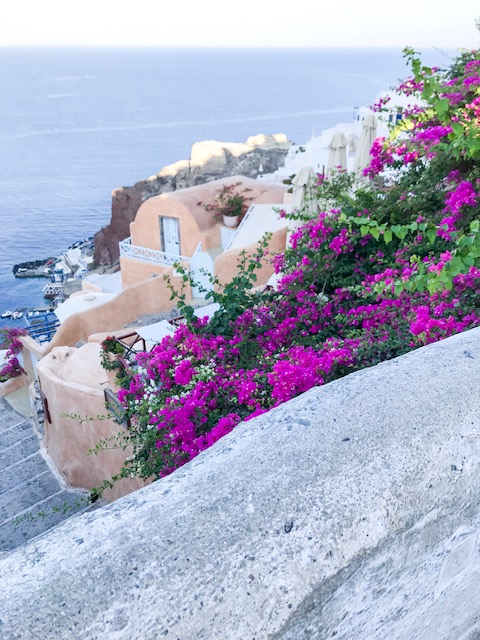 Transportation
We stayed in Oia, which kept us busy for most of the trip. I will not lie Oia is heavily populated with tourists. This made it a little difficult to get in and out of our Airbnb because people were constantly taking photos on the stairs that lead to our front gate. There were also an insane amount of weddings happening in the few days that we were there. When we did decide to venture, we used public transportation.
Taking the bus is relatively cheap, but it does eat up some time with all the stops. The buses and bus stops are clearly labeled so you shouldn't have trouble getting around. Make sure you have cash to pay the attendants on the bus because they do come around and collect the fare. If you're not a fan of large groups of people or public transportation, you can rent a small car or even an ATV to get around the island. The transportation in Santorini wasn't that complicated, but I wanted to include it my Santorini travel guide because you do need some for of transportation to get around the island.
Oia
We opted to stay in Oia and be in the center of most of the action in Santorini. Restaurants and markets are easy to walk to and you can take public transportation to the rest of the island. You can take the most beautiful pictures and at night the whole place is just lit up. I can't forget to mention the sunsets. Almost every blog article you read about Santorini will mention the sunsets and there is a reason. From one side of the island you can see the sun sink down into the clear blue water and it really is picture perfect.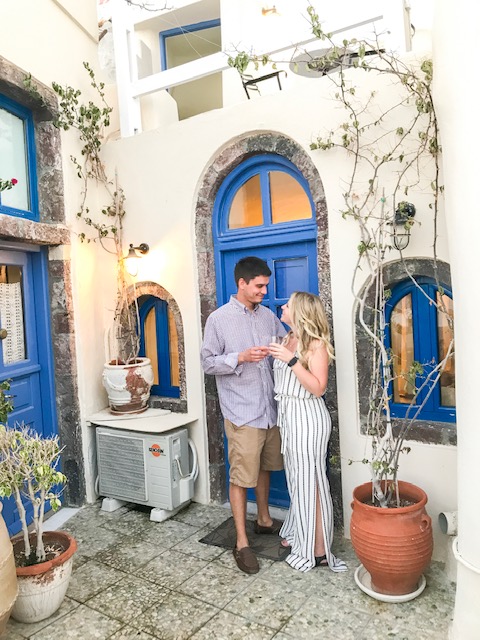 Fira
We took a bus to Fira to check out more local markets and for some food with incredible views. If you're looking to get a gyro I would recommend getting one from a street vendor/small restaurant in the markets. You can see the meat being slow roasted and they make them fresh to order in front of you. They were incredibly good and we had them on more than one occasion.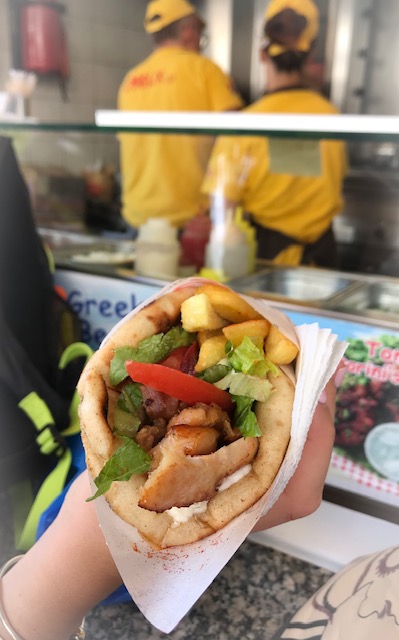 We really enjoyed wandering around the markets of Fira and searching for local products. I picked up a volcanic rock bracelet, handmade pottery and some clothing. If you get tired or hot from all the walking, it's nice to stop by one of the many restaurants with outdoor seating and grab a drink or a cup of coffee and free wifi.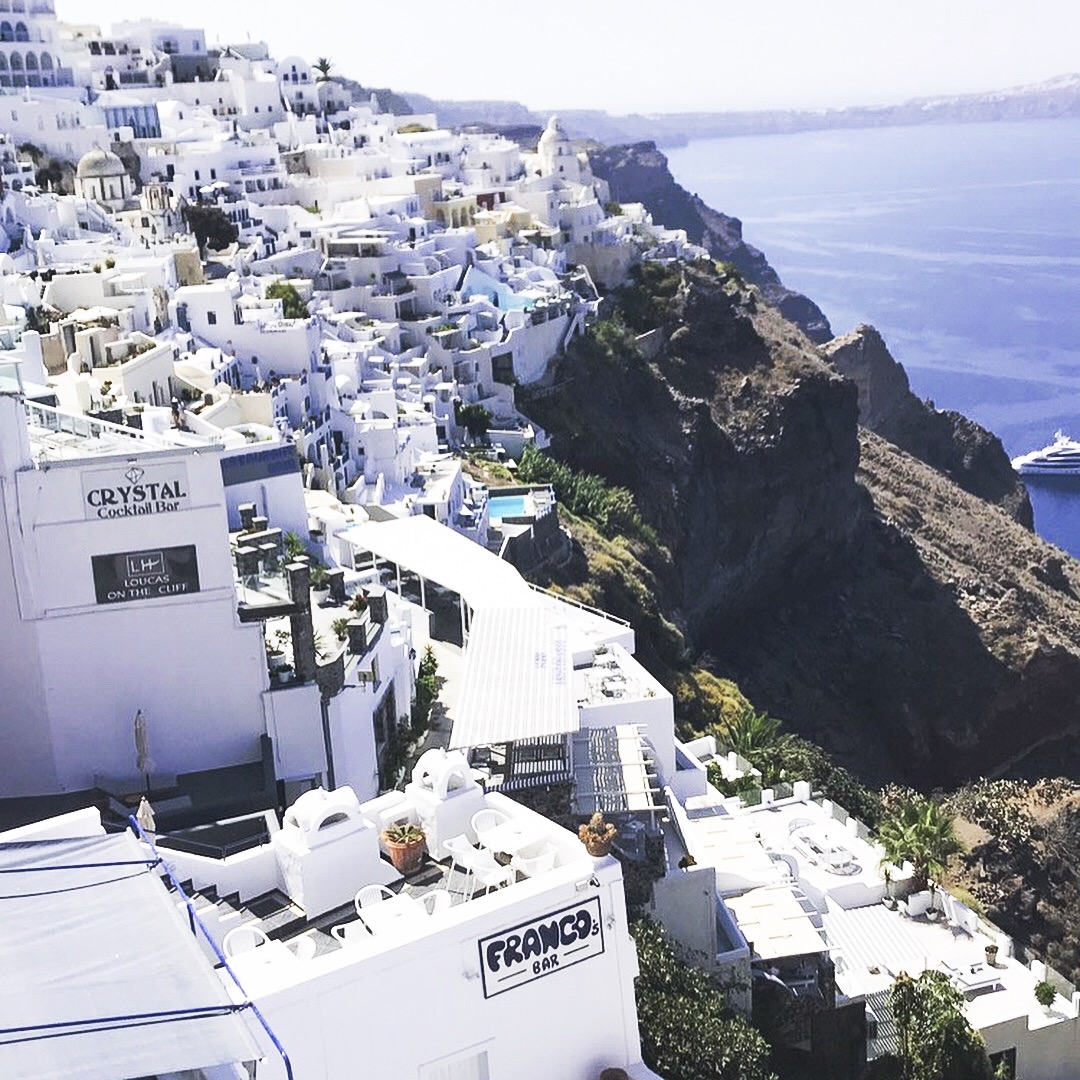 Amoudi Bay
While doing some research before we left for Greece, I learned that there are very few beaches and nice places to swim on the island. I found that the beaches that they do have are rocky compared to beaches in the United States. But there are a few places to jump in the sea and swim. The water is a beautiful blue color and we wanted to swim. If you stay in Oia you will be able to take the stairs all the way to Amoudi Bay. There are 200+ steps on the way down, but let me tell you totally worth it! This is a perfect spot to swim in clear blue water and do some cliff diving if you're into that sort of thing. The path along the bay is also covered with restaurants right on the water in case you work up an appetite. Amoudi Bay is very popular and known for it's restaurants right on the waters edge.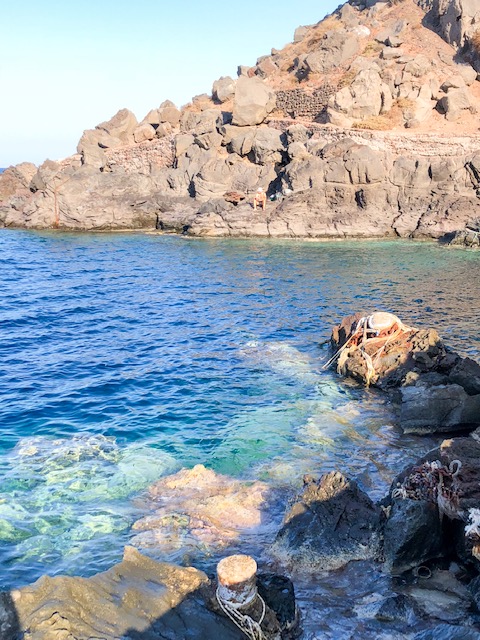 Black Sand Beach
As I said before, I was surprised to find that Santorini wasn't full of beaches. I am glad that I did a little research beforehand to see what was there. We went to the black sand beach because it was closer for us and easiest to get to. It wasn't your typical beach with soft sand, but I loved it! The sand is coarser and the beach is rockier, but the water is so blue. Also, the ocean water is much more salty than the Atlantic Ocean. Swimming at this beach was one of my favorite parts of the trip so I wanted to be sure to include it in my Santorini travel guide.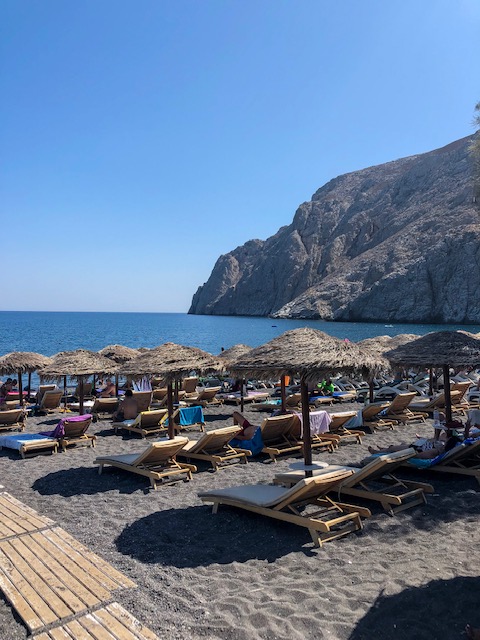 Food
A Santorini travel guide could not be complete without talking about the food. We ate so much while we were there and I cannot say enough good things about the food. Honestly I don't think that it matters where you eat as much as what you choose to eat. We didn't go to a single "bad" restaurant, but maybe it was beginners luck. Try to be a bit adventurous and order some of their local cuisine.
Moussaka- Baked dish containing minced beef, eggplant or potatoes, a creamy sauce and tomato sauce. To me it was a lot like a lasagna and so good.
Souvlaki- Grilled meat on a skewer and seasoned. So simple, yet falovrful.
Gyros- Chicken or pork slow roasted and stuffed inside a homemade pita loaded with tzatziki, lettuce, tomato ect. An absolute must when in Greece. I probably ate one a day.
Tzatziki- A yogurt based dip with oil and spices. Lots of times you order it as a dip with cucumbers, tomatoes and pita. Another favorite.
All the feta- with pita, tomato and cucumbers and in greek salad.
Saganaki- Fried cheese that comes as a giant square. Need I say more?
Spanikopita- Flaky pastry dough filled with a butter, spinach and feta filling.
REAL Greek Yogurt- These popped up like local ice cream shops and had a similar atmosphere. You pick your yogurt base and sweetener and select the toppings you would like. I though that it was much creamier than American greek yogurt.
You can easily spend all your money on food when you go on vacation, especially if you're eating out all three meals a day. The goal for us is to keep food costs down while trying as much of the local food as possible.
Dining Out Tips
We like to go to the grocery store when we first get to our destination to grab quick things to eat for breakfast and snacks. One of my favorite things to do when I travel is to go to the local grocery stores to see what they have for snacks. Breakfast is usually toast or a bar or something that we have stocked up on at the grocery store so that way it is quick, easy and saves you some money. Of course we ended up eating breakfast out one or two days.
By lunchtime we are usually pretty hungry so we go to a restaurant and order a few things to share. This could be different appetizers, pizzas, pasta dishes, soups, salads, ect. That way we can eat authentically, but we also have a variety. You also don't have to be afraid of ordering something you don't like because you have options.
When we are on vacation dinner tends to be our largest meal of the day. After a long day of walking and activities we go back to our rooms, shower and get all dressed up. I think every night we took sunset pictures. Who doesn't like to dress up and go out to a fancy dinner when you are in Greece?!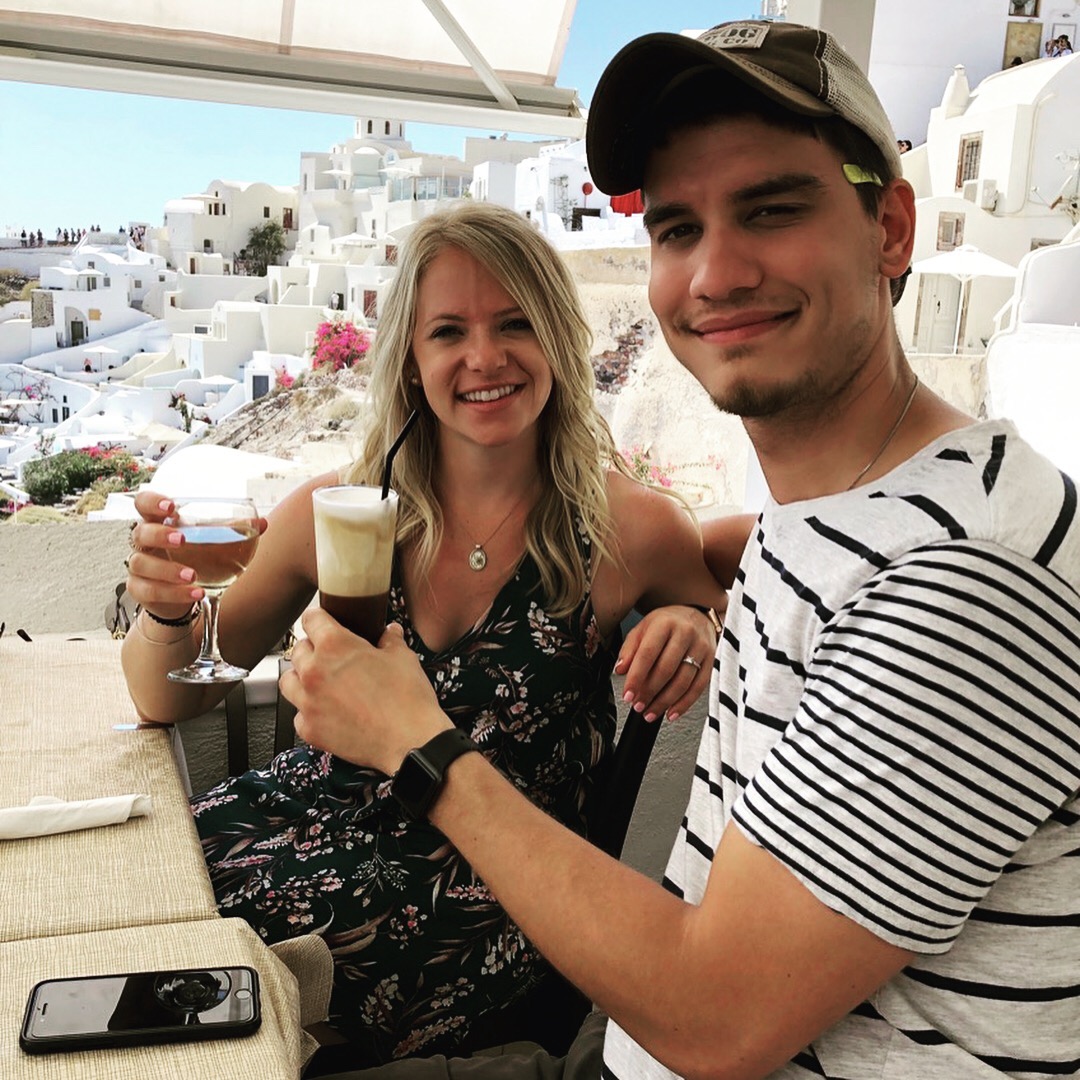 Remember how amazing our Air Bnb was?? Well…
Alex could not have picked a more perfect spot or a more perfect time to propose. I was completely surprised and my family was there to celebrate with us. And you could not ask for a more gorgeous view.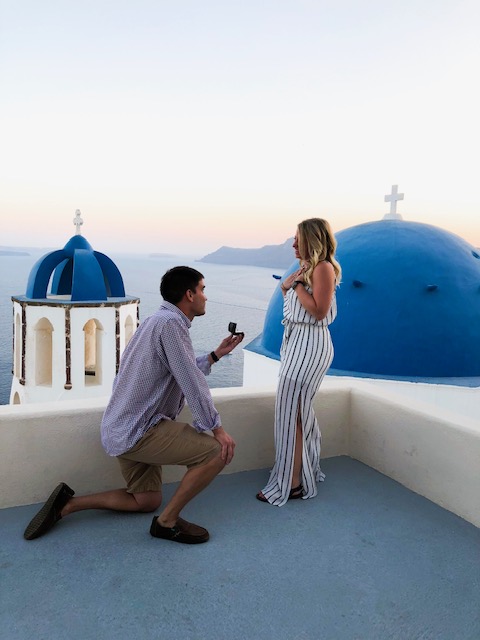 For Next Time
Greece holds such a special place in our hearts and we cannot wait to make a trip back sometime soon. I'm thinking maybe our first anniversary.
While putting together this Santorini travel guide for first time travelers, I wanted to make sure to mention some of the things we didn't get a chance to do. SO for next time:
Hike the trail between Fira and Oia. It's about a 2.5 hour walk along the ocean
Sail around the volcanoes or take a boat around the islands for a day
Make our way to the other islands (Mykonos)
Wine tour- I have heard such great things about the winery in Santorini and I'm sad that I didn't make time for it on our trip. We did however; visit the brewery, which was a neat experience
We did not get a chance to do everything we wanted to do and see while we were in Santorini. The second leg of our family vacation was about to be a little more adventurous than the relaxing stay in Greece. We packed up our things and jumped on a plan to Egypt. Check out my post on Things to Know When Traveling to Egypt to read about the second part of out vacation.
Save this guide for later!