The first time I went to Nashville I was sixteen years old. Although I had tons of fun, I promised myself that I would go back when I turned 21. There were some many places to visit in Nashville, that I promised I would go back.
Fast-forward 10 years and my boyfriend (now fiancé) and I planned a mini Nashville vacation together. He had never been and I wanted to fulfill that promise to my sixteen-year-old self.
We were able to snag cheap flights from Boston to Nashville, around $150 per person. Read my blog post about traveling on a budget to find out how we do it. We did go in July, which is usually much warmer than what we are used to in Maine, but it was the only week we could get the time off work together. The only plans we made ahead of time were tickets to the Grand Ole Opry and our hotel. Our plan was just to explore the best places to visit in Nashville.
Since we got such cheap flights we decided to splurge a little on the hotel and stayed at the Westin.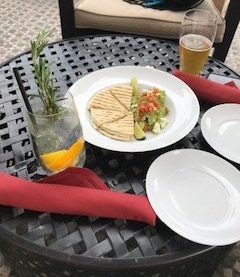 The hotel was beautiful and worth the price. We were big fans of the rooftop infinity pool. Seriously soo cool!
We didn't make an itinerary ahead of time, but we knew that we planned on eating, drinking and enjoying some good music. The plan was to relax and just go with the flow.
We arrived on a Saturday and our hotel gave us free drink tickets while we waited for our room. We enjoyed the beautiful rooftop views and cocktails. I would highly recommend visiting the rooftop bar and pool at the Westin when you plan your Nashville travels.
Now to the food and the beer!
Florida Georgia Line Sundaze Brunch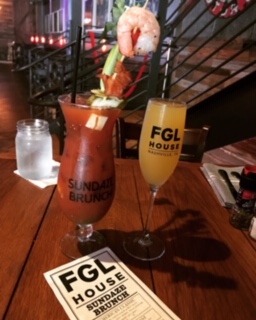 Sunday morning I knew that we had to get the to Florida Georgia Line Sundaze Brunch for their famous bloody mary. This was about the only place I researched ahead of time. We woke up early that day to make sure that we could be first in line, but when we got there they were able to take us right in. We had an incredible brunch and the bloody mary was soo good that even Alex enjoyed it. That bloody mary itself could have been a meal with the bacon, cheese, shrimp and celery garnishes. The food was also great! I'm not a big breakfast eater, but I thoroughly enjoyed the FGL breakfast. Check out the FGL House menu and events.
Biscuit Love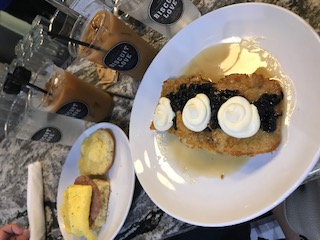 Biscuit Love isn't on Broadway, but it's worth the walk to the Gulch. This place uses biscuit dough for all of their dishes and it's fantastic! First up was the bonuts, which are fried biscuit dough with sugar and topped with lemon mascarpone and blueberry compote. On a separate occasion I got biscuit French toast with more lemon mascarpone and blueberry compote and Alex enjoyed the biscuit with smoked sausage, scrambled egg and cheddar. Such a cute little place to grab something sweet or sit down for a home cooked breakfast. I would highly recommend this place when looking for places to visit in Nashville/
Jason Aldean Kitchen & Rooftop Bar
On our search to find a good concert to attend, I came across this Facebook post from a local radio station. They were hosting a free concert featuring Maren Morris at the Jason Aldean rooftop bar. We thought a free concert was too good to be true, but decided to check it out since we wanted to see the rooftop bar anyways. SURPIRSE! The concert was actually free! We listened to CASH CASH, Loote, Sabrina Carpenter and Maren Morris and it was the highlight of our trip. We also really enjoyed the rooftop bar. It would be a great place to grab a drink and look out at downtown Nashville. The food tasted so good after standing out in the heat at the concert. Definitely a great place to check out if you're looking for good views and live music!
Tin Cup Coffee
We went here on more than one occasion as well! This is more of a quiet little coffee shop kind of place. The lattes were great and the staff was friendly. We enjoyed some avocado toast and omelets.
Now Part II is all about the breweries!
Disclaimer: I am not a beer guru. I only know the basics about hops, malts ect. I like the taste of beer and find it fun to try new kinds.
Maine has some of the most microbreweries in the United States. That being said, one of our favorite things to do is to have a flight at our local breweries. Finding breweries in Nashville was a priority during our short stay. We were able to find three within walking distances and we were not disappointed! If you are a fan of microbreweries, add these three places to your list of places to visit in Nashville.
Yazoo Brewing Company
It was a little bit of a walk from the hotel to find this place, but worth it! We loved the atmosphere and outdoor seating. There was a good-sized selection of beer and we were able to each get flights for a reasonable price.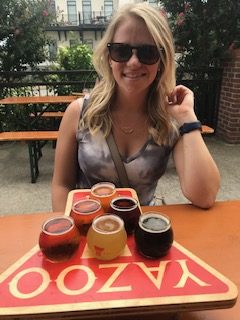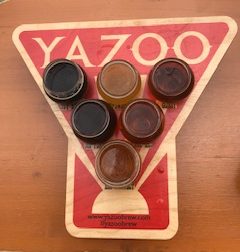 Jackalope Brewing Company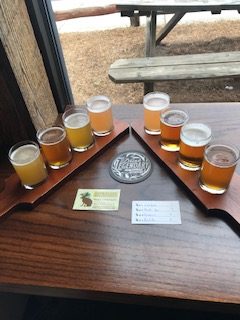 I have to say that this brewing company was my favorite. That beers were good and not just because I had just had 24 oz of beer and walked in 80 degree weather to get there. I have a thing for fruity beers and they have a strawberry raspberry hefeweizen called Lovebird. Sooo good… Oh and it was started in 2011 by two women!
Tennessee Brew Works
We had a real hard time finding this place with all the new construction going on in the area. When we finally found it, I was quite impressed by the building. It was two stories with a large outdoor patio. They also served food. We didn't order any, but it looked really good. They also used locally sourced products and have a green brewing process. How could you not love that?
There are so many places that we didn't get the chance to see/try. We will be back soon!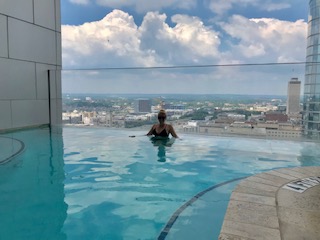 Save this pin for later!