Nashville is one of my favorite cities to visit. I make it a priority to go at least once a year now. Sometimes it is just for a long weekend. If you want to know what to do in Nashville for a long weekend, check out this post. Nashville has everything from high end restaurants to dive bars and everything in between. There are so many great places to eat in Nashville, but every time we go we find ourselves going back to some of our favorites. I've put together a list of some must try restaurants in Nashville, TN. This list consists of some of the popular and most fun places to eat near Broadway. Some may be a bit touristy, but I feel like this list will give you the full Nashville experience.
Biscuit Love has become more and more popular since the first time I visited. In case you haven't heard of Biscuit Love, it's a family restaurant that serves breakfast and lunch and the majority of their menu is made up of biscuits! Their menu is full of creative biscuit recipes that are drool worthy. Every time we go to we have to share an order of bonuts. Bonuts are delicious biscuit dough deep fried, coated in sugar and topped with a lemon mascarpone and blueberry compote.
Can you tell that I love breakfast in Nashville? Nashville Jam Co is another adorable locally owned breakfast restaurant where their homemade jam and biscuits are out of this world. I love that this is a locally owned and operated restaurant. Their variety of jams include peach habenero, strawberry jalapeno and six pepper jelly. The little bit of spice and sweet tastes soo good on a homemade biscuit. Check out their menu and make sure you make the trip.
I'm always on the hunt for fresh donuts wherever we go. My first trip to Nashville is when I discovered the bonuts at Biscuit Love, but I missed the opportunity to go to Five Daughters Bakery. The atmosphere at this bakery is as wonderful as their donuts. You have to try one of their 100 layer donuts and I promise you won't be disappointed. While you're at it, get some to go because they are so darn good.
Hatti B's Hot Chicken
You can't go to Nashville and not have some hot chicken. Hattie B's Hot Chicken as always at the top of my list when I am in the mood for some good comfort food. They offer fried chicken as hot or as mild as you would like. They also serve up all your southern comfort sides like pimento mac and cheese, southern greens, red skin potato salad and black eyed pea salad. I highly recommend giving this place a try. If you don't want to wait in line, you can always get it to go!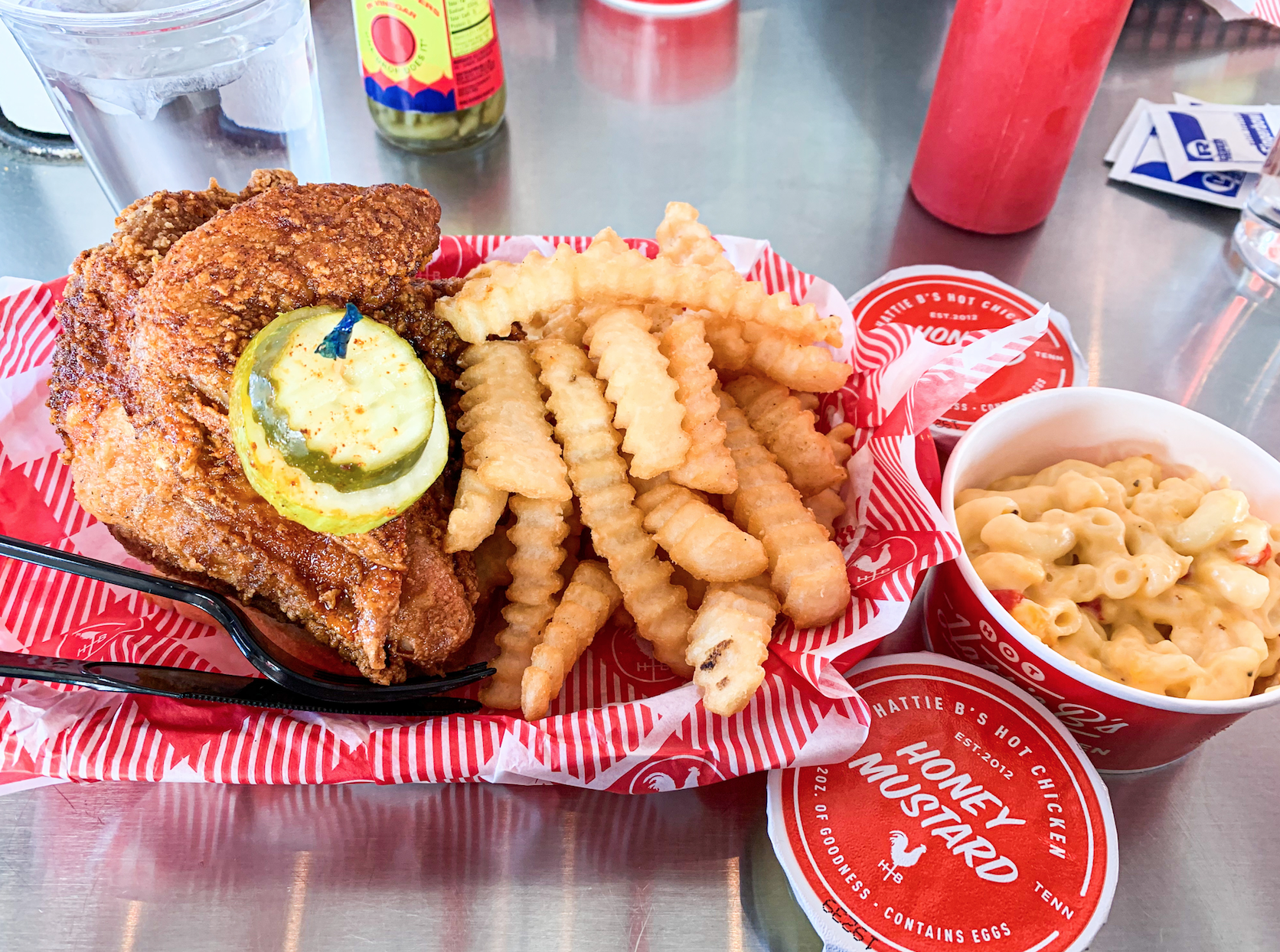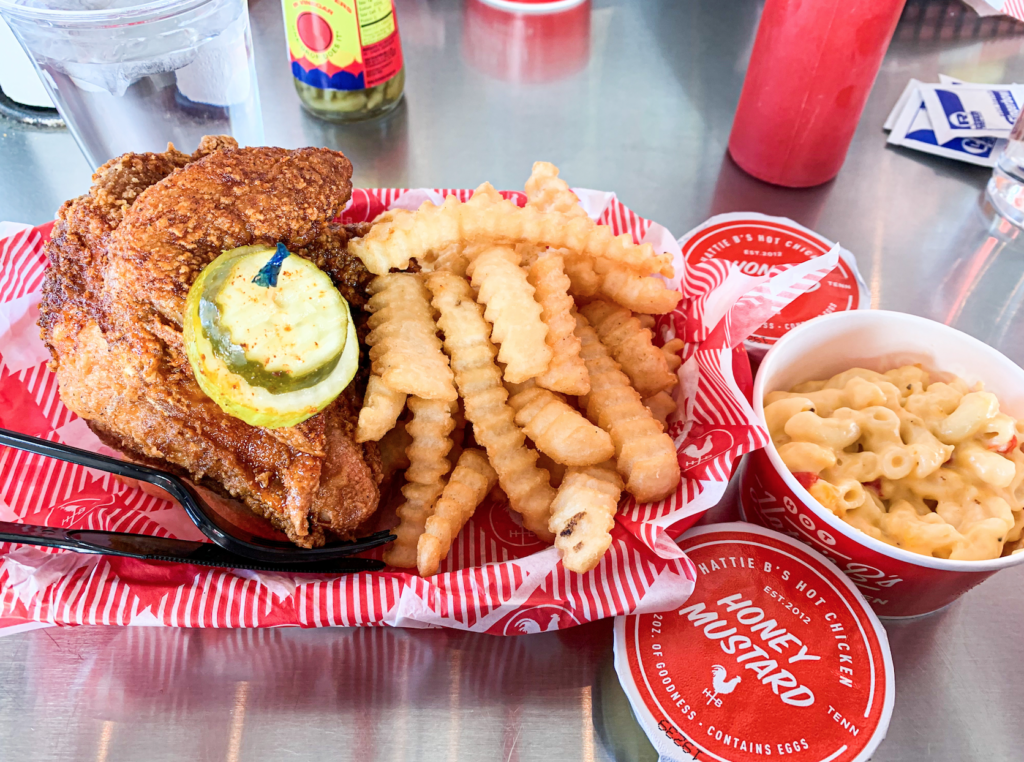 Edley's BBQ
I love a good barbque and Edley's does not disappoint. We ventured here one night after our original places was booked. It was the best back up plan we have ever had. Now we have to make a stop here at least once every time we make the trip to Nashville. I'm a big fan of the pulled pork nachos made with homemade chips! You can get a full BBQ platter with all the sides to get you fill of Nashville BBQ.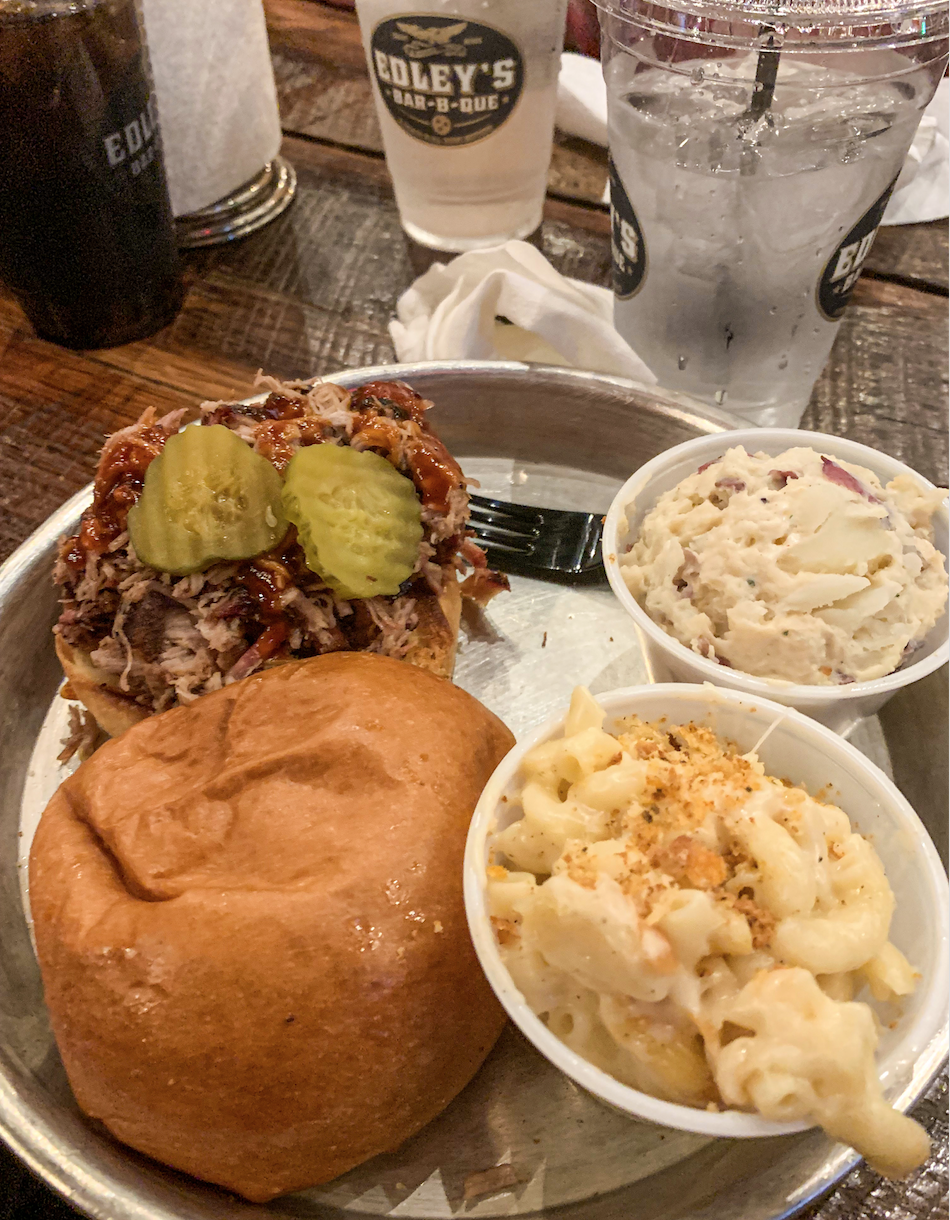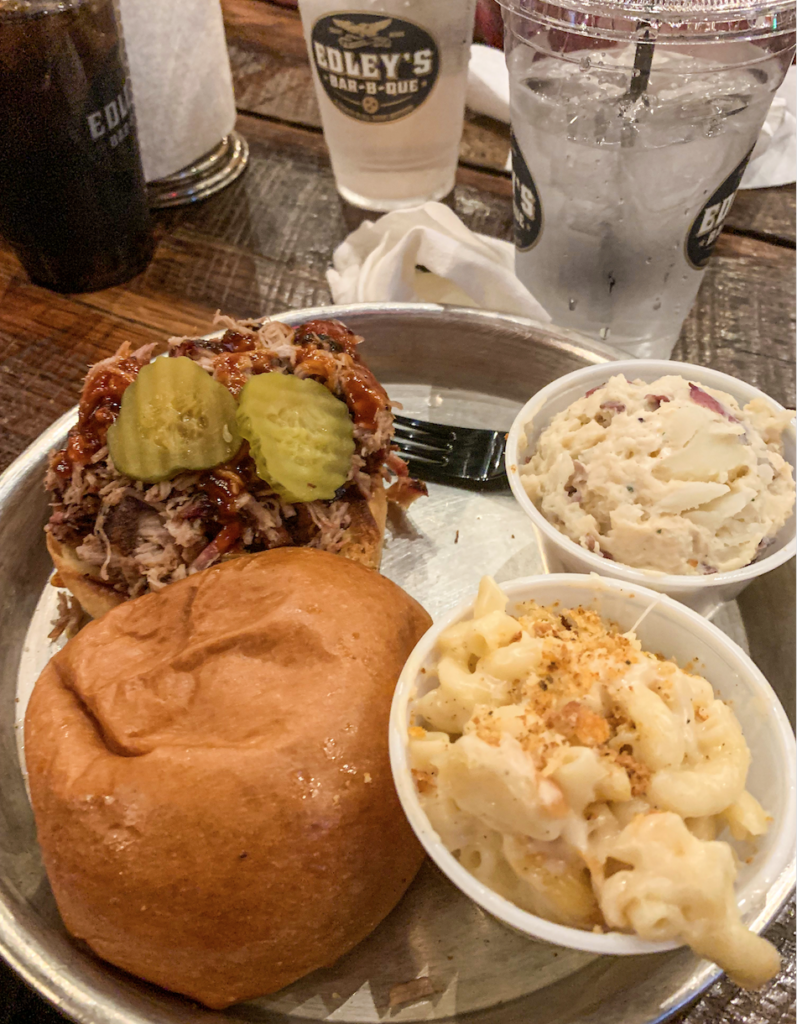 The Stillery has two locations in Nashville and it is worth your time to make a stop at either one. If you enjoy wood fired pizza, juicy burgers and fantastic appetizers, then The Stillery will check all of your boxes. I had the wood fired brussell sprout and pancetta pizza and it was phenomenal. They also serve up some great cocktails and local draft beers.
Restaurants and Bars on Broadway
You can find some must try restaurants in Nashville right on Broadway. Lots of country music singers have their own bars and restaurants right on Broadway and it's so much fun to pop in and out of them and see all the fun decor. And you may get the chance to see a special performance from your favorite musicians. I love stopping into Luke Bryan's 32 Bridge bar, FGL House, Ole Red by Blake Shelton, Dierks Bentley's Whiskey Row, Alan Jackson's AJ's Bar Good Time, Jason Aldean's Kitchen and Roof Top Bar. In my opinion all of them are fun to drink and eat at. If you are a country music fan, they are a lot of fun. I love just listening to the bands play, singing along and enjoying a drink. There are also plenty of fun Honky Tonks that are open late. I love going to Robert's on Broadway for a fried bologna sandwich and a beer.
Now that you have had your fill of breakfast, hot chicken and drinks, you need something sweet. The Goo Goo candy factory is right downtown and a fun little place to visit and grab a sweet treat. You can also grab some goo goo clusters to take home. Inside The Goo Goo shop there is also an ice cream bar where you can order a sundae or a milkshake to end the night.
There is so much to do and see in Nashville, Tennessee but take the time to check out some of these restaurants while you're there to get the food experience. If you are looking for more things to do in Nashville like bars, food and brewery hopping then check out this post. If you have other cool places to eat in downtown Nashville, please let me know in the comments!
Save this post for later!