A three day weekend in Austin makes for the perfect girls trip! This was my first visit to Austin and although three days isn't enough to see it all, we had a blast and would highly recommend this city for your next girls trip. Austin is a city that is known for "keeping it weird", and there's always something to do. Here's our guide to the best things to do, eat, and see on your girls' weekend in Austin, Texas.
Where to Stay
First, let's talk about where to stay. If you're looking for a trendy and central location, we recommend staying in the downtown area. The JW Marriott Austin is a great option for its luxurious amenities and central location. If you're looking for something more boutique, The Driskill Hotel is a historic hotel with a charming atmosphere. We stayed at Hotel Indigo and it was a great location within walking distance of 6th Street and South Congress. I recommend staying in a hotel or Air BnB close to sixth street so you can walk everywhere.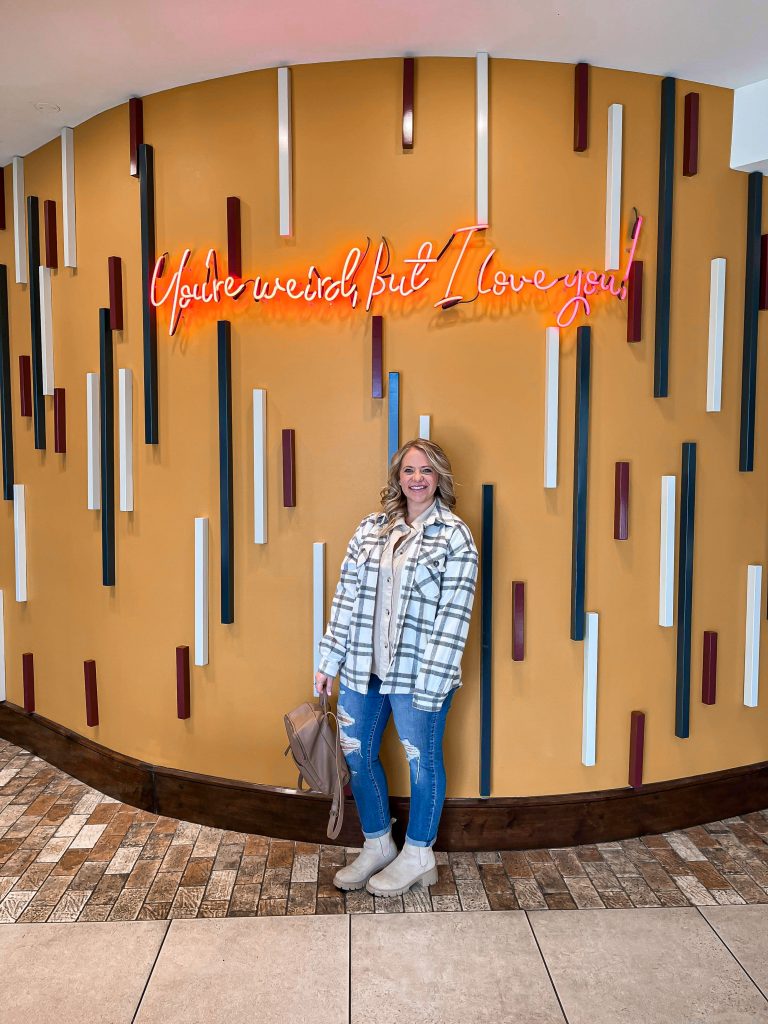 Where to Eat
Now, let's talk about food. Austin is known for its amazing food scene, and you won't be disappointed. For brunch, we recommend heading to Gabriela's for fun drinks or Hillside Farmacy. Gabriela's has fun drinks and a tex mex inspired brunch menu. Hillside Farmacy is an old school pharmacy transformed into the cutest asthetic brunch spot. I have also heard greta things about Paper Boy, but make sure you make a reservation. For a quick breakfast or dessert, grab some donuts at VooDoo donuts. They have lots of fun flavors to choose from. We really enjoyed Torchey's Tacos and their famous queso. And if you're in the mood for some Texas barbecue, make a stop at Franklin Barbecue. The lines can be long and they are only open until sell out, but it was worth the wait! You can also visit the famous Stubb's BBQ restaurant. For some late night snacks, there are tons of food trucks parked nearby. We stopped at these food trucks more than once and enjoyed tacos, quesadillas, french fries, pizza and Chinese food.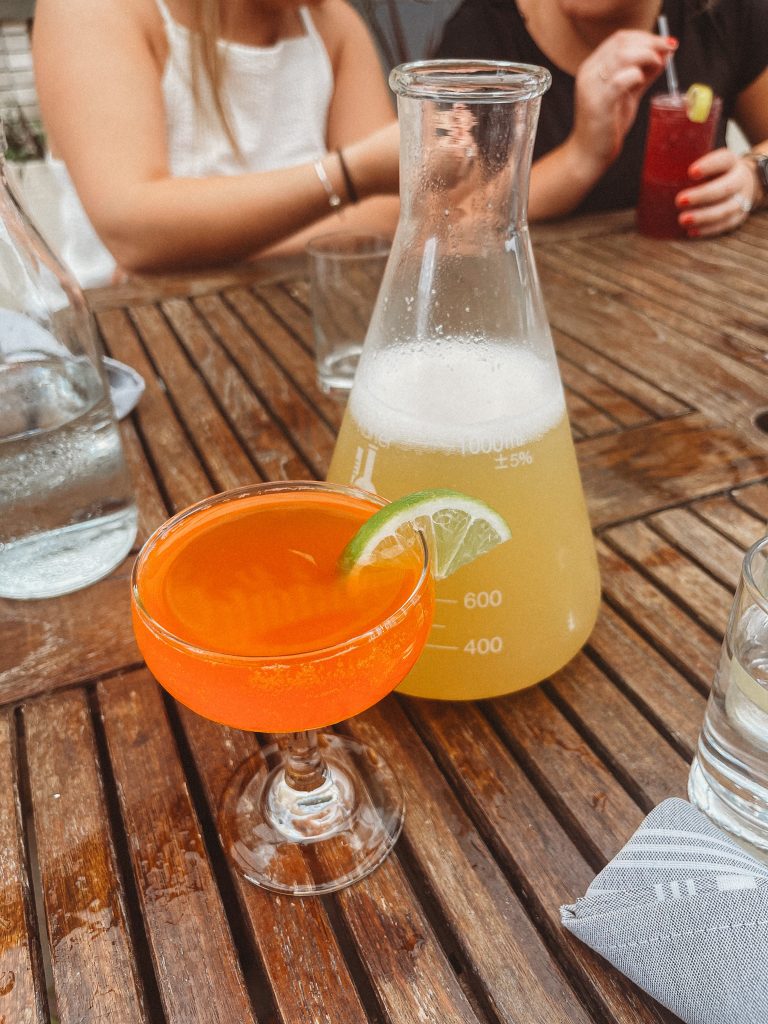 6th Street
This in where all the nightlife happens. Our Uber driver gave us a little intel on sixth street. It seems there are multiple sections of sixth street, each with their own age range. The lower end of the street is for all the newly 21 year olds and college students. A little farther up is the 25-30 year old crowd. And then at the other end is the 30 and older crowd. The scene gets less rowdy as you go on. We walked up and down sixth street just popping into different bars as we went along. My favorite part of sixth street were the piano bars. Make sure to check out Darwin's Dualing Pianos. They were seriously so much fun!
Rainey St
After dinner, head to Rainey Street for some fun nightlife. This street is lined with bars created from historic bungalows, and it's a great place to experience the local nightlife scene. Don't miss Container Bar, which is made entirely out of shipping containers. My top recommendations are Clive's Bar and Iceenhauer's. The drinks were so good and each bar had their own vibe. Some bars had live music and server food until a certain time. If you miss dinner, there are lots of food trucks to choose from for a late night snack.
Speakeasy
While you are out on the town, make sure you take the time to find a couple speakeasies. These hidden bars have good drinks and fun music. They are definitely worth checking out. To get more info on these hidden gems, check out more details here.
Deep Eddy Distillery
If you are willing to get a little farther out of town, Deep Eddy Distillery is worth a visit. Check out their tasting room hours here. Deep Eddy vodka has been a favorite of mine for years now and I had no idea their distillery was located in Austin! (It does say it right on the bottle, not sure how I missed that). The tasting room is located in Dripping Springs, Texas, about 10-20 minutes from Austin. We had some delicious mixed drinks in cute little Deep Eddy glasses. You could also try a flight of their different flavored vodkas. They have a calendar of events each month so check out their website before you go! Caution that if you take an uber out here, you may have trouble finding one to get back. It is best to take a car or arrange a rental ahead of time.
Congress St
One of the must-visit spots in Austin is South Congress Avenue, also known as "SoCo." This street is filled with trendy shops, restaurants, and cafes, and it's a great place to start your girls' weekend. Take a stroll down the street and stop by some of the shops and cafes that catch your eye.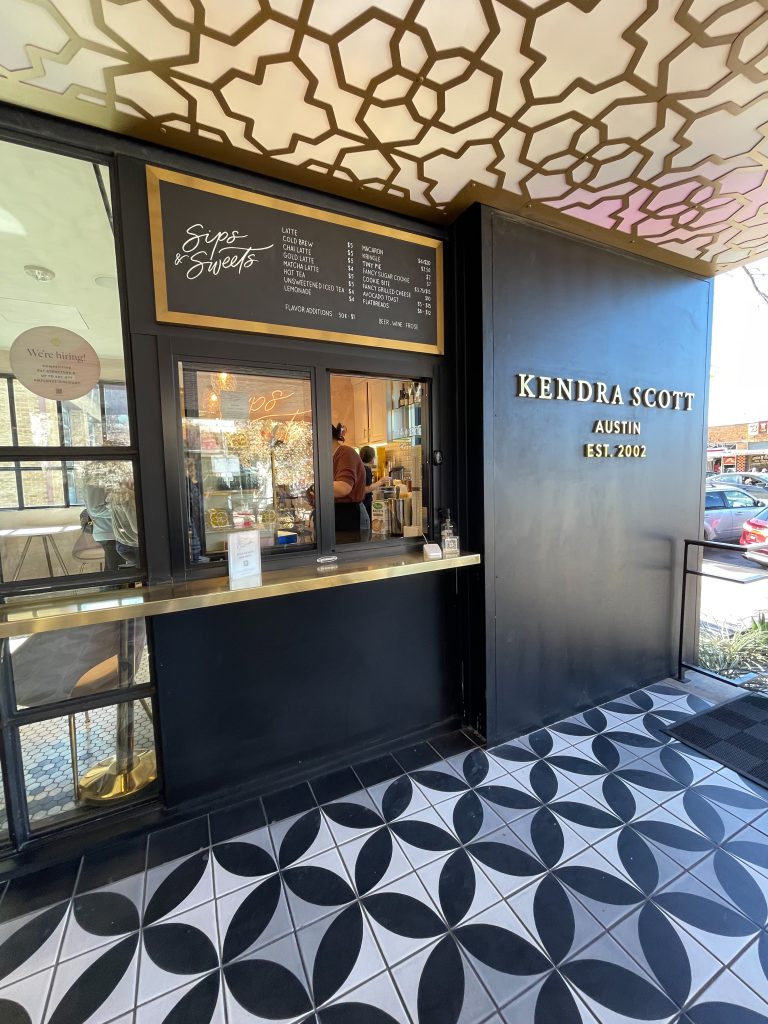 Lady Bird Lake
If you're looking for a more outdoorsy activity, consider renting bikes and exploring the Lady Bird Lake Trail. This trail is a beautiful way to see the city's skyline while getting some exercise. Another option is to rent a boat and spend the day on Lake Travis, which is just a short drive outside the city. You can also rent kayaks and paddle boards and spend a full day on the water.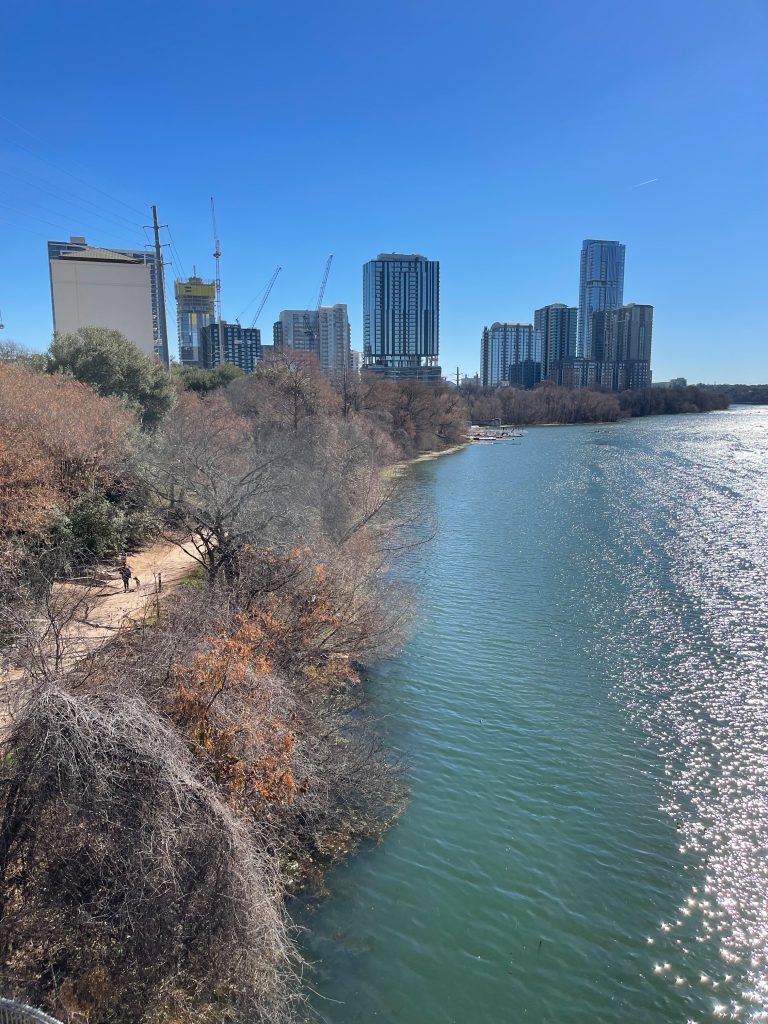 Bats at Congress Bridge
If you are looking for Austin's famous bat show, head to the Congress Avenue Bridge around sunset. The best time of the year to see the bats is from late March until fall. Tons of people gather to watch the bats fly out so make sure you get there early. Check out all the details here.
Wineries and Breweries
If winery and brewery hopping is your thing, then see what Austin has to offer. We only had time to check out one winery, but it was so cute! The Austin Winery server build your own flights and was the perfect spot to sit and relax. Can you even call it a girls weekend without a glass or two of wine?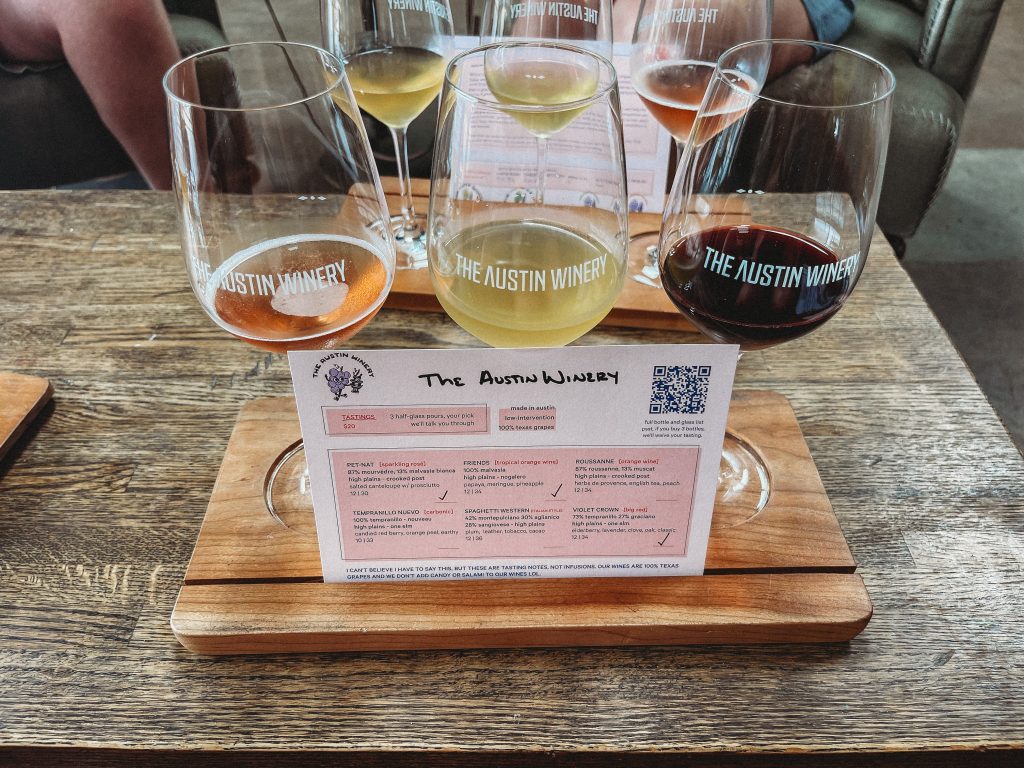 Austin is seriously so much fun! It is a great way to spend a girls weekend although I feel like there is a little something for everyone.
For more weekend getaway ideas check out some of these posts!
If you are planning your own girls' weekend in Austin, Texas then save this post for later!