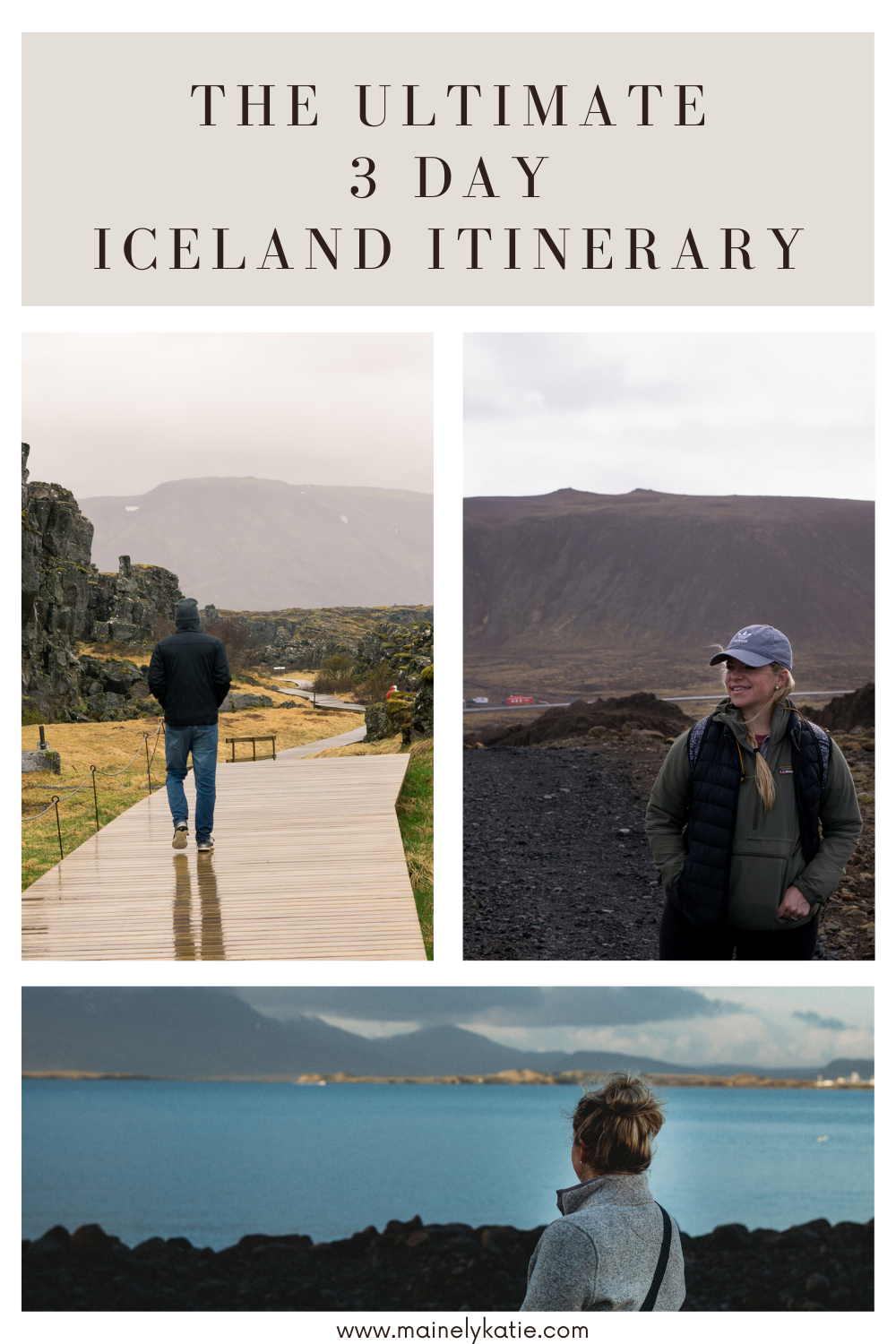 For my fiances 30th birthday, I wanted to plan a little surprise getaway. I had spent hours searching for flights and hotels, but nothing fit out schedules. Someone gave me the idea to go to Iceland and the flights and times just worked out perfectly! I booked the tickets on a Tuesday and we were leaving Friday night. I could barely hold in my excitement enough to keep a secret. But I kept myself busy by doing tons of research before our long weekend trip! Our trip was booked for the end of May so I knew it could be a little chilly. In Iceland you should be prepared for all types of weather. I want to help prepare you for your trip to Iceland so I put together our 3 day Iceland itinerary for anyone looking for a fun long weekend in Iceland.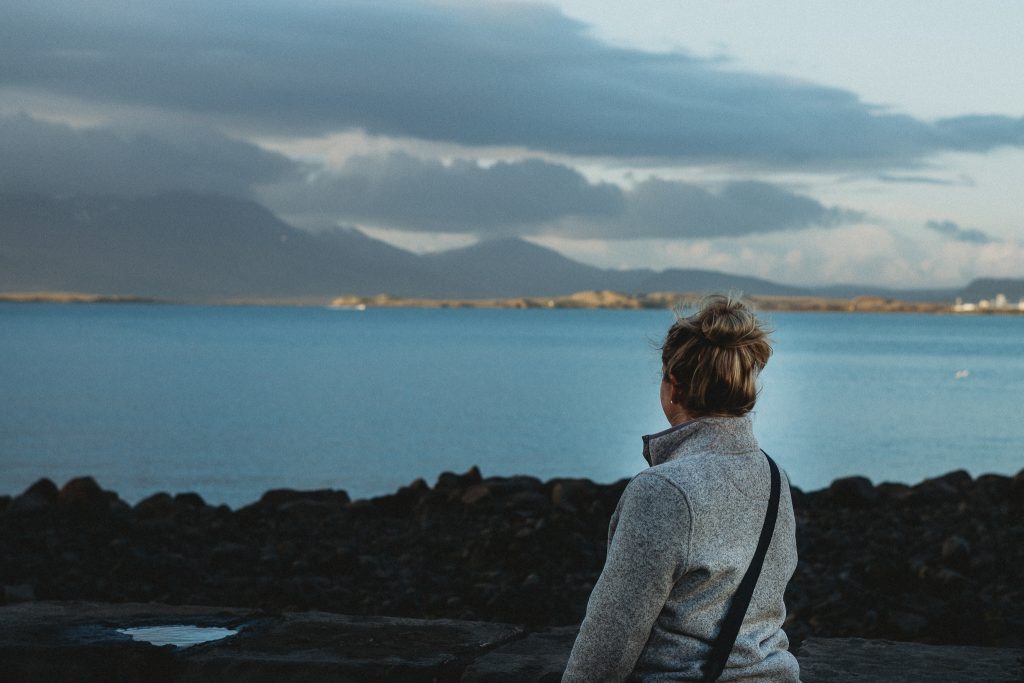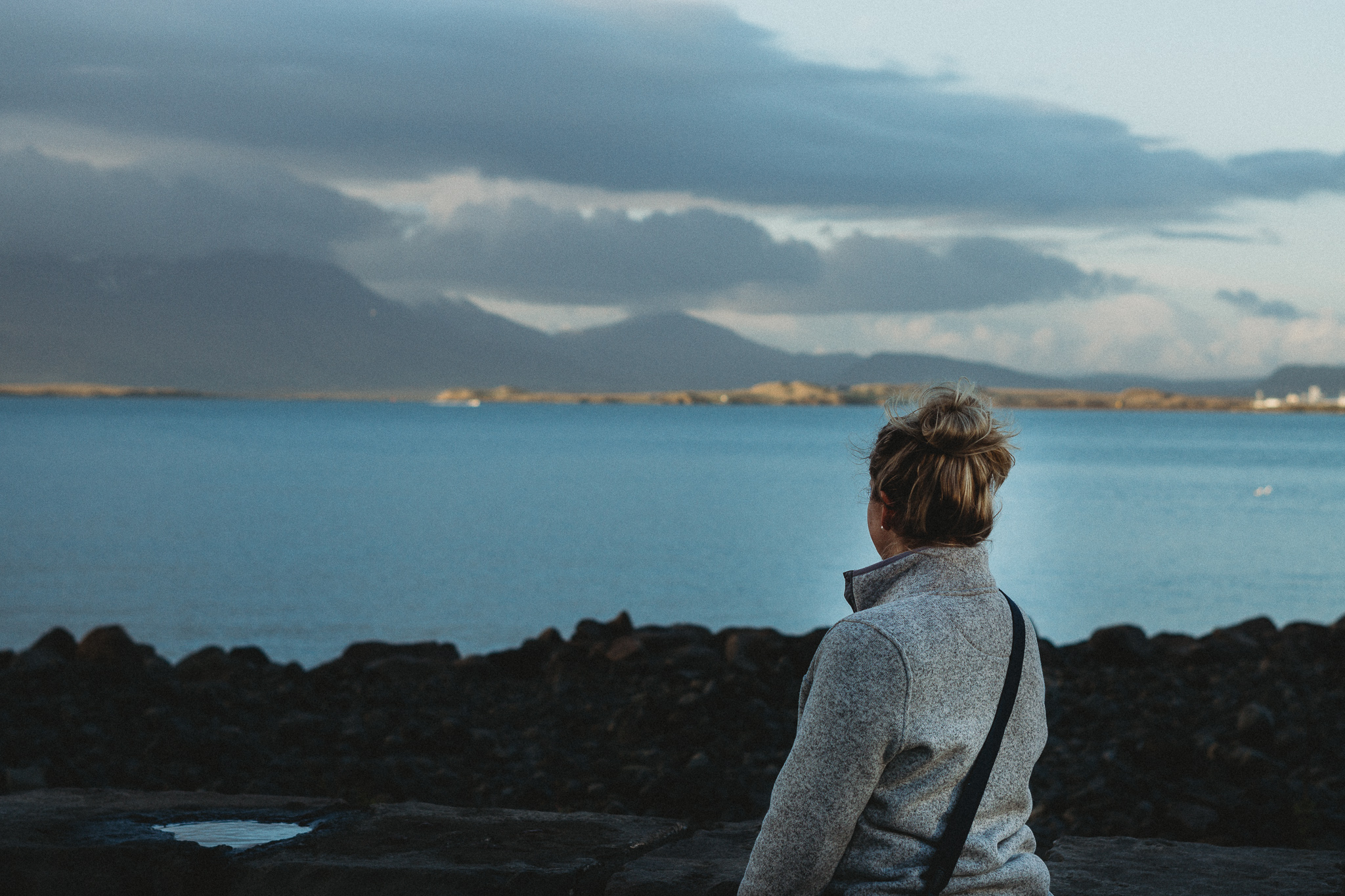 Iceland is unlike any place I have ever seen before. The landscapes are gorgeous with the lava rocks, adorable towns, steaming hot springs and incredible waterfalls. We had had a blast and got to see so much in the three days we were there. It rained for two out of the three days, but that didn't stop us from exploring!
Tips Before you Leave
If you are traveling during COVID, make sure that you look into the requirements before traveling. I found the Icelandic Air website really helpful. We had to preregister prior to our arrival and either show proof of vaccination, prior COVID infection within a certain time frame or a negative COVID test.
Screenshot all email confirmations, barcodes and hotel reservations. The wifi wasn't great at the airport so I was glad that I had done that ahead of time or I may not have been able to pick up our rental car.
Renting a car will make your life so much easier and will allow you to see the sites on your own time
Depending on the time of year you go, daylight may last longer. We went in May and daylight lasted until 11pm
Day One- Rental Car, Hotel, Reykjavik and Hot Springs
We got to the airport and with the time change it was early Saturday morning so we had the whole day ahead of us.
COVID Tips: We came right into the airport and immediately went through customs and straight to get your covid test. We were required to quarantine until our test results came back.
Rental car
After you get through the COVID testing, you can get your rental car. Most of the rental car lots are located a short distance from the airport. When you walk to the front of the airport and through the covered bridge, you will see the signs for HERTZ and EUROPCAR. We rented through ICE car rentals and although there was no sign, they were also located in the same area. So to save yourself 45 minutes of wandering around in the wind and rain, just head over there.
Hotel and Downtown Reykjavik
Once we finally got our rental car we headed toward our hotel to see if we could get an early check in and take a nap while we quarantined. It only took about two hours to get our results back and we were ready to go. Our first stop was to explore downtown Reykjavik. Reykjavik has some adorable houses, shops and restaurants. We ate a late lunch at Frederikson's Ale House and drank some local beer. Once our bellies were full we headed our for our first hike of the day. Because it stayed light out until 11pm, we weren't worried about getting such a late start.
Reykjadalur Hot Springs Thermal River
If you only have time for one hot spring in your 3 day Iceland itinerary then make the hike to Reykjadalur thermal river. There is about an 2 mile beautiful hike into the hot spring. You will get some great views on your hike and you can see the steam rolling off the hills.
We were able to easily navigate our way to Reykjadalur with Apple maps. It is about a 40 minute drive from Reykjavik. You will arrive in the parking lot of a small Cafe. You can grab something to eat and use the restroom before you head out. There are signs all along your hike so make sure that you pay attention to them. Not all the hot springs along the hike are safe to touch so look at the thermometers and you can test the water if it is safe to touch. There is an area along the river that is lined with a wooden plank pathway. We stopped here and found a semi private area to change and enjoy the hot springs. If this spot is too cold, make sure you keep hiking until you find a spot that is warm enough for you. We went in June and I was shocked at how hot the water was in this area.
Our hike in was cold and rainy, but that made getting into the hot springs more rewarding. Make sure you take the time to just relax and take in the views. Because why wouldn't you want to float in a hot river in the middle of the mountains.
What to bring: swimsuit, towel, dry clothes if it's raining, water and snacks
Day 2- Golden Circle and Covid Testing
COVID Test
As of May 30, 2021 you need a negative covid test to get back into the US. The requirements are that the test needs to be a PCR test within 72 hours of arrival back into the United States. You will receive an email certificate within 24 hours with the results that you will need to show at the airport. The COVID test that you get at the airport upon arrival does not count to get back into the United States. We scheduled these online as soon as we arrived to our hotel because we knew it was important for us to get an appointment ASAP. We scheduled the appointments and got our barcodes using this link. There were tons of people and the parking lot was full but we were only there for about 30 minutes from start to finish.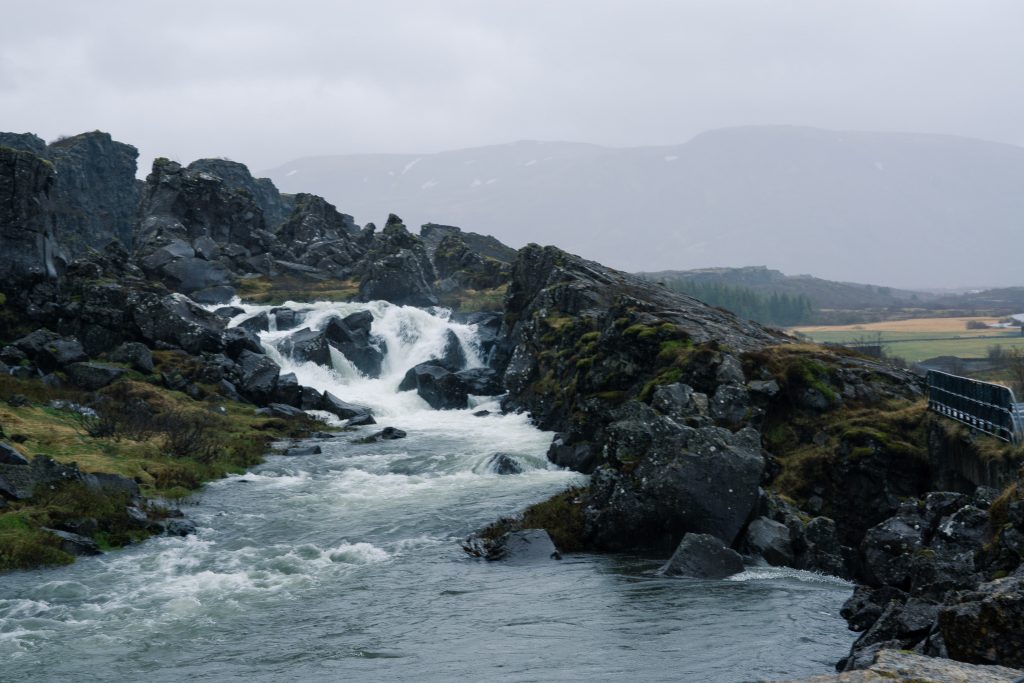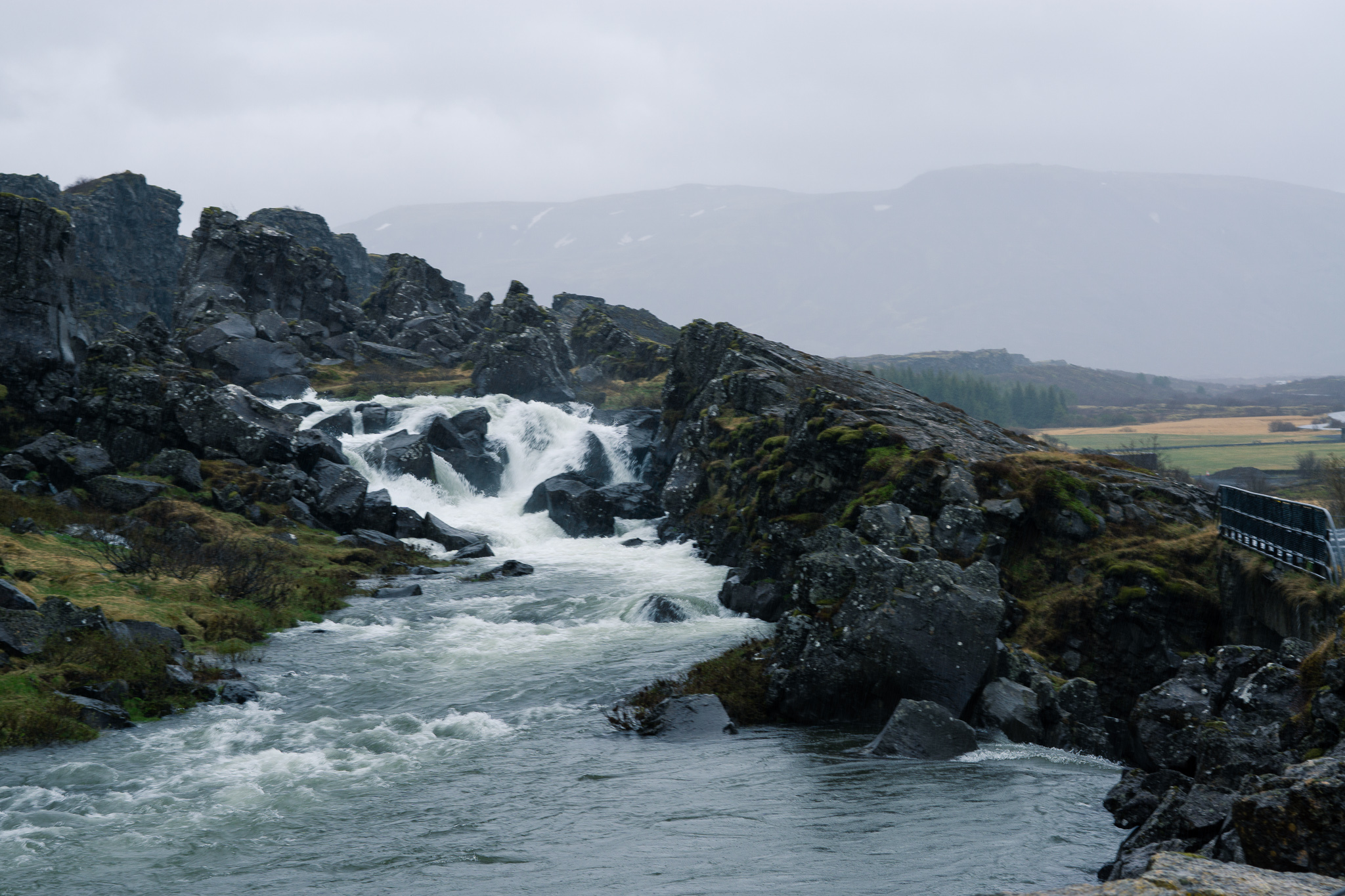 Day 2 was a bit of a slower morning. We ate croissants and drank cappuccinos as Kefe and TEI in Reykjavik before heading to get our covid tests. Then we gased up, got some snacks and headed out for the Golden Circle. We easily made our way to each destination using Apple maps.
Thingvellir National Park
Thingvellir National Park was our first stop along our trip around the Golden Circle and it's only about an hour drive from Reykjavik. I recommend doing a little research before you go because there is a lot of history here. As soon as we arrived I immediately fell in love with the views. We spend hours walking around and taking photos. If you only have a short amount of time to spend there, I recommend at least stopping at these three sites.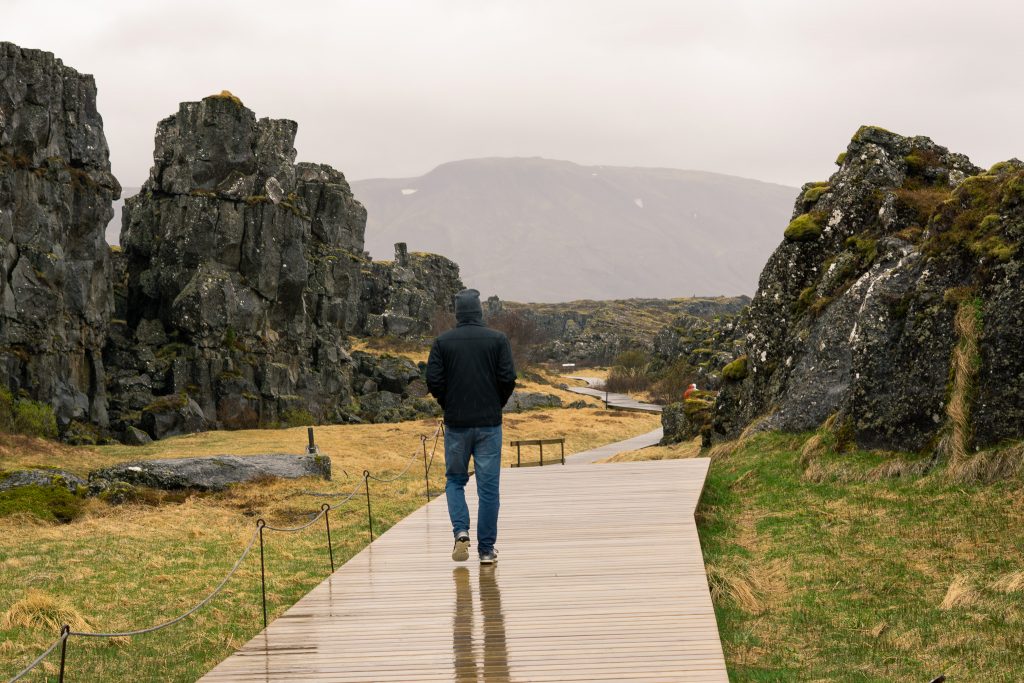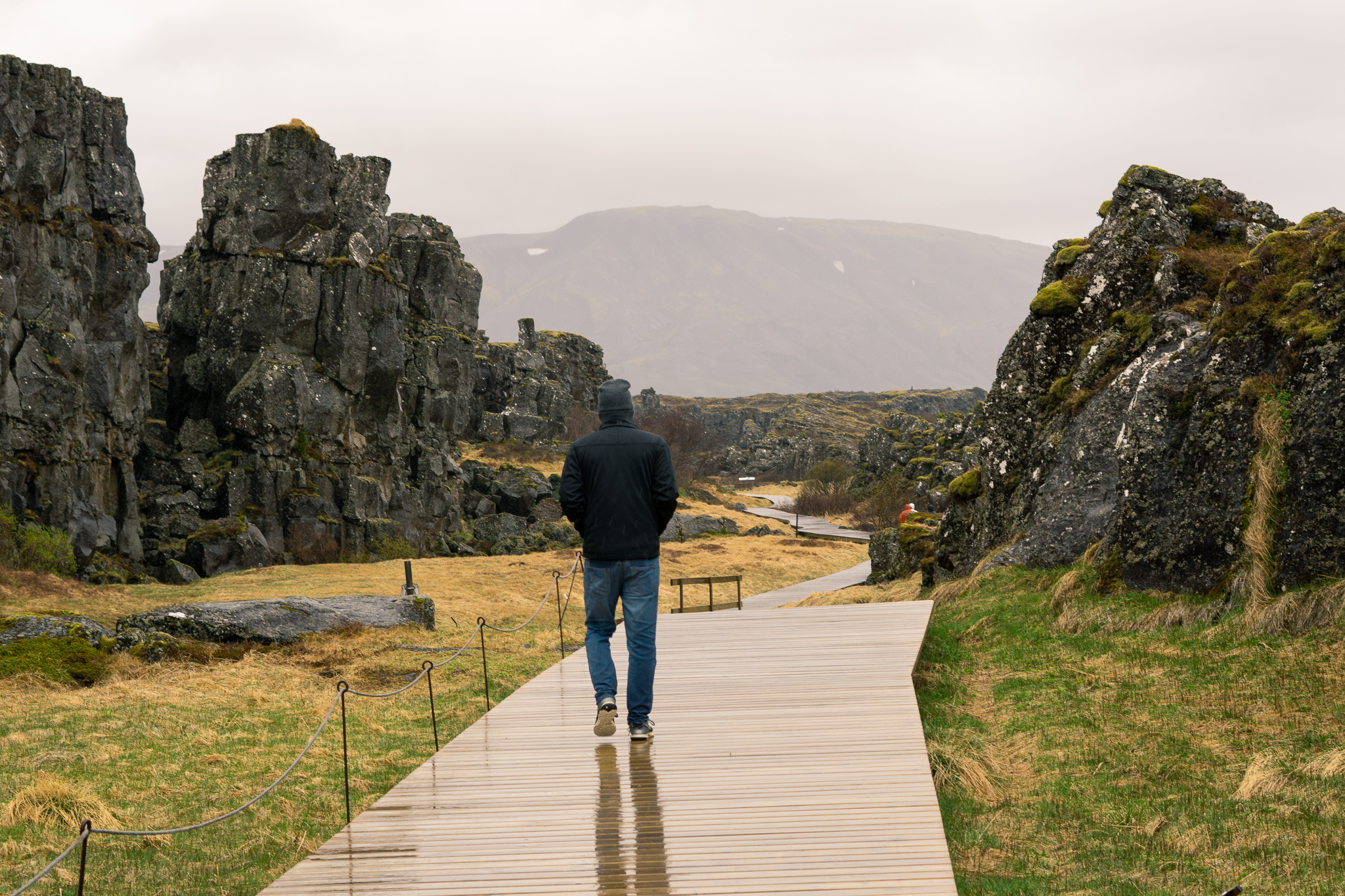 Law Place– Law place hold a lot of history for Iceland. This is where the first general assembly took place in Iceland.
Oxarafoss Waterfall– This breathtaking waterfall was what I was most excited for in the park. Although this is one of the smaller waterfalls that you will see in Iceland, it is nothing short of incredible.
Ridge between the Plates– The cool thing about this National Park is that it is located along the North American and Eurasian techtonic plates. The ridge formed between these plates is called the Mid Atlantic ridge and the drift farther apart each year.
Tips
There is a parking lot at the entrance
You will have to pay to park, but you can use your card
Take the time to read the signs
The boardwalks can be slippery when it rains
There are restrooms you can use throughout the park
Geysir Hot Springs
Our second stop on the Golden Circle was Geysir hot springs. You can see some geyers up close here and walk the paths through the park surrounded by steam. Walking around the bubblling mud and seeing the geysers errupt along the way was such a cool experience. One of the geysers erupts pretty regularly and we were able to see it twice while we were there. There was a cute little gift shop at the entrance of the park where you can get something to eat and use the bathroom.
Gullfoss Waterfall
The third stop on our day trip around the Golden Circle was Gullfoss Waterfall. And it's only about a 10 minute drive from the geysers. This waterfall was even more incredible than I had imagined. I don't think that the photos even do it justice. You can follow the paths along the sides of the falls to get a closer look.
There are more stops you can make around the Golden Circle if you have time. I would love to see the Kerid Crater and stop at more hot springs along the way. Since we got a late start we didn't get to see everything we wanted to, but that just gives us more reason to go back!
Wrap Up
We wrapped up our day with a hour drive back to Reykjavik. After a long afternoon of exploring, we were completely soaked and luckily had a few dry clothes left in the car to change into for the ride back. We made our way to our hotel for quick showers and dry clothes before heading to dinner. The food in Iceland was expensive, but it tasted so good after a long day of adventuring.
Day 3- Volcano Hike and Blue Lagoon
There was so much on my list that it was hard to decide what to do on our last day. But we woke up at 5:30am and packed up our things to head to try and find the volcano that had erupted a few months prior. It was really hard to research this because everyone had different opinions of how long and how hard the hike would be. This volcanoes erupted in March 2021 for the first time in 6000 years. We were unsuccessful in our trek to find the the trail to the volcano and we didn't wan to miss our reservation at the Blue Lagoon.
The Blue Lagoon
The Blue Lagoon should be either one of your first stops or one of your last stops on your 3 day Iceland itinerary because it is so close to the airport. We made it our final stop as a way to relax and enjoy ourselves after two days of hiking. Make sure that you make your reservations ahead of time. This was the perfect way to end our long weekend. Even if you think the Blue Lagoon is overrated, I feel like it is definitely worth seeing at least once in your life.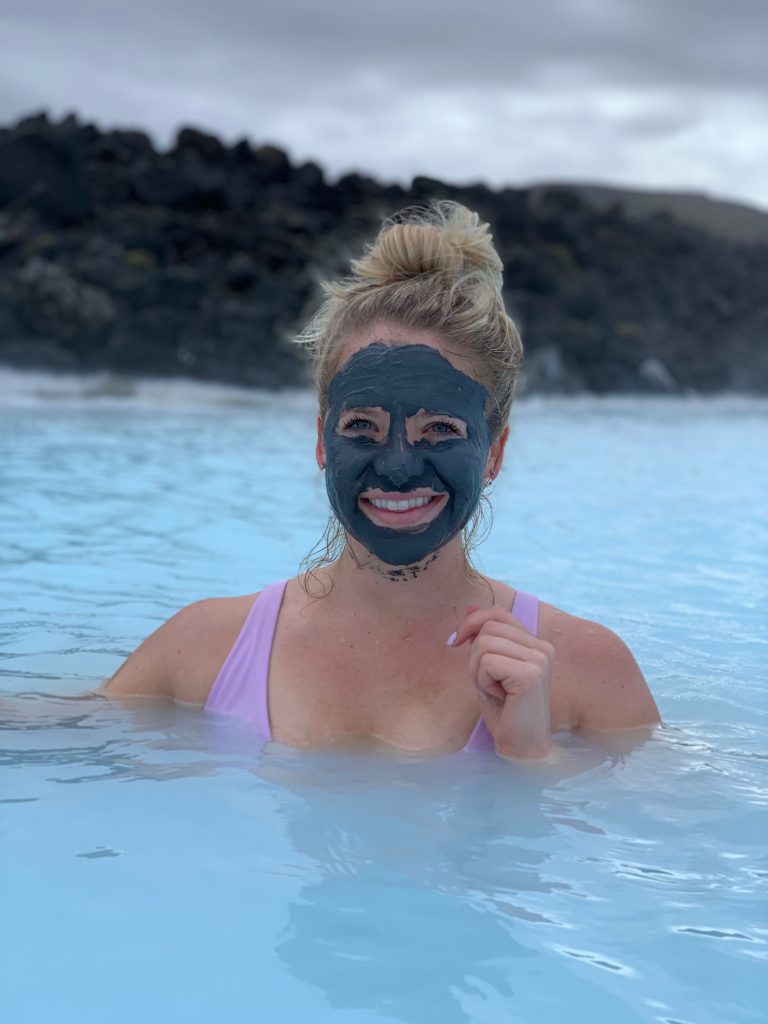 There are lockers for you to safely store your items. So we packed a set of clean clothes to wear to the airport after soaking in the Blue Lagoon. The locker rooms also had showers for you to rinse off before and after. If you have extra time, you can sign up for one of their spa packages or enjoy a meal there. Make sure you check out the packages and book ahead of time. If you are looking for tips for your first trip to the Blue Lagoon, make sure you check out this post!
If you only have a few days to spend in Iceland there is a lot you can see in a short amount of time. Don't overwhelm yourself trying to see and do too much. Enjoy your time and take lots of photos!
Save this post for later!