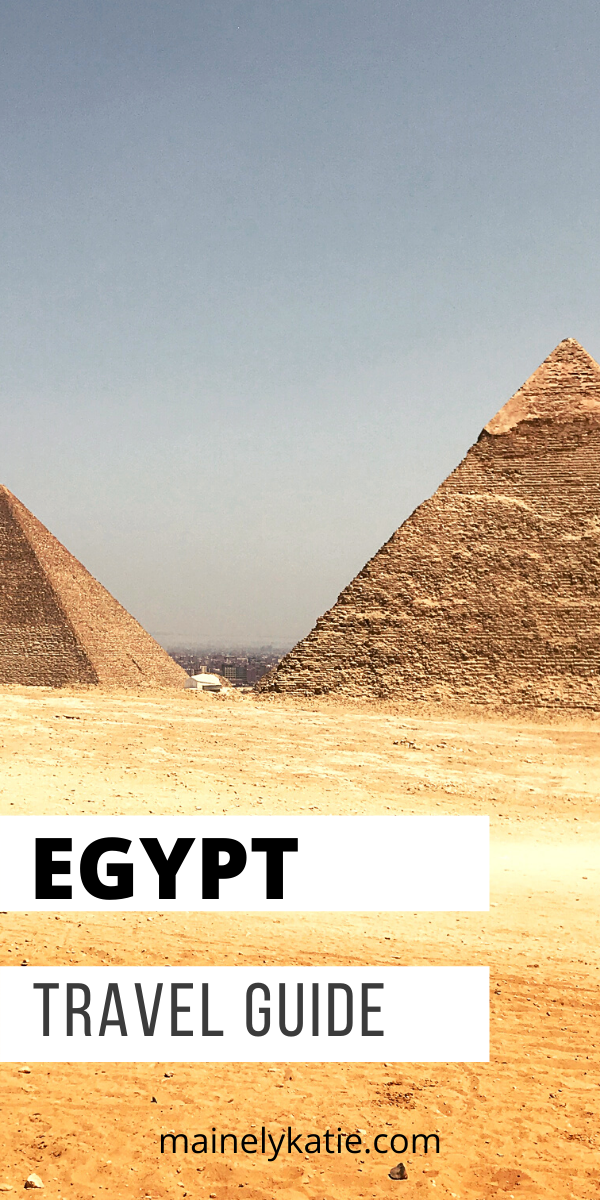 As promised, our Egypt travel guide and itinerary. We did not have a lot of time in Egypt and had SOOO much to see. Here is our three-day Egypt travel guide so you can get the most out of a short stay. Most of the sites are along the Nile River because many of the Egyptians lived along the banks of the river. This makes it easy to create your itinerary. We got to each city by plane or a driver.
Day 1- Arrived in Cairo
We arrived in Cairo late at night and were able to hire a driver to get from the airport to our hotel. Once we got into the city, the streets were packed with people just like it was the middle of the day. We arrived at our hotel late at night, got checked in and went to the rooftop outdoor lounge to see the incredible views of the pyramids at night.
Pyramids
We woke up early the next morning to see the Pyramid of Giza before the crowds and the heat. Our tour guide and driver met with us at our hotel and drove us to the pyramids. On our drive to the site, our tour guide explained the history of the pyramids and what we were going to see. She bought our tickets, lead us to the pyramids and arranged our camel rides.
You have the option to go inside the pyramid. My sister and I paid the extra to go inside, although there is not a lot to see. If you are claustrophobic, I would not suggest it. The paths up inside the pyramids are narrow and I had to crouch most of the way up. Once you reach the top there is a small dark room, and then you head back down. I'm glad I did it even though there wasn't a lot to see.
The pyramids of Giza is the last remaining wonder of the seven wonders of the ancient world. Making the pyramids a must see when in Egypt.
Sphinx
Outside the pyramids we stopped to look at the Sphinx and take pictures. Once we were back in the car, she gave more information about the history behind the Sphinx.
Perfume Shop
Our next stop was a perfume shop. We were able to smell and sample different perfume scents while learning the purpose of each scent. You are only smelling a small amount of the extracts so I didn't get overwhelmed or a headache. The perfume makers also made blown glass bottles to keep the perfume in and we were able to watch the process. It was all pretty neat.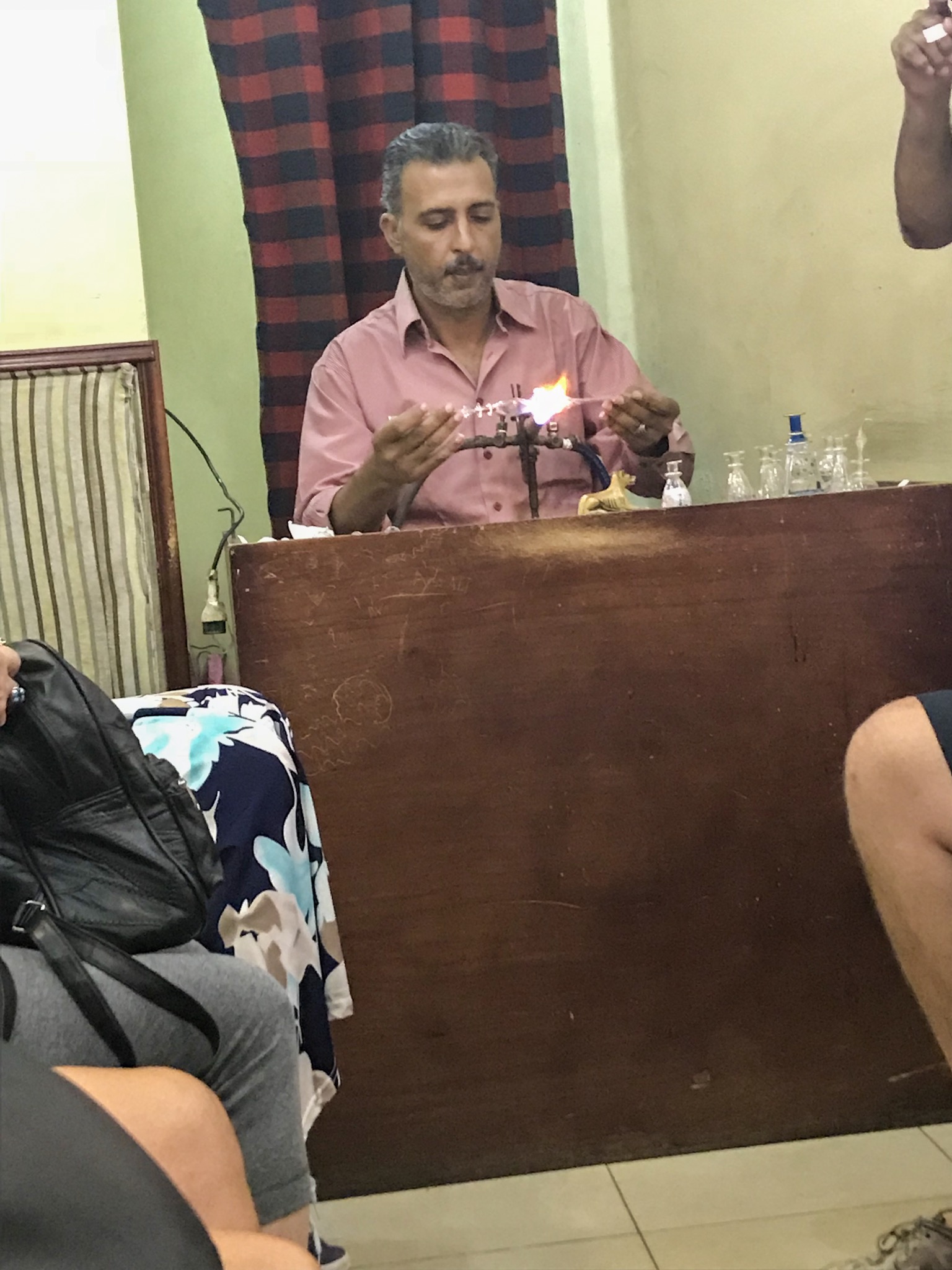 Museum of Cairo
Our final stop of the day was the Museum of Cairo. This place is huge and it would take days to see everything. Luckily, our tour guide had a few important pieces that she wanted to show us and explain. This was A LOT to take in, but it was so cool. My favorite part was probably King Tuts exhibit.
We hopped on a quick flight from Cairo to Luxor
Day 2- Luxor
Just wanted to mention that I loved the hotel we stayed in here. Check about my travel tips post for more information on how to get around and where to stay in Egypt. We had a different tour guide for Luxor and they were both incredible.
Valley of the Kings
Our first stop was the Valley of the Kings. This was my favorite part of our whole trip. The Valley of the Kings is where the pharaohs were kept after their death. There are several large and intricate tombs that were made for each King. The history behind the tombs, the hieroglyphics, the colors and the shape/depth of each tomb was fascinating. There is also a really nice display when you first get to the site that shows you each tomb and which King it belonged to. The detail that was put into these tombs is truly unbelievable. The colors of the hieroglyphics are also the original and still have such vibrant colors. You were not allowed to take photos inside the tombs, so I guess you will have to go see it for yourself!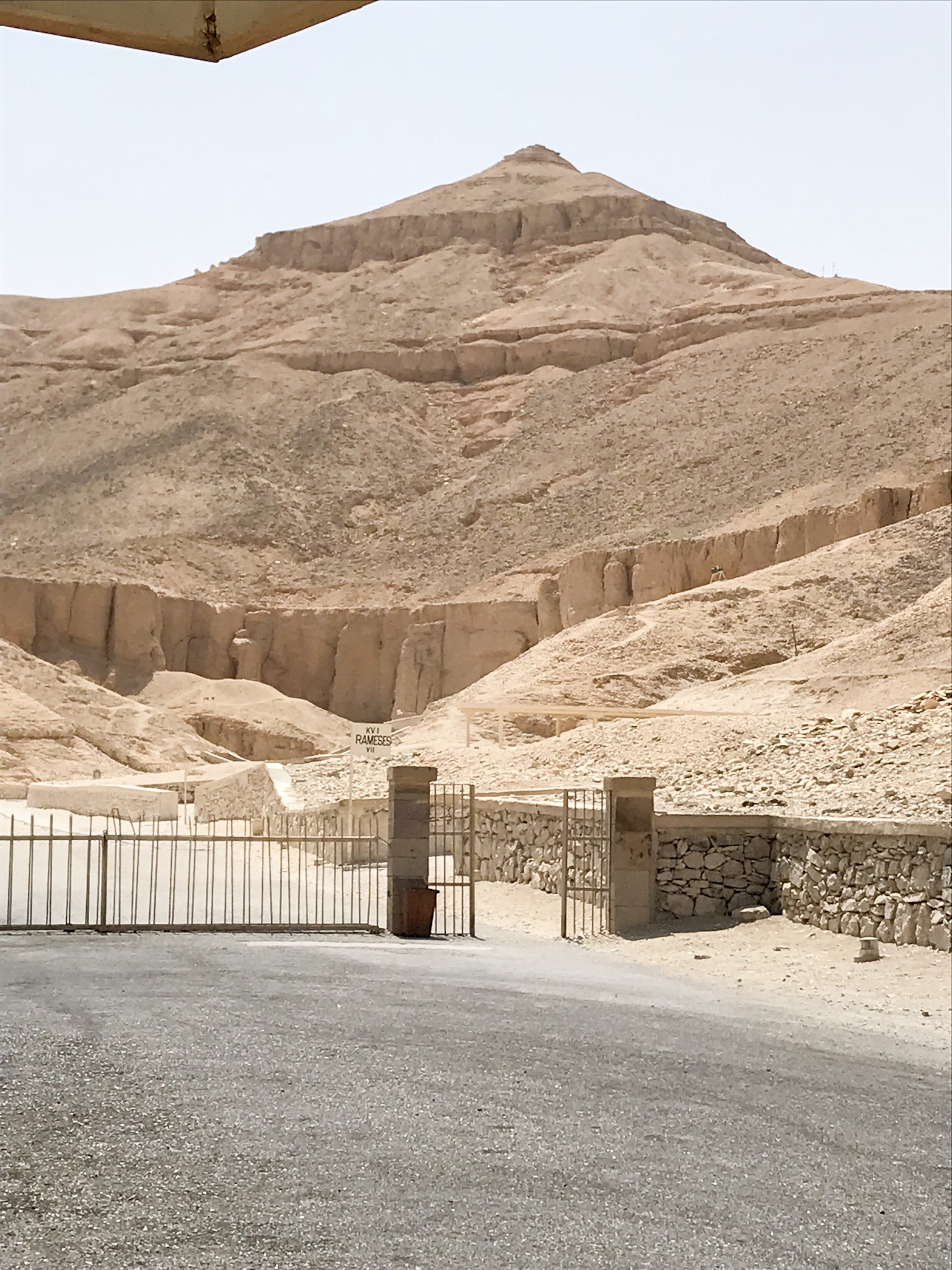 Alabaster
We had the opportunity to learn about alabaster from the locals during our tour. We went to an alabaster factory where we learned where the stone came from, how they smooth and shape it and then how they carve it into different forms. This was a perfect place to buy souvenirs because you knew that they were authentic. Ask your tour guide for suggestions on the best shops in the area.
Temple of Hatshepsut
When we were at the Valley of the Kings, we learned all about Hatshepsut. She was the second female Pharaoh and ruled longer than any other female. She was one of the most successful Pharaohs to rule. The architecture of her temple is incredible, as well as the views. The temple entrances and windows were intentionally placed based on where the sun would rise and set.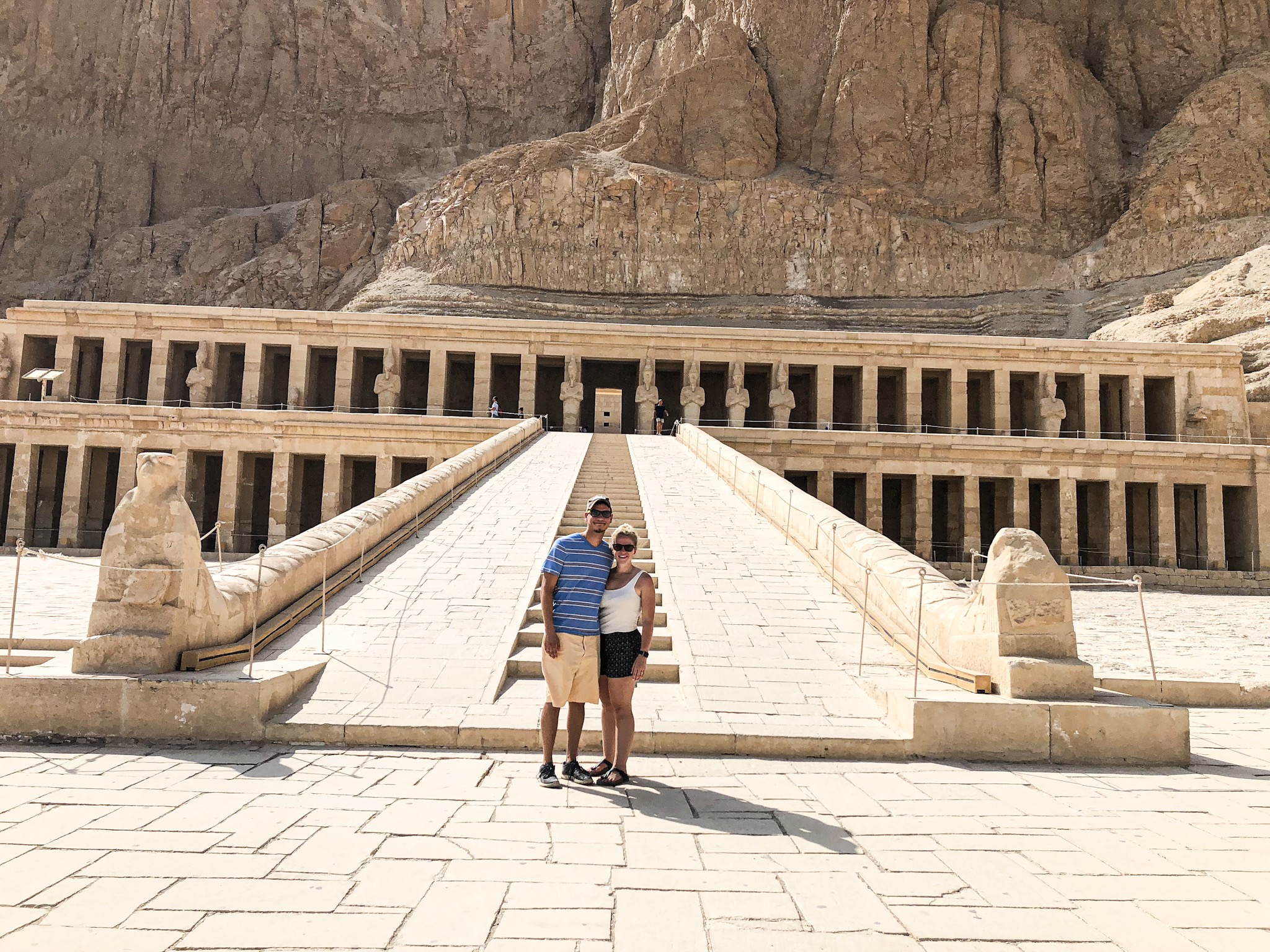 Colossi of Memnon
We stopped at these statues quickly for pictures. There were impressively large. It is believed that they were built to protect a Pharaohs temple. These are not far from the temples and I wanted to include them in my Egypt travel guide.
Karnak Temple
This temple complex is probably one of the most well known temples in Egypt. It contains many large and intricate statues that are truly fascinating. We learned that many Pharaohs contributed to this temple during their reign. The Karnak temple is definitely a must see when in Luxor. There is a light and sound show at night in this temple. We did not stay late enough to see it.
Temple of Luxor
This temple is not far from the Karnak Temple and also impressive. Another reason why I am so grateful for our tour guide is because of his vast knowledge of these temples and statues. If it wasn't for him, this tour would not have been nearly as fascinating. Many pharaohs also contributed to this temple during their time. There is a huge outdoor path lined with sphinx statues on either side.
Market
After all the tours we were exhausted, but wanted to experience the market before we left Luxor. I have experienced markets like this before and it was about what I had expected. There were an overwhelming amount of people and we were already exhausted. If you do decide to buy something, expect to negotiate price. Our tour guide came in handy once again and wouldn't let the vendors overcharge. I wanted to include the markets in my Egypt travel guide because I think that they are important to see.
We hired a van driver to drive us 4 hours from Luxor to Hurghada. Our driver was very reasonably priced and we had a comfortable ride, even with 8 passengers in the van.
Day 5- Hurghada
For our last day we decided to relax and enjoy the ocean views from Egypt. We stayed at an all-inclusive resort for really cheap and just relaxed and enjoyed ourselves. We ate more here than we did on the whole trip and enjoyed a few drinks on the beach. The resort was clean and there were pools and a bar. After three straight days of on-the-go site seeing, it was so nice to be able to relax by the ocean.
Our flight home left really early the next morning. The hotel was nice enough to pack us breakfast to go. We arranged for a van to take us to the airport where we went through security and had our bags checked at least three times. Our connecting flight was out of Istanbul and we made it safely back to Boston.
Egypt has been one of the most informative and memorable vacations I have been on. We were only there for a short amount of time, but were able to see so much. Putting together our Egypt travel guide itinerary has made me want to go back and see all the sites that we missed and maybe spend a few more days in costal Egypt.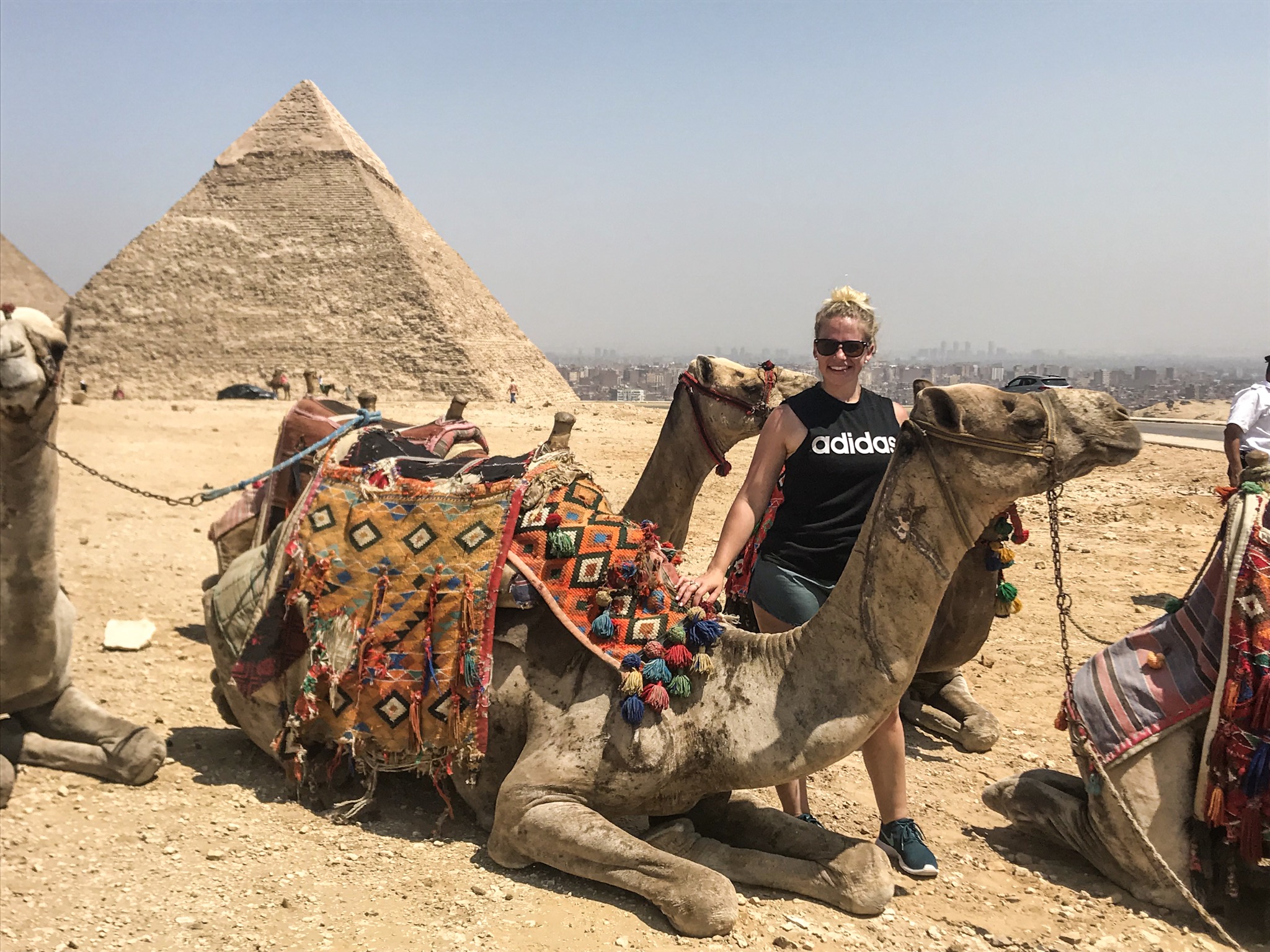 Save this pin for later!