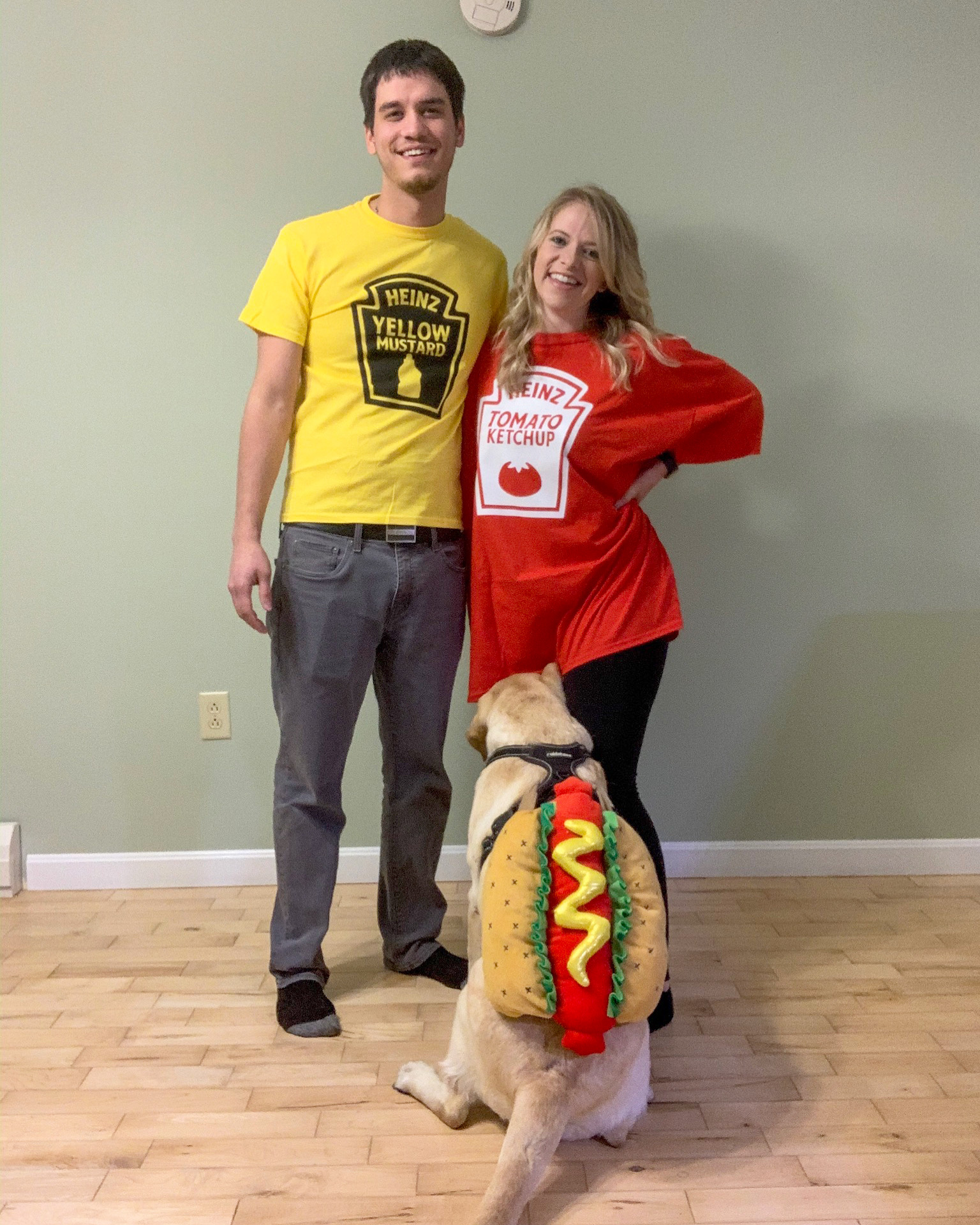 Need to throw together a last minute Halloween costume because you have been putting it off for weeks? I hear ya, I was supposed to find a family DIY Halloween costume on Pinterest and get started on it weeks ago. Here I am 9 hours before the party without a costume.
I LOVE quick and easy DIY Halloween costumes. As kids, we never bought costumes, our mom always made them herself. We just told her whatever we wanted to be and she whipped 'em up! So, I have grown into the idea of making our costumes each year. Usually, I like to get a little creative with things I already own or make a simple costume more unique. This year we really wanted to involve our dog, Ruxin, in our theme. We decided we would have to pick out his costume first and we would design ours around it.
Picking our costumes
Ruxin is a good sized yellow lab, so most Halloween costumes for dogs won't even fit over his head. The Halloween party we were attending was the weekend after Halloween, making it the perfect time to get a discount dog costume. After a little searching, we found a cute little hot dog costume that we though would be the least bothersome for him. Of course, it was too small, but we attached the hot dog costume to his harness and it worked great.
To continue our hot dog theme, Alex and I decided to dress up at ketchup and mustard. Easy! We made our way to A.C Moore to grab t-shirts in the appropriate colors and vinyl to design our shirts. Unfortunately, they only had a children's XL in yellow and an adult 3XL in red. Alex took the XL kids and I decided to make my 3XL shirt into a dress.
Our plan was to somehow write ketchup and mustard with the Heinz logo on the t shirts so people knew what we were. After leaving the store, I stared brainstorming ideas on how to get the logos onto our shirts.
I also wanted to add that the total cost for all three costumes was ~$30.
Materials and Cost
Alex's T-Shirt = $3 (A.C Moore coupon)
My T-shirt = $5 (A.C Moore coupon)
2 rolls of iron on Cricut Vinyl = $16 (A.C Moore coupon)
Ruxin's costume = $5 (discounted at Petsmart)
Plan A
I washed the t-shirts and got started on the cricut design. I was looking for something simple here and decided to just do the basic shape of the logo, the brand and word ketchup with a simple tomato in the middle. After creating the design with shapes and the cut tool, i printed it onto the iron on vinyl. Next, weed the design and iron it onto your shirt. Repeat for the mustard shirt.
Plan B
If you don't own a Cricut, no problem! My plan B was to buy iron on transfer paper from Walmart. I think that this paper costs about the same as the Cricut vinyl. Using the iron on material, you can print a picture of something onto the transfer paper using your own printer, and iron it on to a t shirt.
Once the shirts were finished, Alex threw on some jeans and sneakers and I grabbed a pair of leggings and we were ready to go. These were some of the easiest costumes I have made and you could use the same concept I talked about here for many different costume themes. It's the easiest DIY Halloween costume that only requires a little effort on your part. And it's really cute!