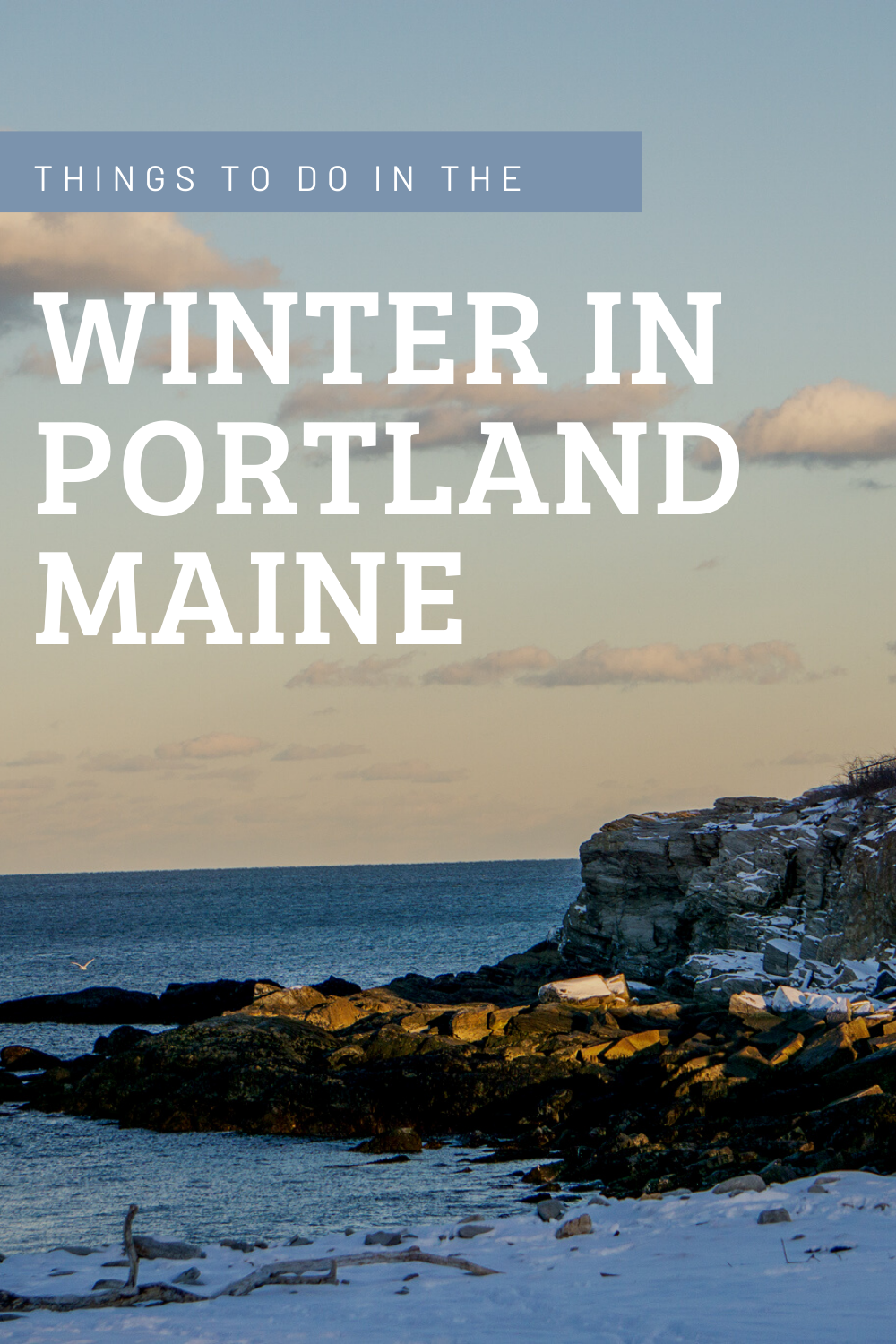 You may think that the only things to do in winter in Maine are to ski or snowboard. While those are some really great winter activities, Maine has lots more to offer in the winter months. Plus there are much less tourists! So don't let the snow and the cold keep you from planning a winter weekend in Portland, Maine!
Our weekend didn't go quite as planned, we prepared as much we could, but sometimes things just come up. We just decided to go with the flow! Due to COVID many local restaurants and businesses are temporarily closed. It was tough to find a restaurant to sit down and eat and lots of places only offered take out. I highly suggest visiting the restaurants website before making any decisions. We didn't mind grabbing some food to go and sitting in my car with a view of the ocean while we ate our lobster rolls.
Places to Stay
There are lots of hotels in The Old Port to choose from. We chose to stay at the Westin because they allow dogs. We absolutely loved our stay and so did our dog! This hotel was also a short walk from many of the restaurants we wanted to go to. If we had many our travel plans a little sooner, I may have opted for an Air BnB in the area.
Things to Do
Walking/Shopping The Old Port: The Old Port in the winter is a bit quieter than in the summer months. If you dress warm enough, walking in the city will be just as enjoyable. There are lots of local shops you can pop in and out of. Some of my favorites are Antrhopolgy, Urban Outfitters, Athleta and West Elm. I also like to visit the Maine themed more touristy shops once in awhile. While you are walking around you can also stop by a coffee shop or a local bakery to keeps your hands and belly warm while you are out and about.
For coffee try Coffee by Design, Bard Coffee or Tandem Coffee
For Bakeries try Standard Baking Co. , Bam Bam Bakery, Rosemont Market & Bakery or Two Fat Cats Bakery
Brewery Hopping: Many of the breweries in Maine are still open in the winter months. You may have to sit outside, but they have creative ways of keeping you warm. Lone pine and Oxbow have A frame structures over picnic tables to help keep out the elements. Definitive Brewing offers fire pits and Foundation Brewing has heat lamps to help keep you warm while you enjoy some craft beer. If you want a full list of some of the best breweries in Portland, Maine, check out this full guide. You could also grab some cans to go and drink it in your hotel room.
Portland Headlight: In the summer months it can be tough to get in to see the lighthouse with all the tourists around. But, if you visit Portland Headlight in the winter you won't have to worry about crowds. The lighthouse is just as stunning in the snow as it is in the summertime.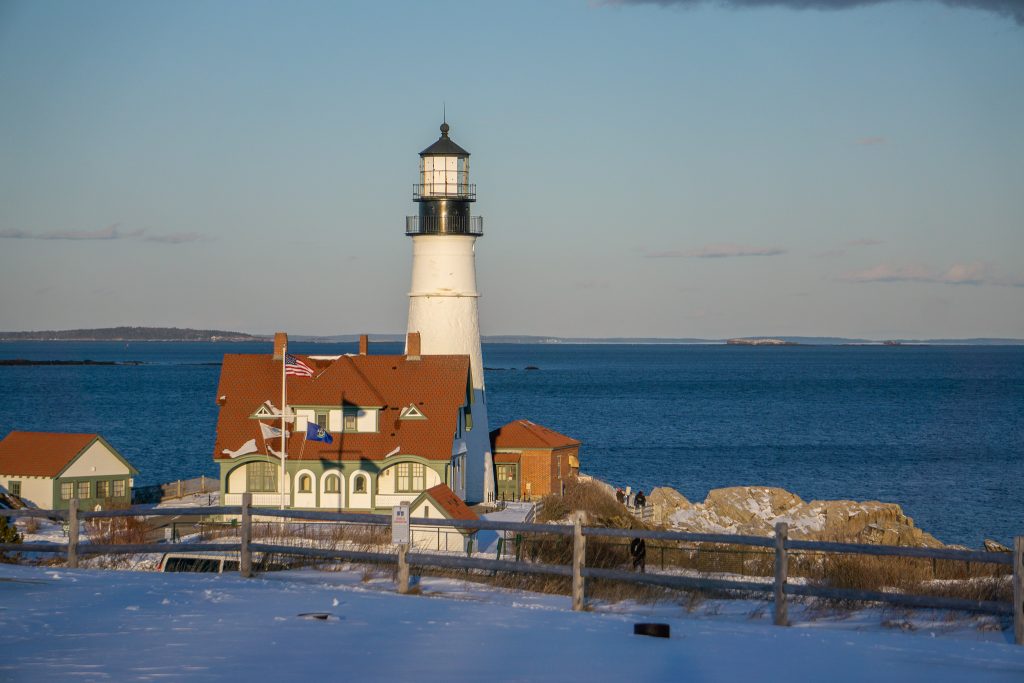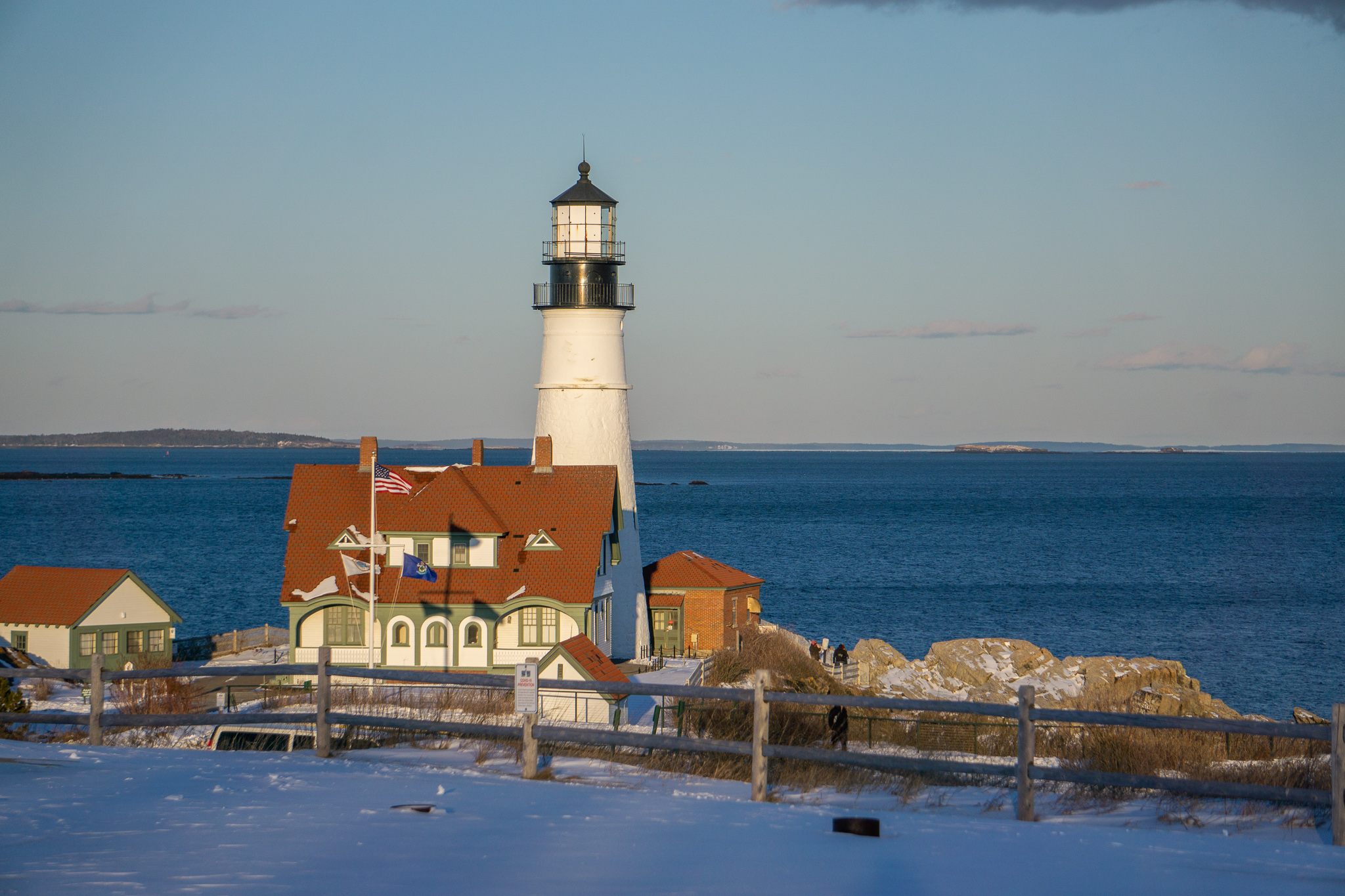 Ice Skating at Thompson's Point: This is one of my favorite locations in Portland. Thompson's Point is an outdoor venue that holds concerts and gatherings in the summer and in the winter it turns into a nice ice skating rink. You can rent skates on site for $3 and you can even rent a skate aid if you think you'll need it. We skated around the ice to some upbeat music and enjoyed a beer at their concession stand. It was a fun outdoor activity and you can skate and enjoy all the ocean views!
Drinks at Top of the East: Another location to enjoy the views of the ocean and the city is from The Top of the East Bar and Lounge. This bar is located on the 15th floor of The Westin Hotel in The Old Port. The bar is open from 4pm to 10pm and when we visited you couldn't make a reservation beforehand. Check out their website before going in case things have changed. You can stay nice and warm and enjoy some great drinks with the best view in the city.
Walk Eastern Promenade or Back Cove: For more scenic views of Portland, take a walk around Back Cove or Eastern Promenade. Eastern Promenade has a few parking lots where you can park and then walk along the paved path around the shoreline. There is a beach where dogs can be on the beach for certain months of the year. Ruxin absolutely loved the beach and playing with the dogs. He even took a dip in the ocean. After enjoying the beach, you can walk to paved path all the way to commercial street in the Old Port. Back Cove is about a 3 mile loop with ocean views. We like to park our car at Payson Park and start the walk from there and go all the way around the cove.
Shopping the Outlets in Freeport: Located just a short drive from Portland is the Freeport Village Station. There are many different outlet stores located in this cute little town. Be sure to check them out here before you go. Freeport is also home to the LL Bean flagship store. Even if you don't purchase anything, it is a really nice place to walk around and enjoy the displays. Around Christmas time, LL Bean is decked out with Christmas lights and winter decor. In the past they have had outdoor hot chocolate stands, a warming tent, almost every tree is decorated from top to bottom in lights and they even had reindeer come to visit. LL Bean also offers Outdoor Discovery Programs that you can sign up for including snow shoeing and cross country skiing . Check out the schedules on their website.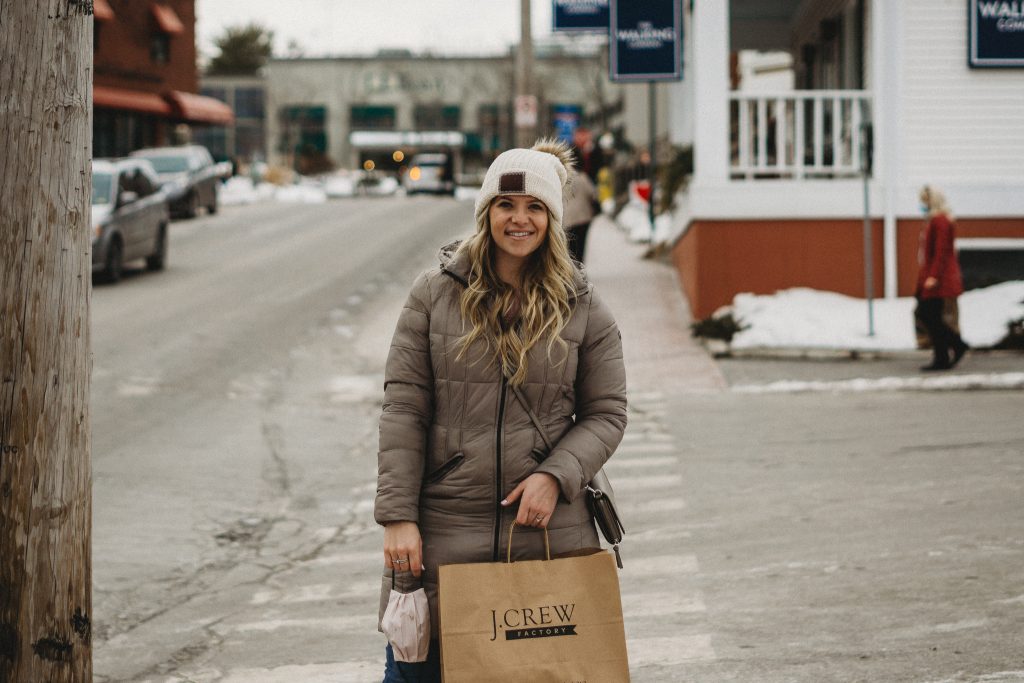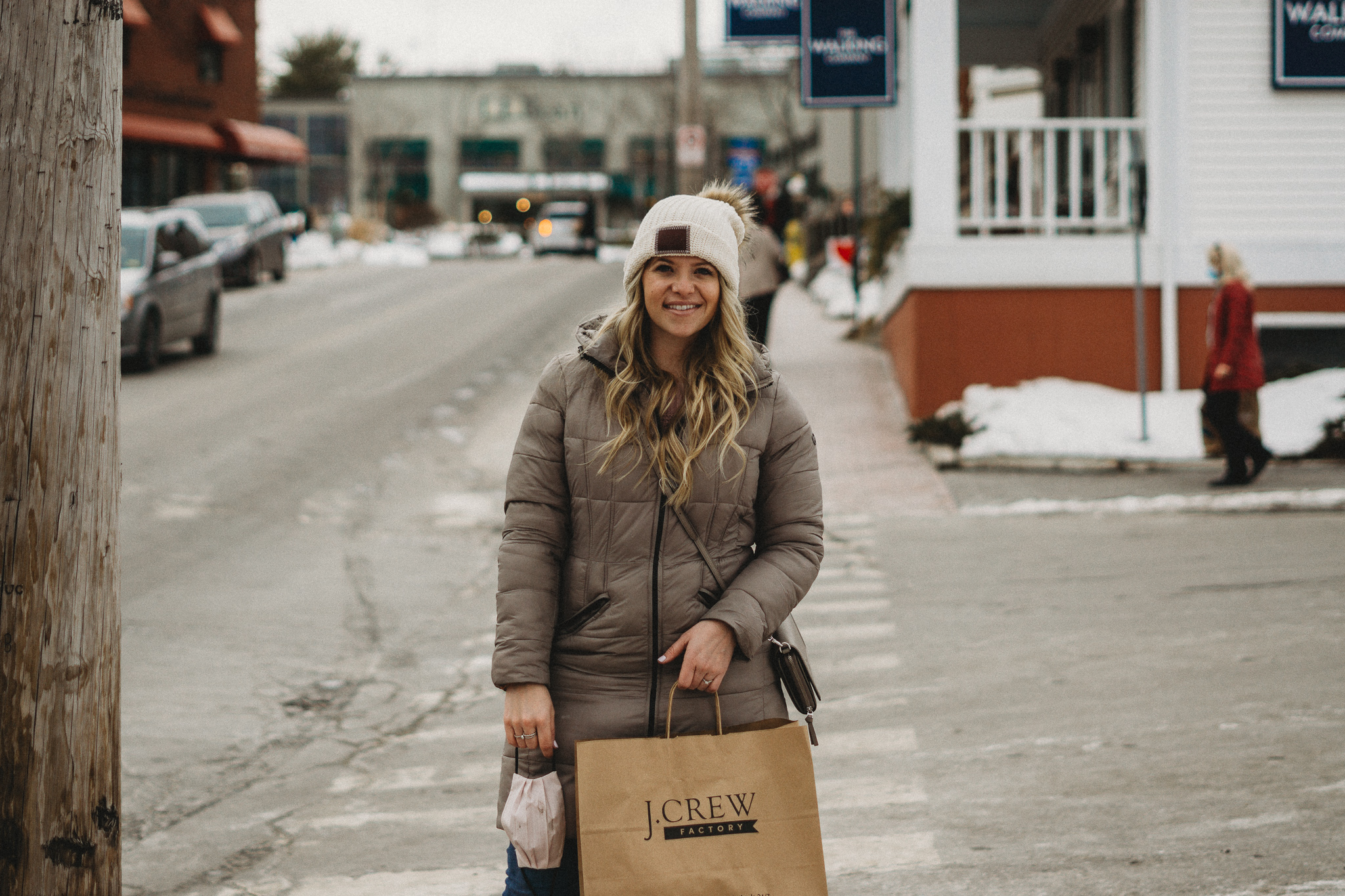 Where to Eat
Some of my favorite restaurants were not open for dine in, but that didn't stop us from indulging in all of our favorite foods. We took the take out and ate in our hotel room or had a little picnic in my car with views of the ocean.
Oxbow Brewing and Duckfat Frites Shack: DuckFat Frites Shack is conveniently located next to Oxbow Brewing. They are well know for their fried foods including their fries and poutine. I highly recommend grabbing some fries with some house made mayo or some poutine topped with duck confit. Then grab a table and order a flight from Oxbow brewing.
Eventide Oyster Co: If you have read my article about the best lobster rolls in Portland, Maine, then you know that Eventide is hands down my favorite lobster roll. You can order food from their take out menu and enjoy their delishous food from the comfort of your room.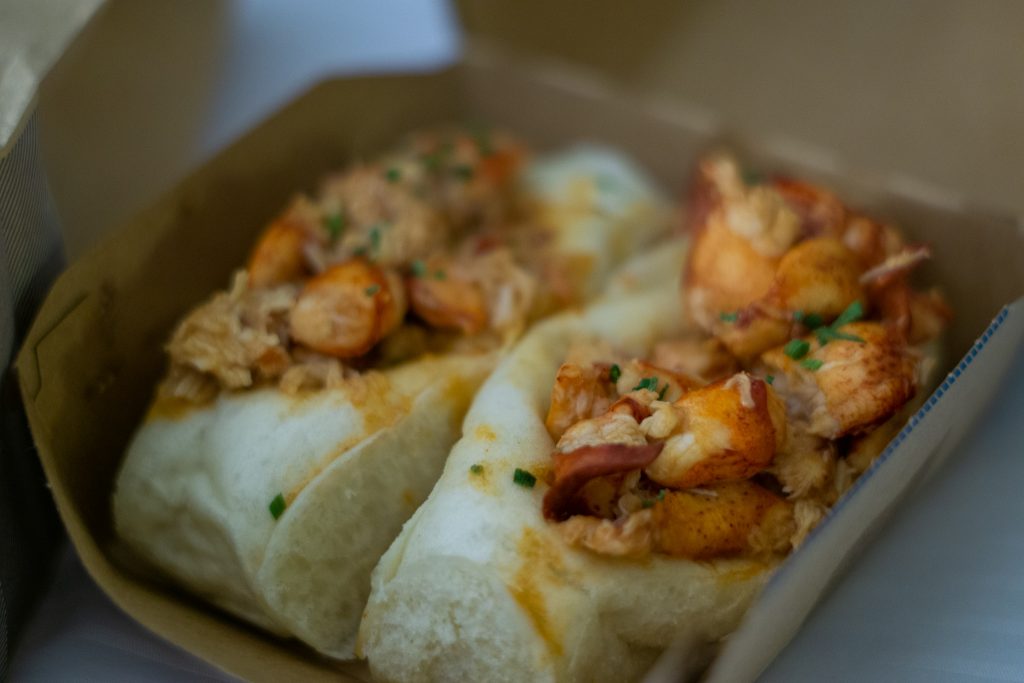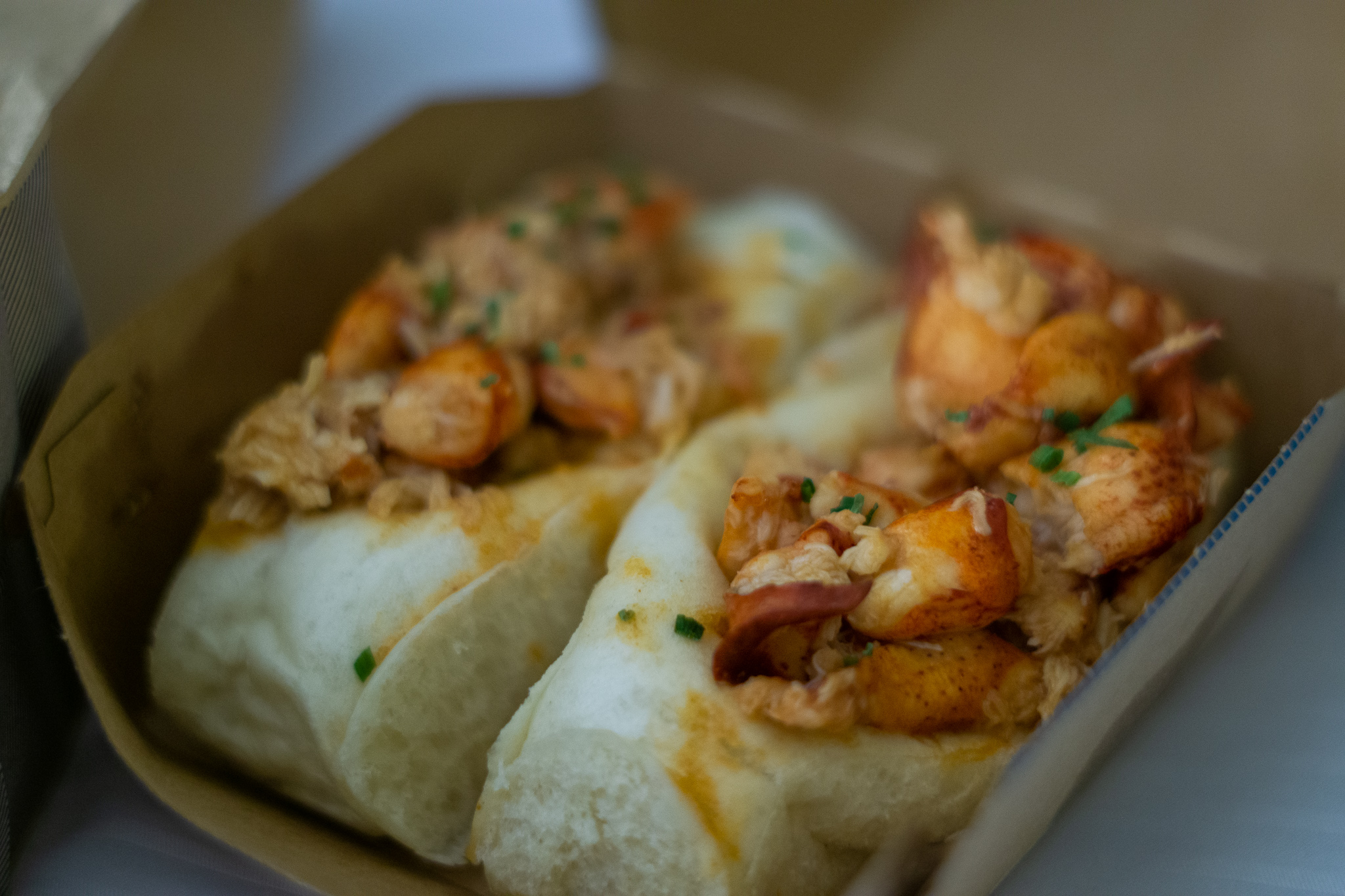 Mainely Noods: After a long morning of ice skating, we heated up with a bowl of ramen from Mainely Noods. This was out first time ordering from this restaurant and we absolutely loved it! We did take the food to go, but they have the option to dine in. Check out their menu before you head in!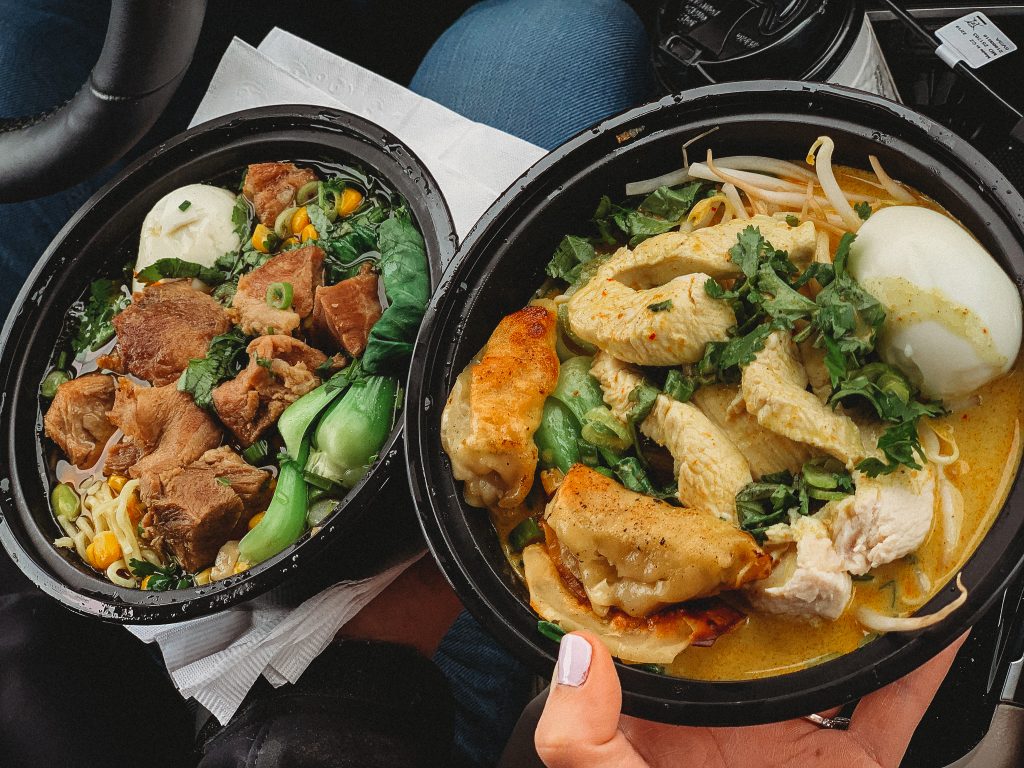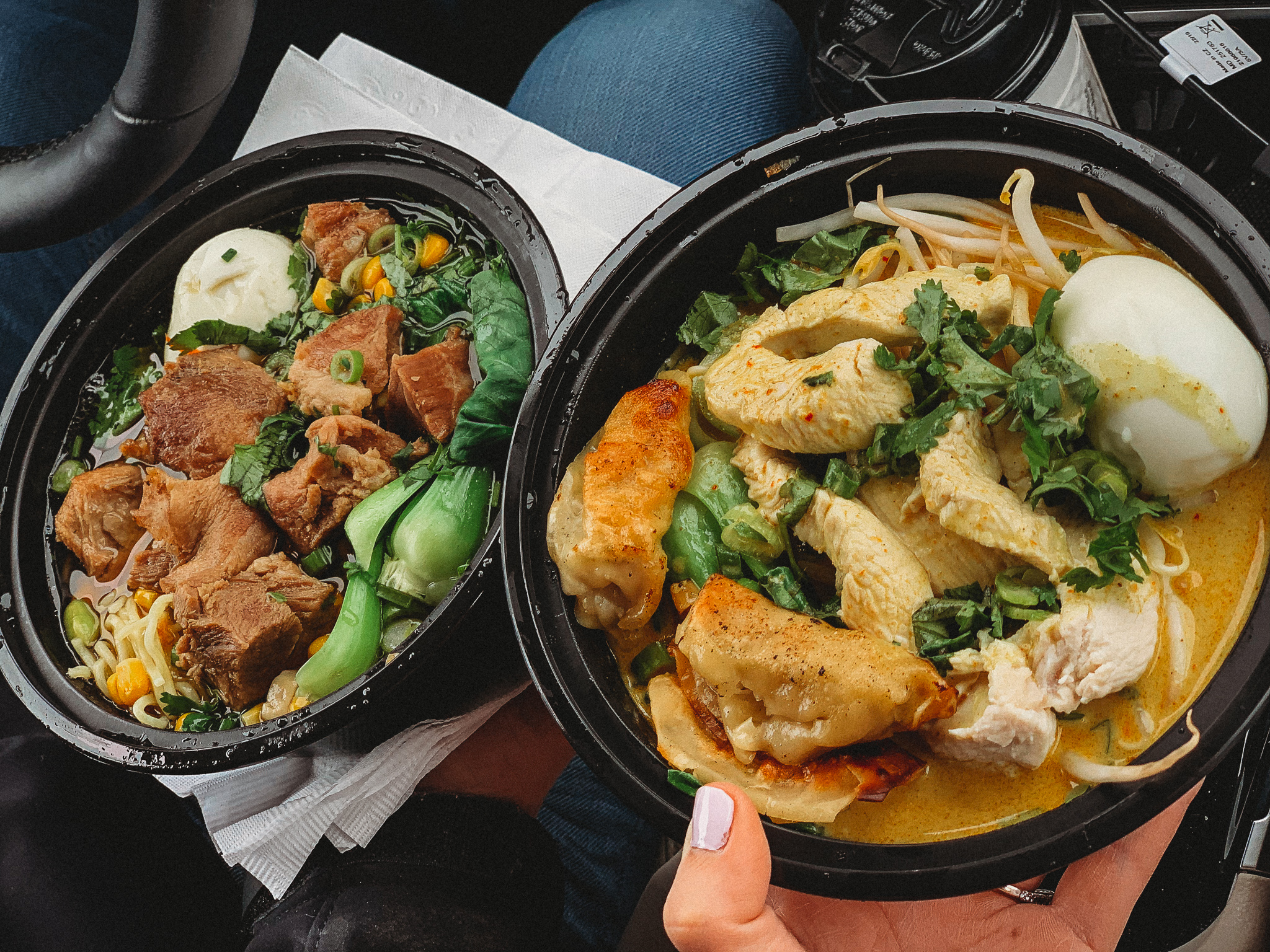 Holy Donut: Whether you are looking for breakfast or something sweet to eat, the Holy Donut will not disappoint. Make sure you head to their Scarborough location early because there will probably be a line. Choose from their variety of delicious potato donuts. You should just get a dozen while you are at it. We were feeling like something a little more savory so we also got the bacon and cheese. These are made with plain donut dough and stuff with bacon and cheese and fried to perfection. We also got a Maine potato hash brown and a few donuts to share.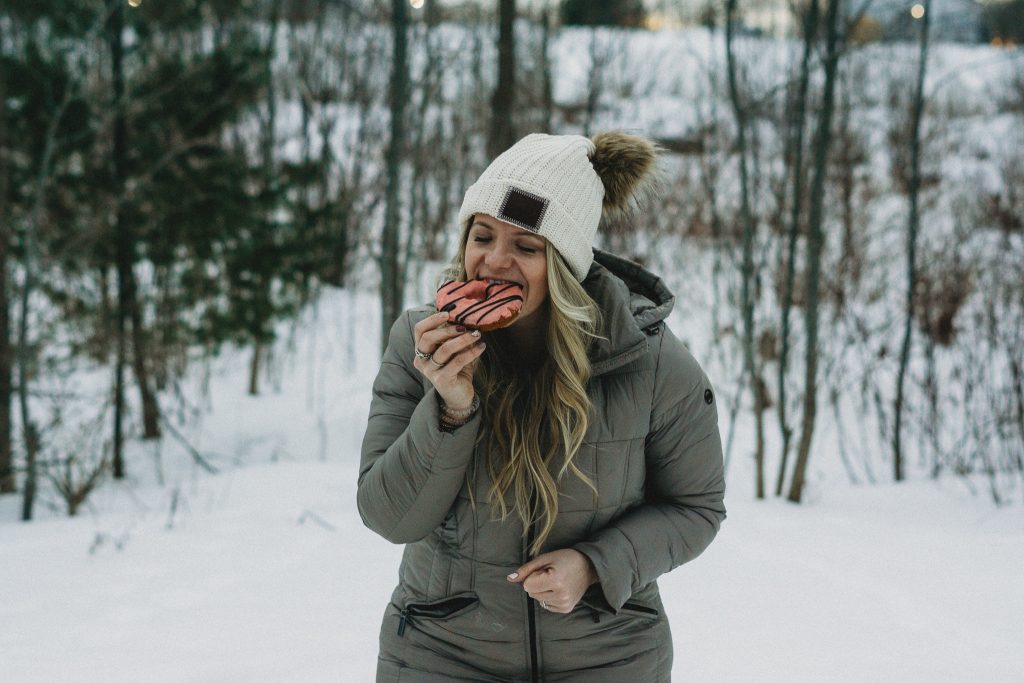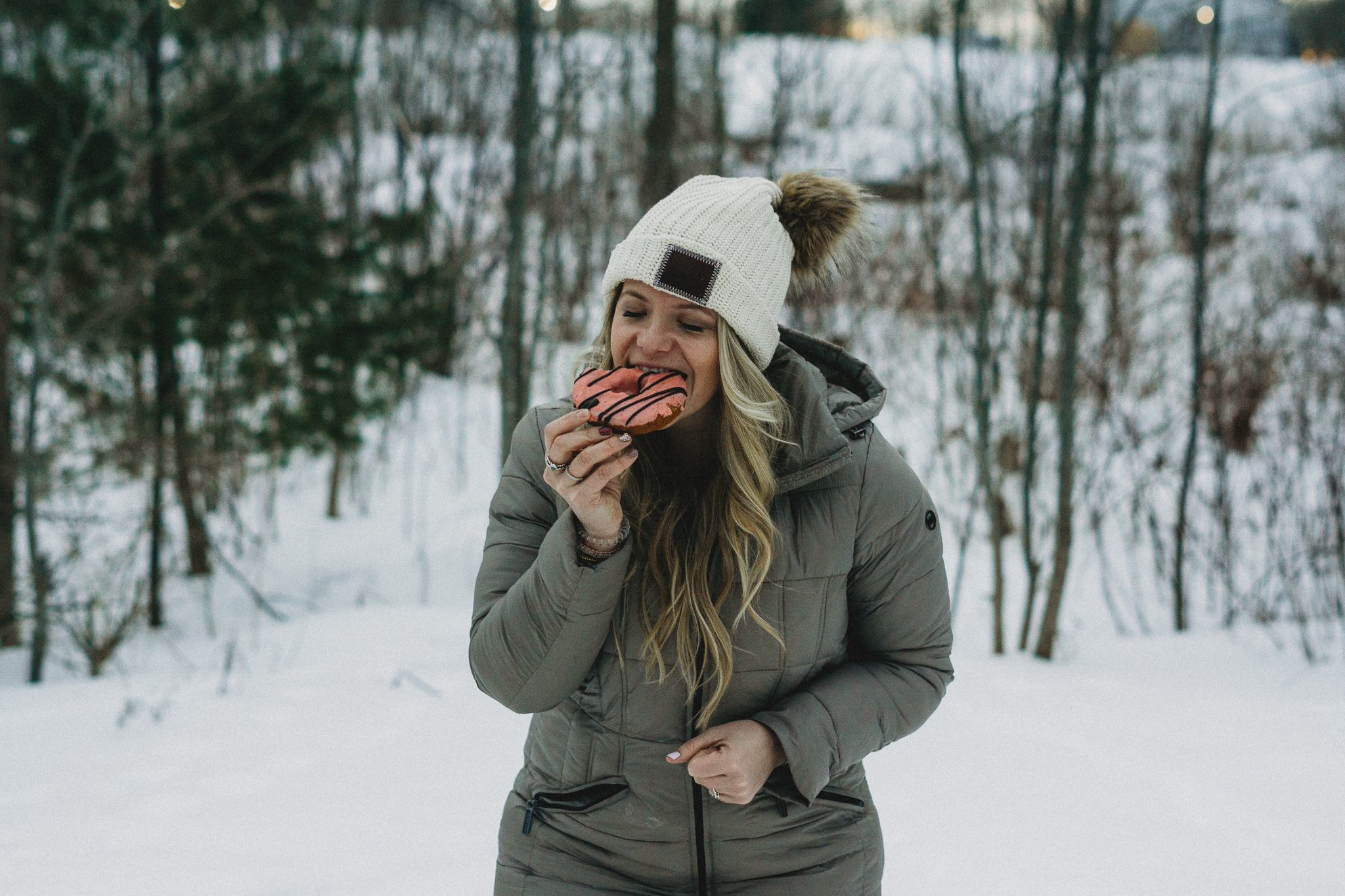 HiFi Donuts: I am a sucker for homemade donuts so if you are in the area, I recommend stopping by HiFi donuts. I love that their ingredients are locally sourced and made daily. One of my favorites are their churro crullers.
Where to Drink
Winter in Portland, Maine may seem like an odd time to visit the breweries, but let me assure you that we had just as much fun. Many of them offer outdoor seating with some sort of shelter or heating source, but you will still want to dress warm. If you are looking for a full guide of Portland breweries, then check out this post.
Definitive: The tasting room at Definitve has both indoor and outdoor seating. They have picnic tablets and fire pits outside to keep you warm. I am a huge fan of their portals flavors. Definitive has a wide variety of styles and flavors as well as some wild combinations. There is something for everybody!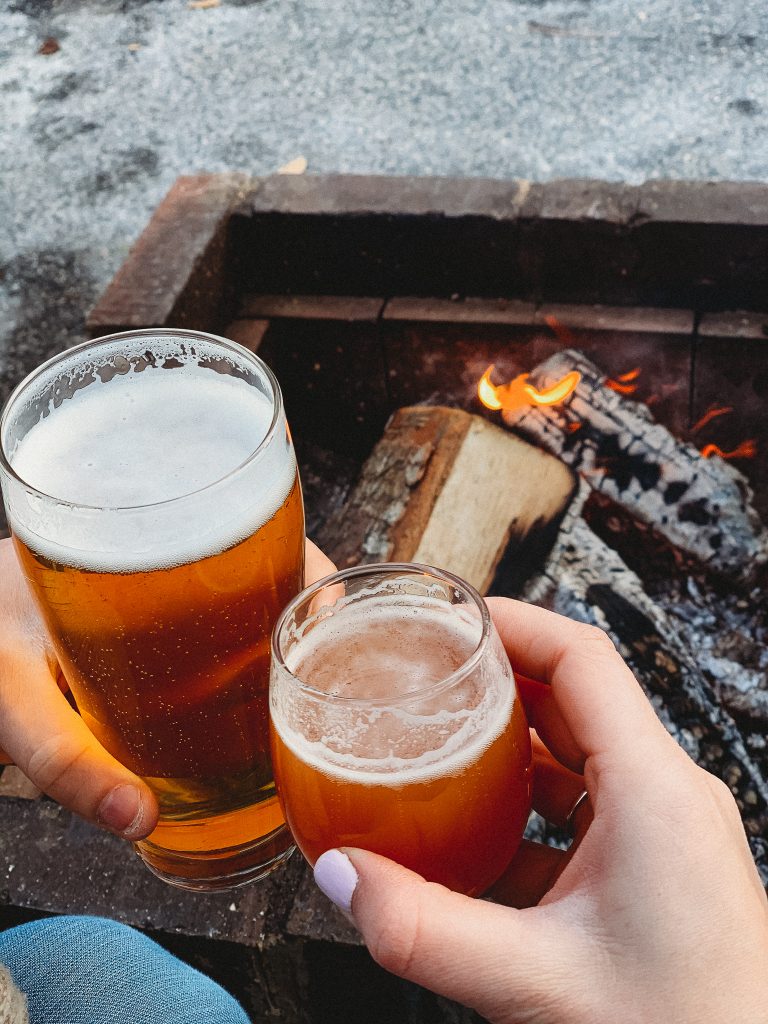 Foundation: This brewery is one of my favorites. You can grab a beer and sit outside at their picnic tables under the heat lamps. You can try their year round favorites, which are also offered in cans at many local retailers. Their tasting room has rotating taps of some of their limited editions and series beers. I personally love some of their sours and fruited options. If you don't want to sit in the cold grab some cans to go.
Top of the East: If you are in the mood for a cocktail rather that a beer then head to the Westin Hotel for drinks at the Top of the East. You can enjoy some fancy cocktails and with beautiful views of the city.
Oxbow Brewing Company: As I mentioned above, Oxbow has outdoor seating available for you to enjoy some brews. They have put together some A frame style shelters to keep you warm. DuckFat is conveniently located right next to the tasting room for some delicious food to go with your beer.
Lone Pine: Head to their Westbrook location and enjoy a flight under the warmth of their A frame structures. Lone Pine offers a wide selection of craft brews. Their tasting room has rotating taps or you can get some cans to go. Be sure to check out their animal names DIPA series and their collaboration beers with the Holy Donut.
Whether you are Winter in Portland Maine can be such a fun experience. There are many things to do if you are willing to brave the cold. Honestly, you could spend a whole weekend just making your way through all the restaurants and breweries.
Save this post for later!