There is a reason that Capri sits near the top of so many traveler's bucket lists. The beautiful island sits in the middle of the bluest water I have ever seen. Capri is loaded with fabulous restaurants and high end shopping. If you already have plans to visit the Amalfi Coast, it is well worth the ferry ride to spend the day in Capri. My husband and I spent a week in Italy, making Positano and a day in Capri part of our week long itinerary. While you could easily spend more than a day in Capri, I think there is a lot you can do in a short amount of time. So let me help your itinerary on how to spend a day in Capri.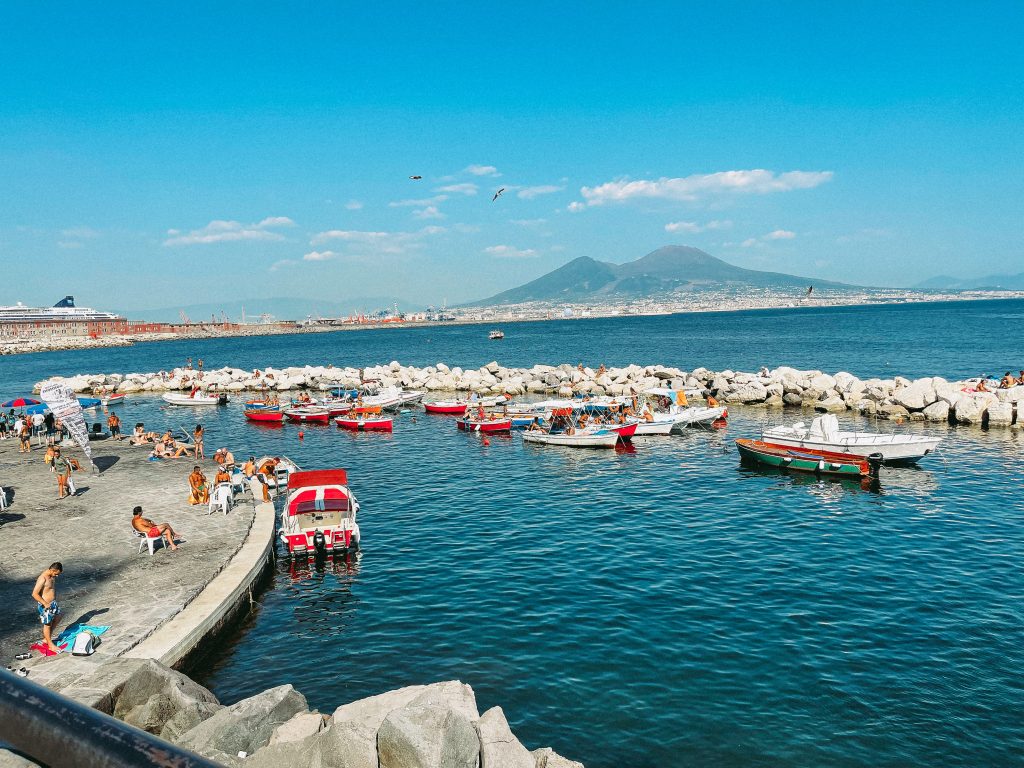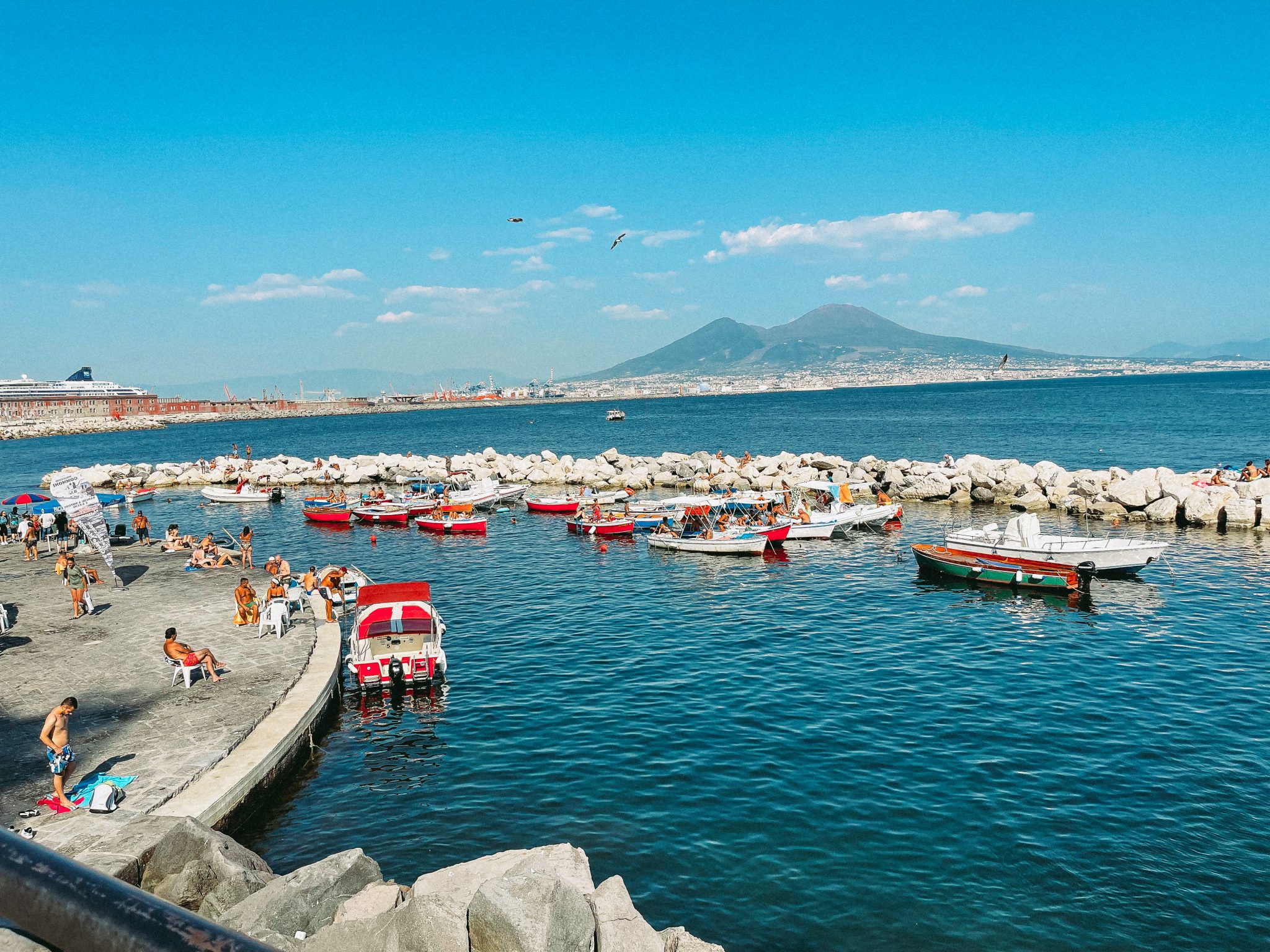 How to Get to Capri
If you are already staying in Naples or the Amalfi Coast, you can book a ferry ride over to the island. We were staying in Positano and I recommend buying tickets down by the marina at least a day in advance. The ferry can book up quickly in the summer months. You will also want to make sure that you arrive to the ferry early so you can find out exactly where to go. The signage was not very clear in Positano, but we did figure out where we were supposed to be going.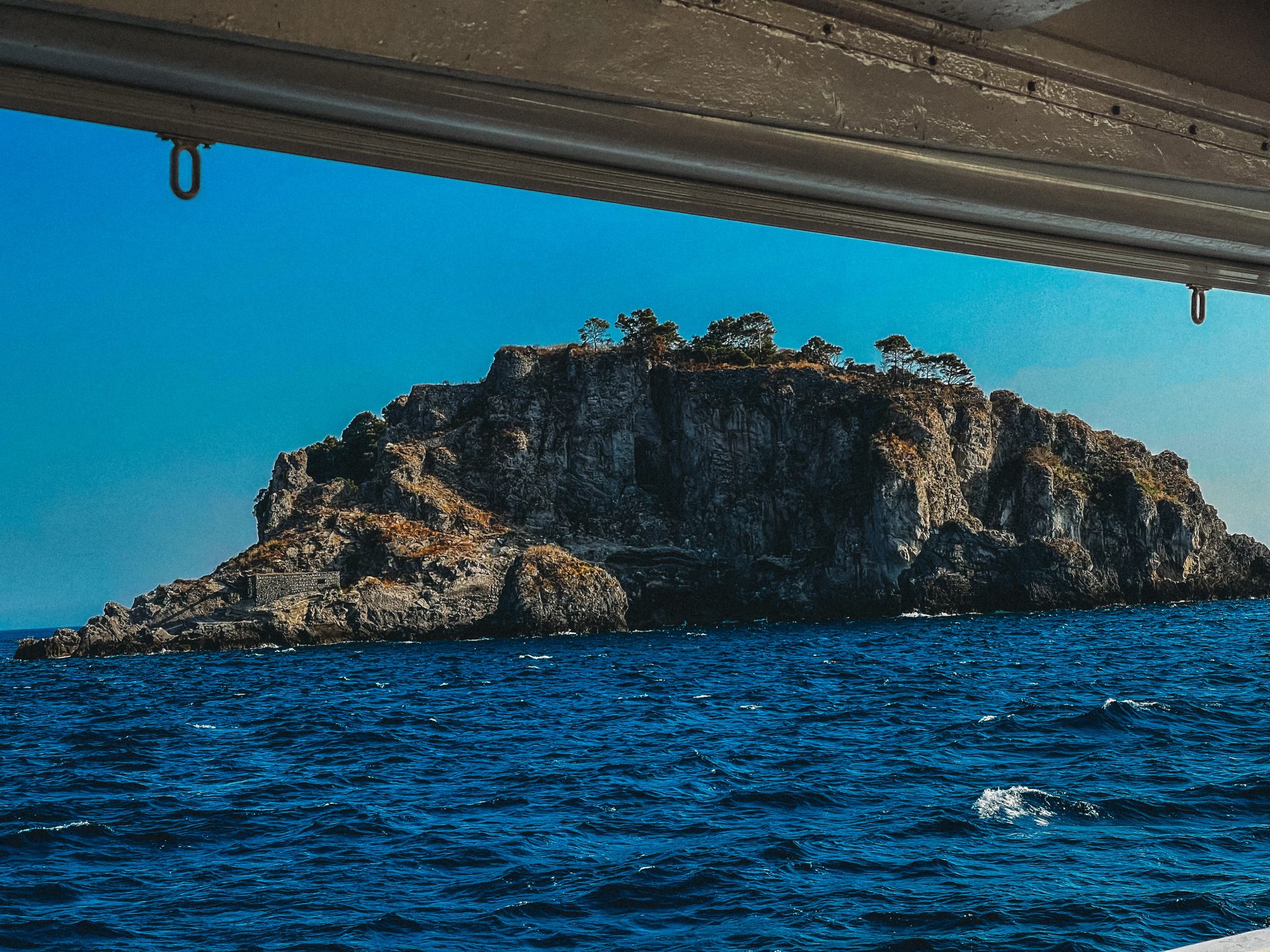 The ferry ride from Positano to Capri is about a forty five minutes. But when you include the time it takes to get on and off the boat, account for at least a full hour.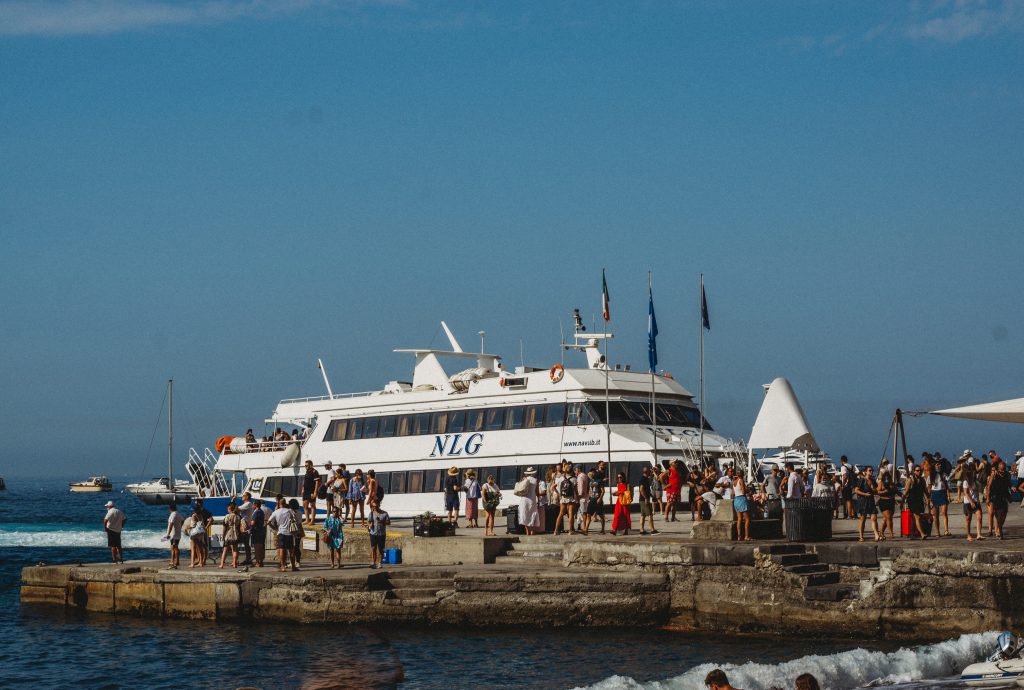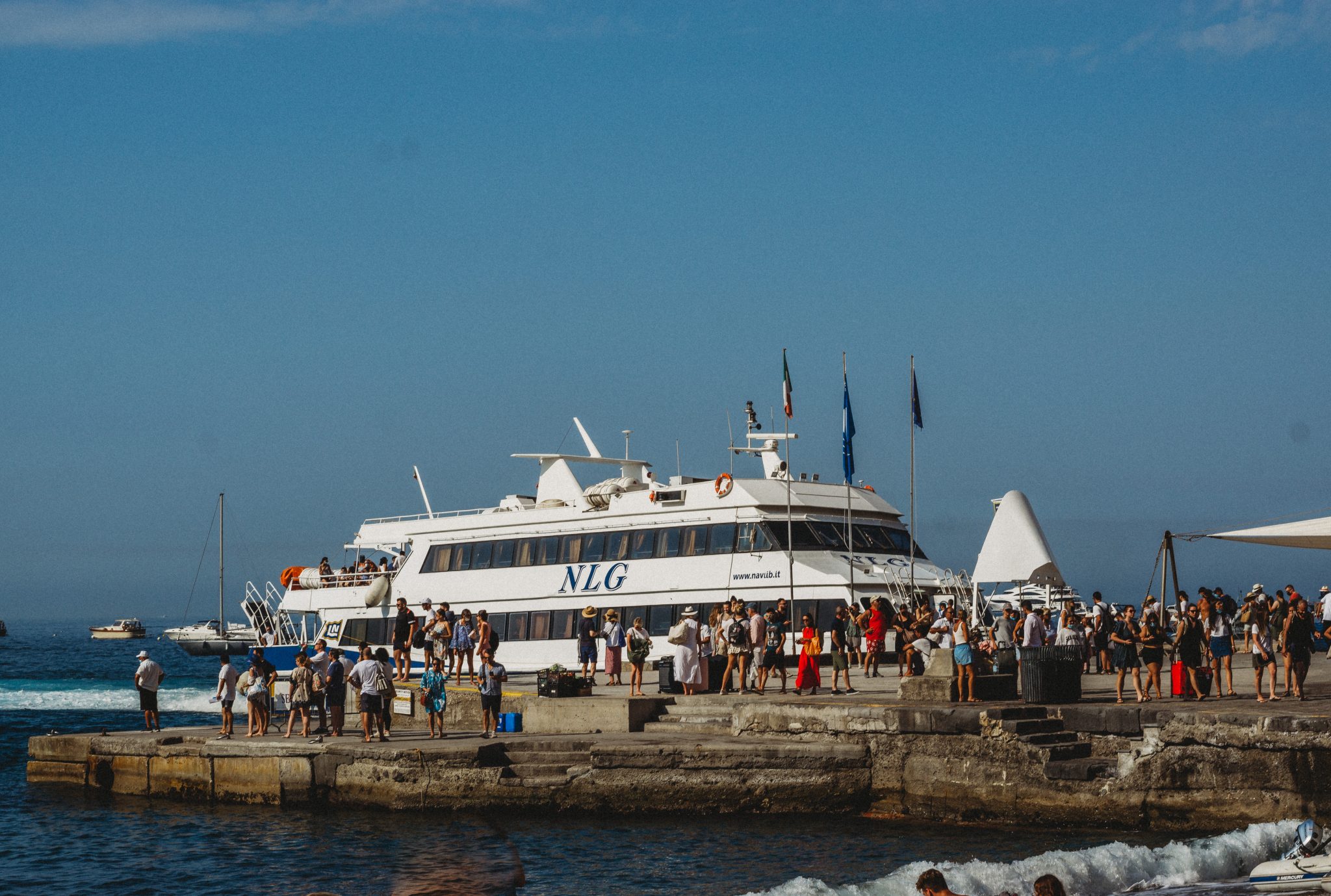 Transportation Around Capri
Transportation in Capri all depends on what you are looking to do. You can take the tram, called the funicular, up to the top of Capri. You can take a boat tour around the island and see the grottos. Buses are probably the easiest and cheapest mode of transportation around Capri. Or you can get around on foot if you have extra time. There are walking tours available and you can get some great views.
If you are arriving by ferry to Marina Grande, you can easily spot the funicular. You can purchase tickets right near the marina and take the funicular to the top.
What to do in Capri
When you get to Capri, you will most likely be dropped off in Marina Grande. From the marina you can plan where you want to spend the rest of your day.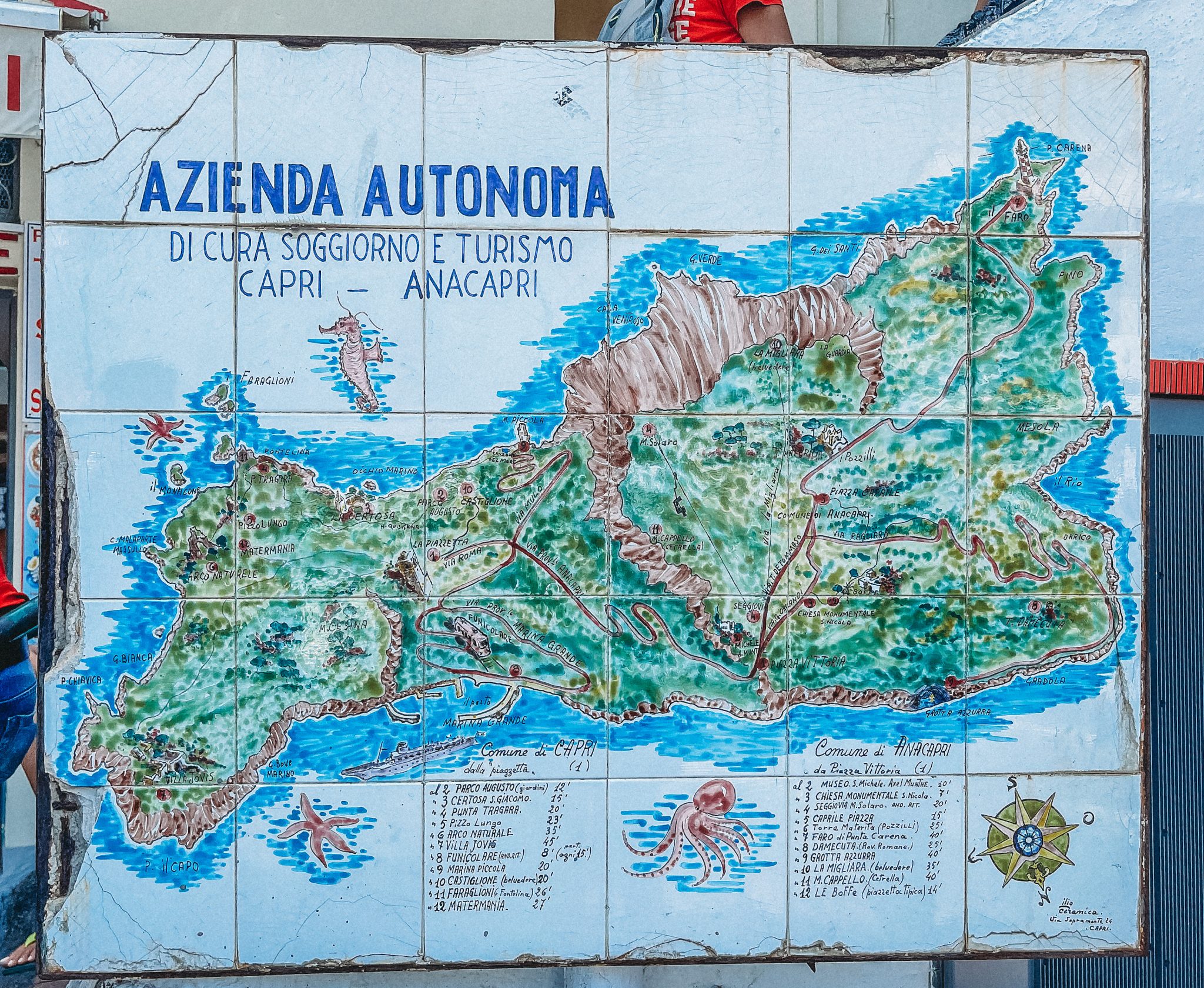 Grotta Azzura (The Blue Grotto)
If you only have a day to spend in Capri, I would recommend doing a boat tour to see the blue grotto first thing. If you take the tour first, you can make sure you have enough time before you have to catch your ferry. The boat tour was one of my favorite parts because it was so hot out that day, that the breeze from the ocean felt so nice. The grotto itself was pretty incredible.
We grabbed the last boat tour of the day out to the blue grotto. Out boat had about 10 guests and the captain. Once we got out to the grotto there were men in row boats waiting to take us inside the grotto. There is another small fee to go inside the grotto and it is nice to tip the captains at the end so make sure you bring cash. They took two to four people at a time inside the caves. Inside you could see the glowing blue water while the row boat men sang. It was pretty neat!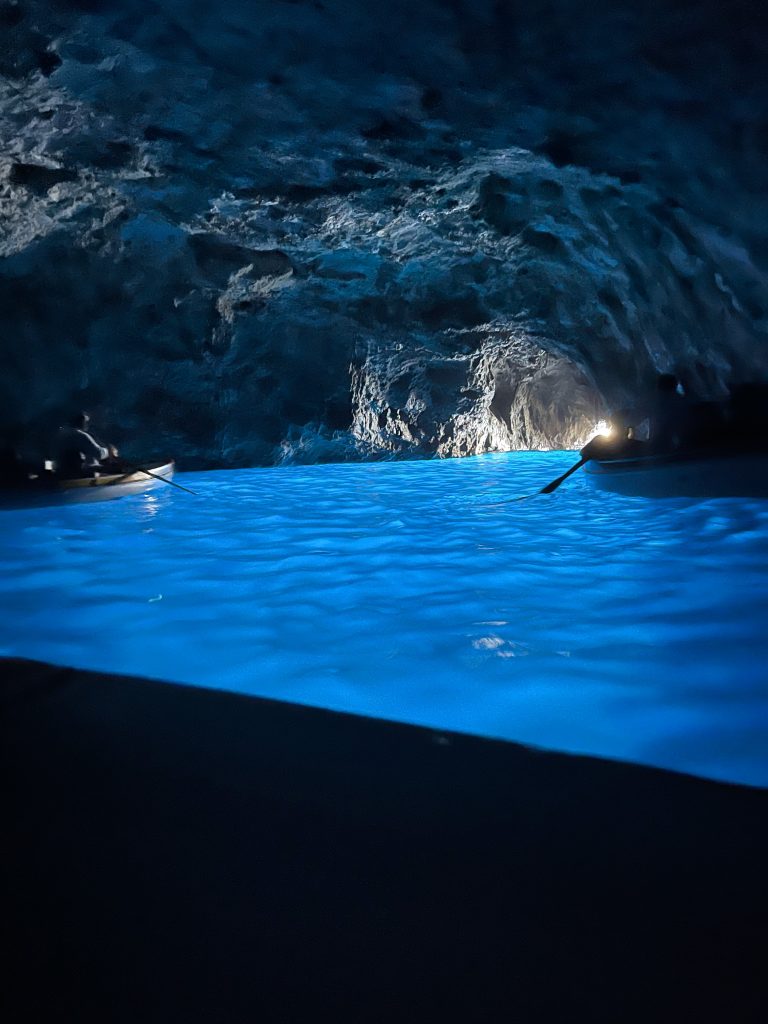 There is also a white grotto and a green grotto in Capri. You cannot go inside these grottos but there are boat tours available to take you to see them.
Funicular to Capri Town
Once you are back at the marina, grab your tickets to take the funicular to Capri Town. The tickets were about 4 euro round trip per person and the tram leaves every 12 minutes. This was a fun little ride up to the top and you can admire the views on your way to the top.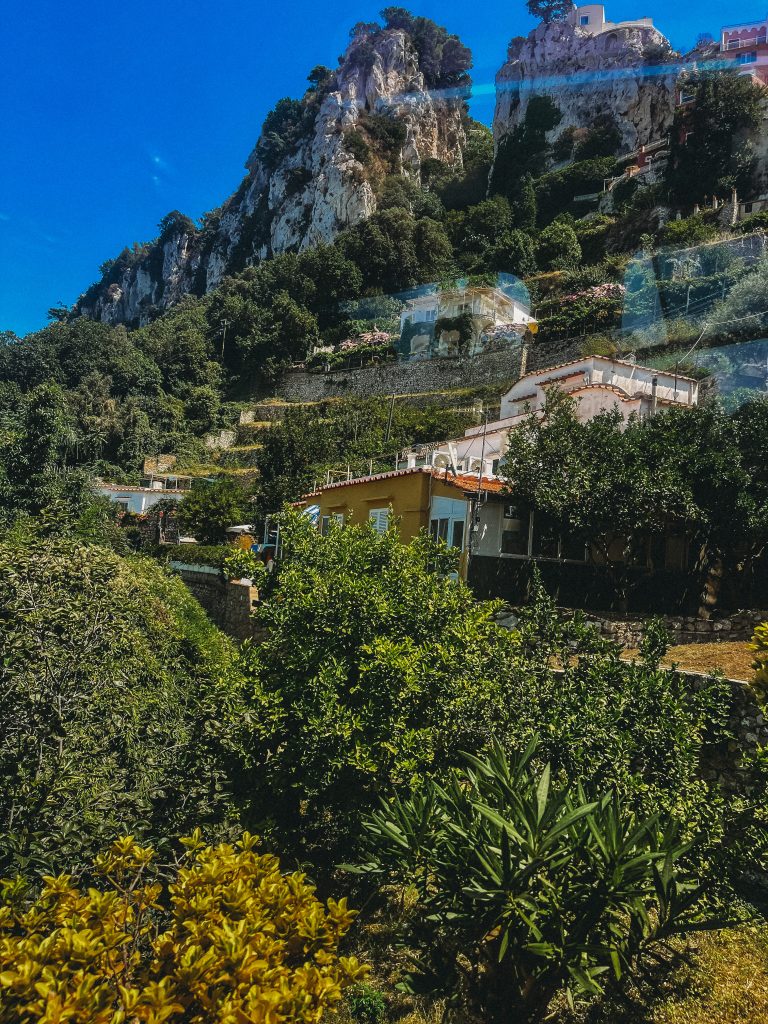 Shopping in Capri Town
Once we made it to Capri Town we just wanted to wander the streets and go into all the shops. There are lots of high end shops including places like Louis Vuitton, Gucci and Chanel. The streets are absolutely beautiful and filled with flower gardens and views on the ocean. Be prepared to do some walking.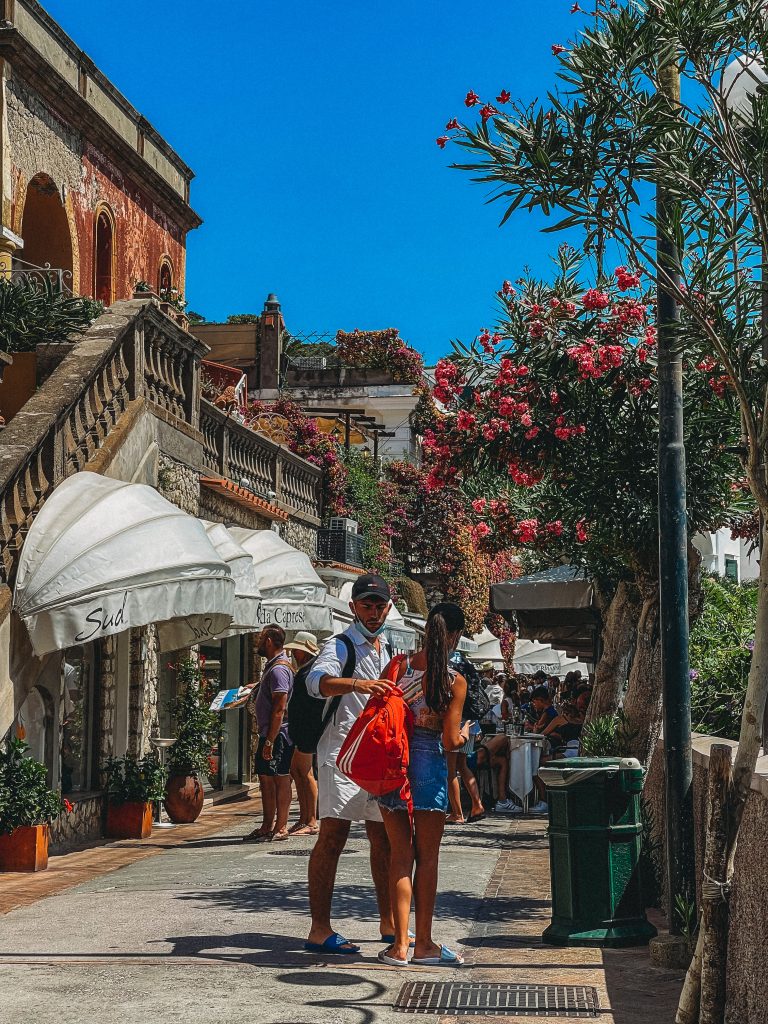 Restaurants
There are so many great restaurants in Capri so it's hard to choose one to sit and eat at. I didn't do any research ahead of time, I just kind of wanted to go with the flow. So we ended up choosing a spot with some nice outdoor seating and got all the wine, pasta and seafood. The food can be expensive so just be prepared. There are lots of places to eat near the marina as well so make sure you also stop for some coffee, a glass or wine or some gelato.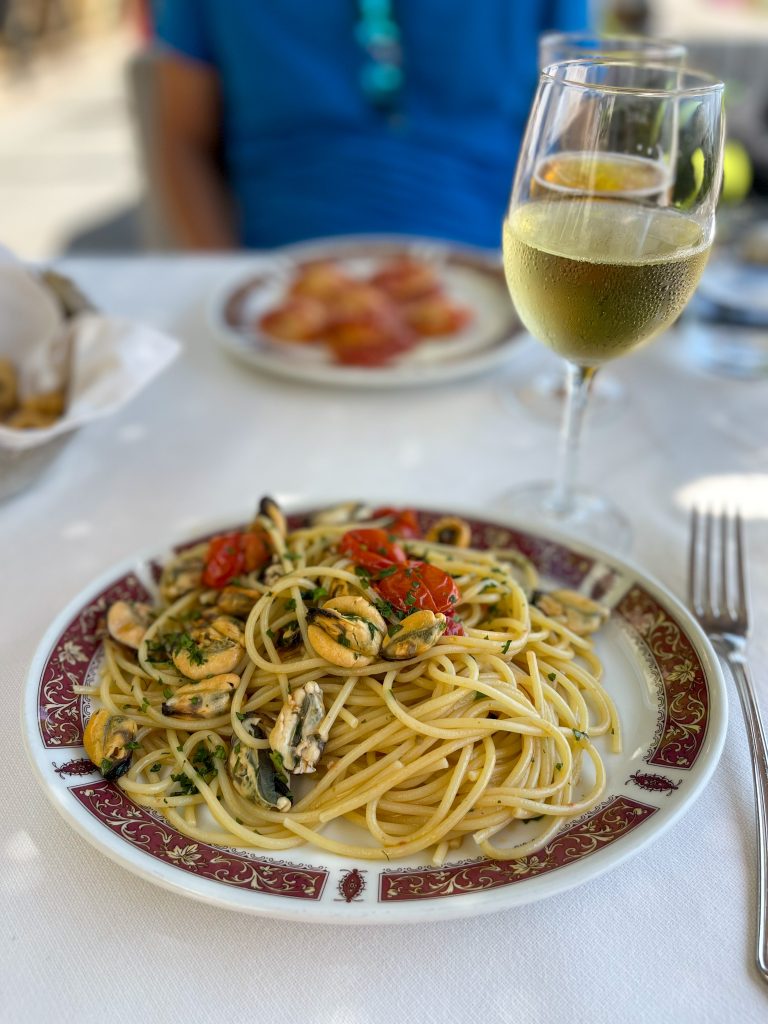 Anacapri
Anacapri is smaller and less popular than Capri Town, but still charming. You can find hiking trails and wander the streets looking at the beautiful houses and churches. There are lots of shops and restaurants to visit and it is only a short bus ride from Capri Town.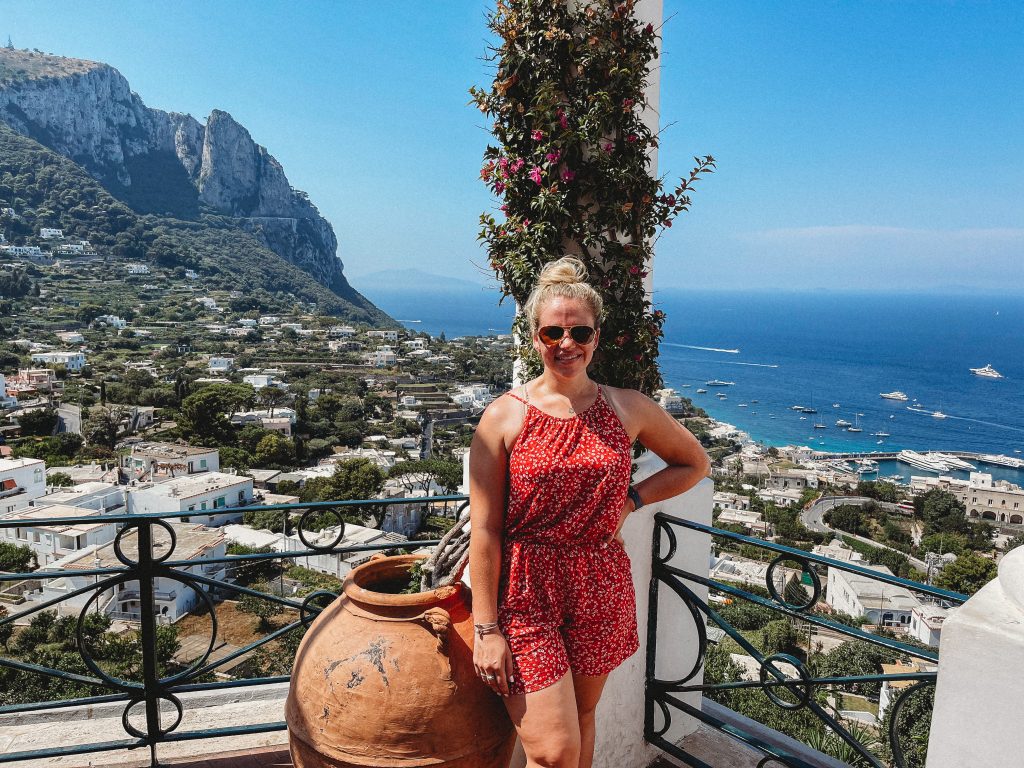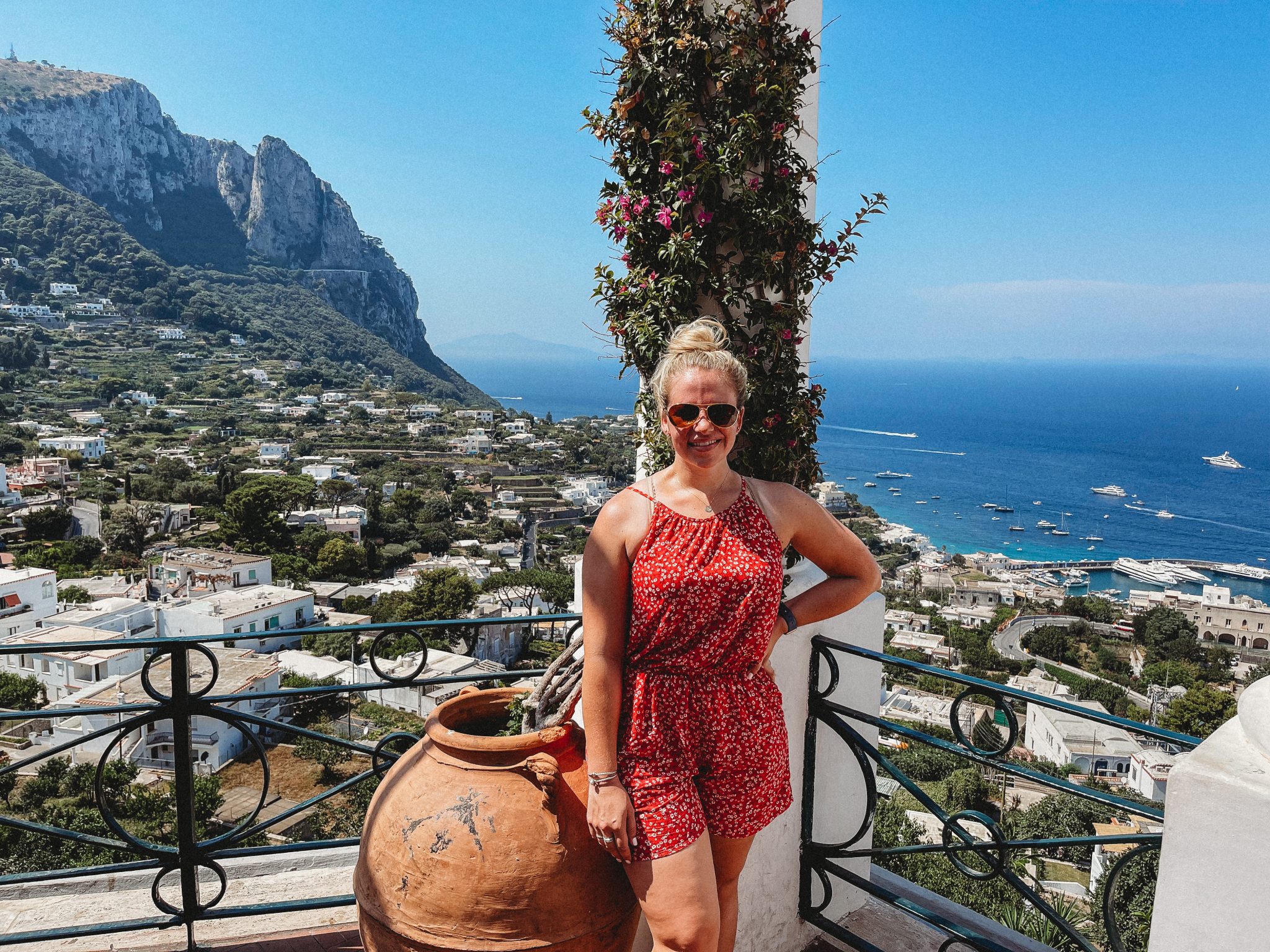 Monte Solaro Chair Lift
If you want great views of Capri, consider taking the lift. The chair lift takes you from Anacapri to the top of Mount Solaro. I regret not making time for this on our trip, because you can get the most spectacular views. It certainly would make for some great photos.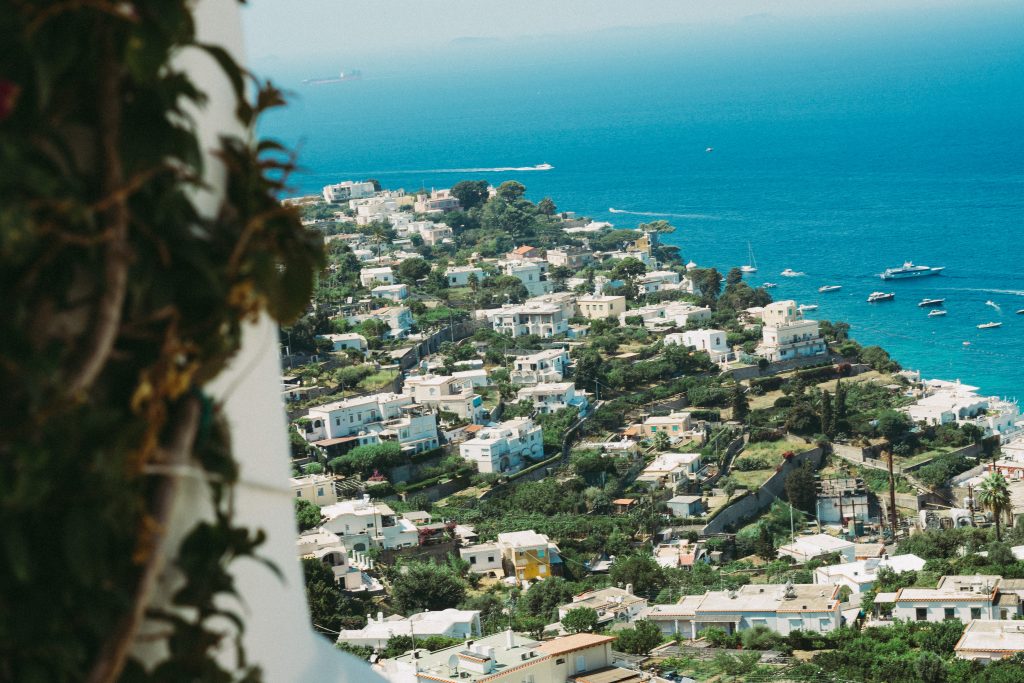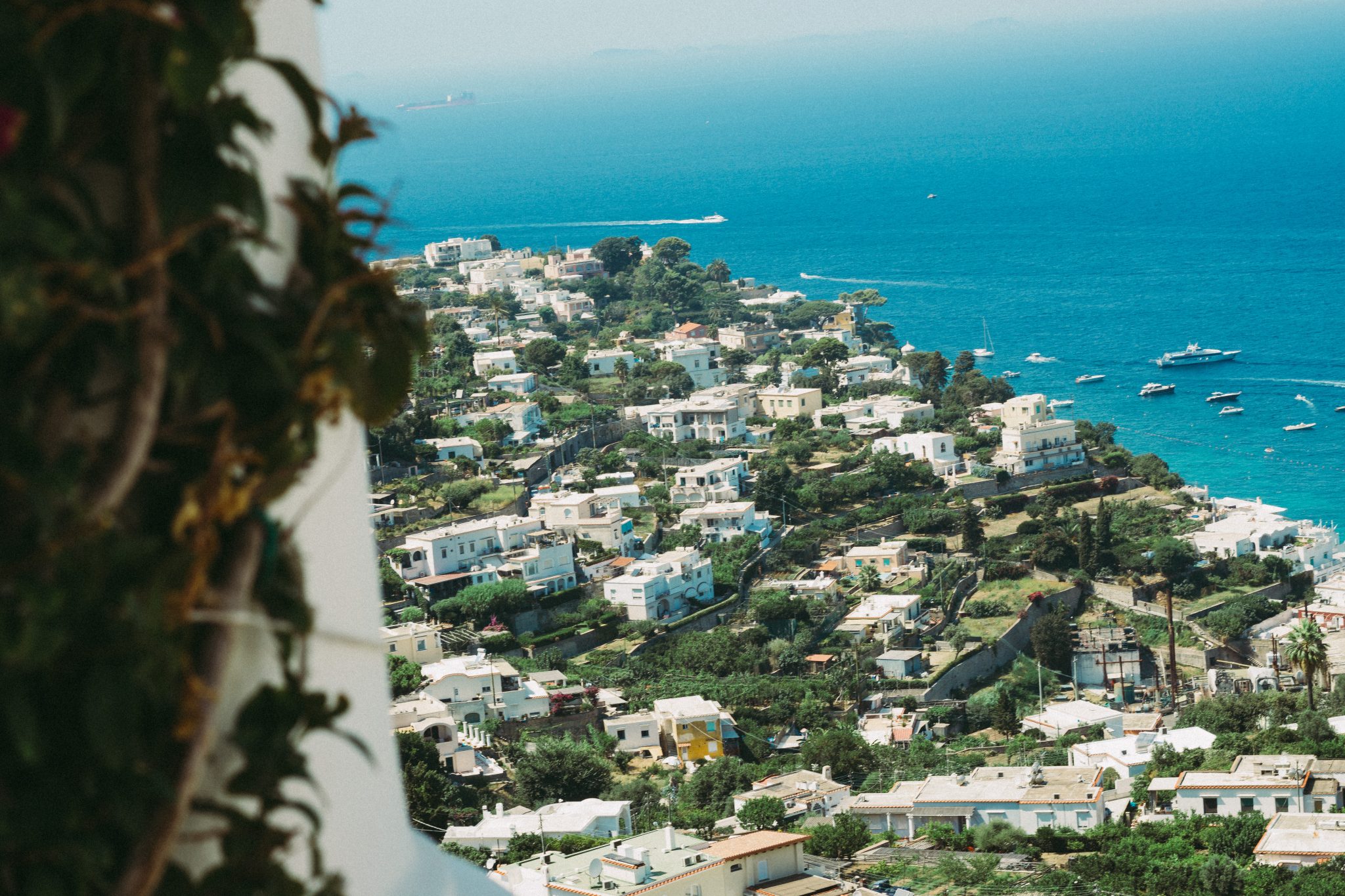 Gardens of Augustus
These gardens are a popular spot when visiting Capri and contain some of the most beautiful flowers in Capri. You can get to the gardens on foot from Capri town. There is a small entry fee, but it is worth it for the beautiful views.
Faraglioni Rock
Arguably one of the most famous parts of Capri. These three rocks that rise out of the sea should be on your list of things to see in Capri. There are many places you can view the Faraglioni. You can see them up close by boat or you can view them from many different spots at the top of the city. If you are already at Gardens of Augustus you can get a view of them from up high.
Marina Grande
As the last leg of your 24 hours in Capri, make sure that you take some time to wander around the marina and take some photos. There are lots of boats and beautiful scenery. There are also a lot of great restaurants nearby. We grabbed some gelato while we waited to board our ferry back to Positano.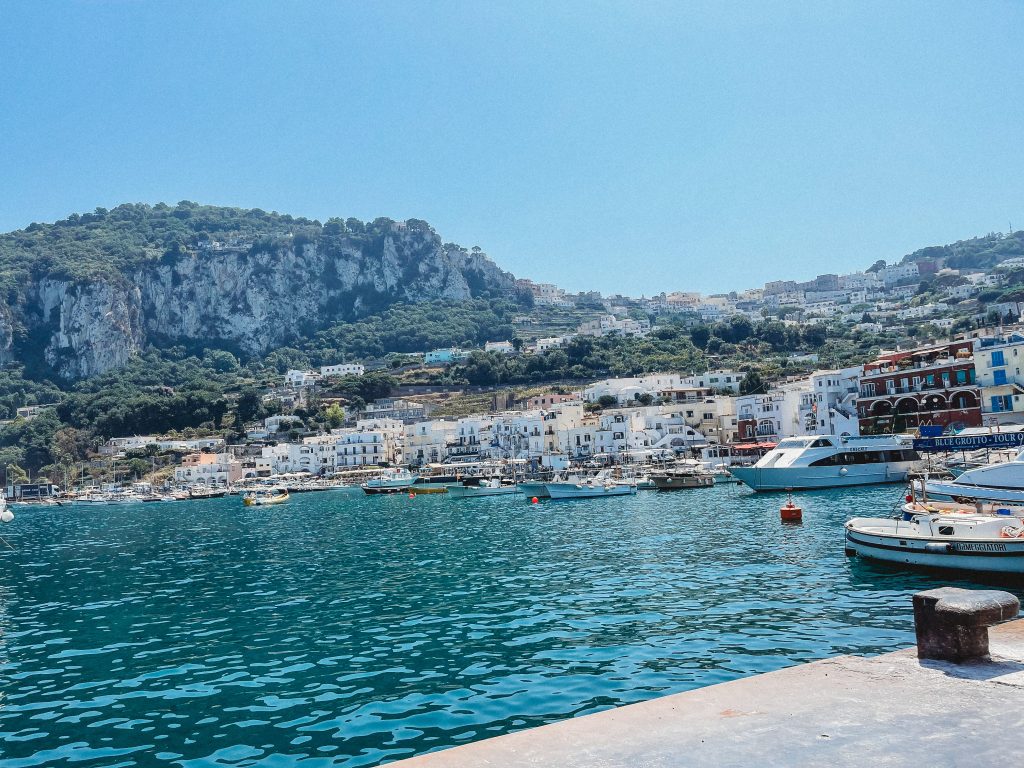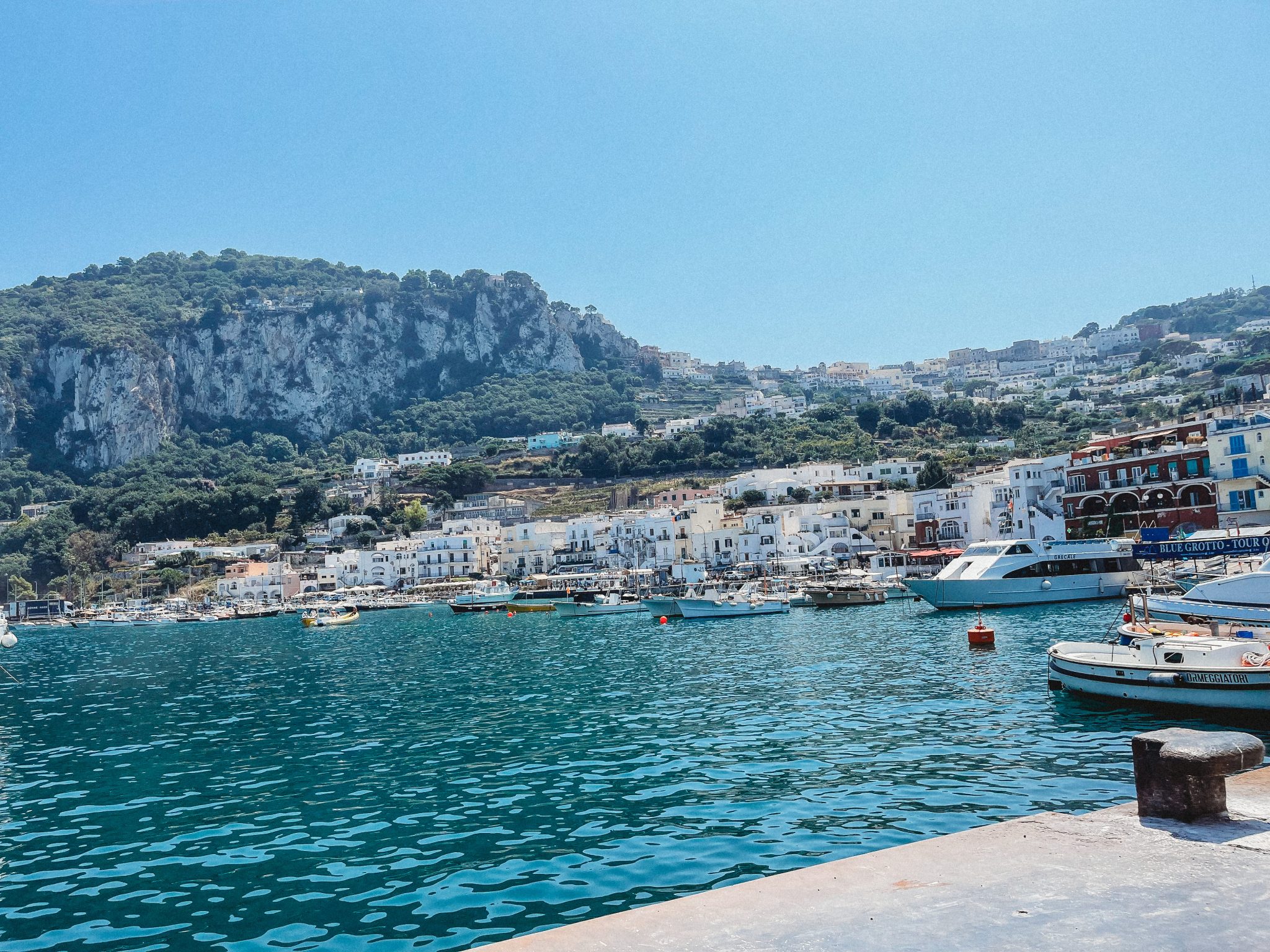 For next time
I know this post is how to spend a day in Capri, but I think our next visit will include staying the night! There is way more to do and see than I originally thought!
Visit the beach- Next time I will back a bag and spend some time at one of the popular beaches. Either Torre Saracena or Marina Grande beach
Take a boat to Faraglioni
Villa san Michele
Spend time in Anacapri
Save this post for later!