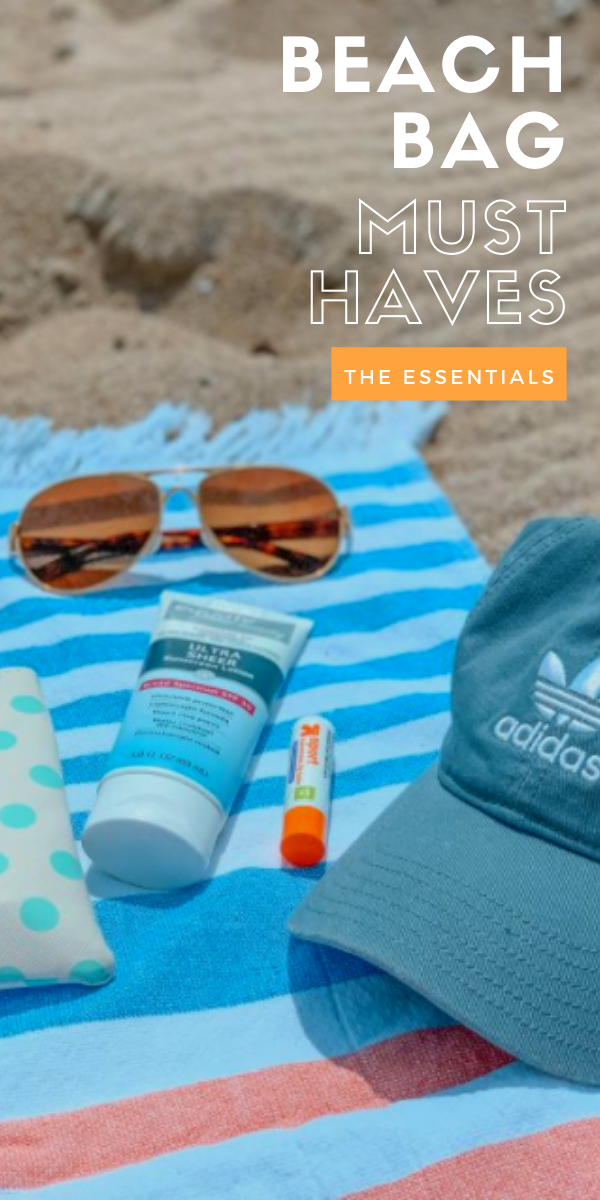 Living in Maine has its perks, like beautiful beaches and lots of ocean. The ocean in Maine is much colder than in southern states as I'm sure you would guess, but in the summer it is so refreshing. I'm planning a trip to the beach this weekend and I am so excited! So I thought I would provide you with my beach essentials list.
Sunscreen
This is obvious and if you don't know about the importance of sunscreen or what you should be using, be sure to check out my post. Not only do you need sunscreen for your body, you also need it for your lips. I didn't realize that the chapstick I was using didn't have SPF in it, and that was a huge mistake. So make sure you apply your sunscreen before going out in the sun and then reapply every two hours or after you get wet.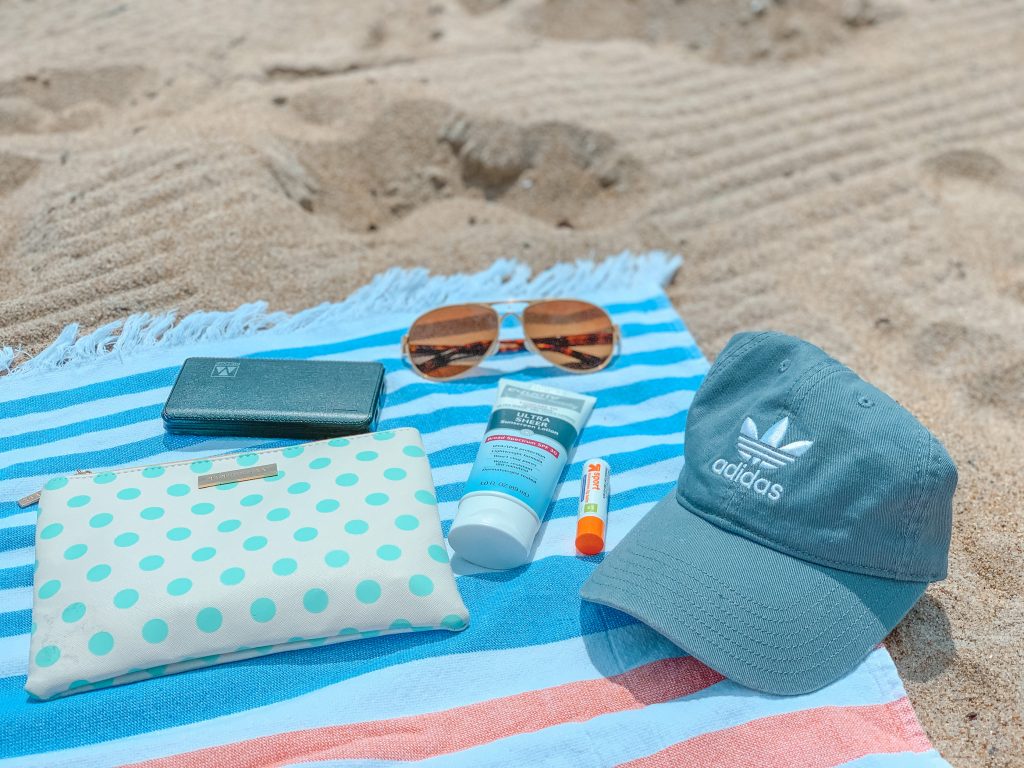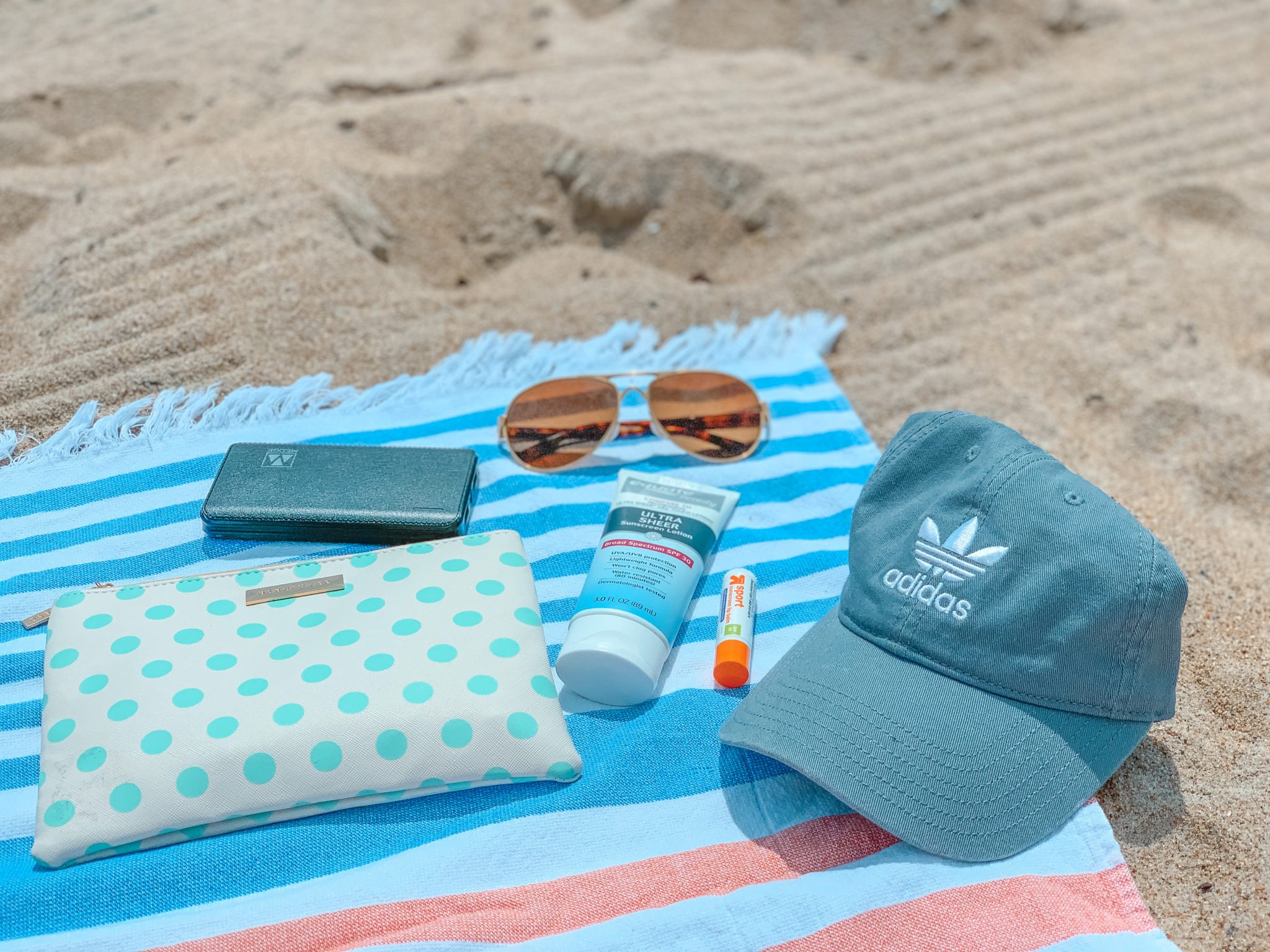 Sunglasses
Also included in my previous sunscreen post is the importance of wearing sunglasses. Wearing sunglasses helps, but you should also consider polarized sunglasses. Polarized sunglasses have a filter that block out more light. If you don't have any sunglasses, bring a hat to protect your eyes and your face from the sun.
Something to Sit on and a Towel
This is a pretty obvious but pretty important beach essential. I bring a beach blanket or a large beach towel to lay on. I might invest in a beach chair because it is so much easier to read while sitting up. Alex prefers the shade (and is naturally tan of course) so he likes to bring a chair and an umbrella. No matter what you sit or lie on, make sure you bring a different towel to dry off with. Maybe it's just me, but I hate being sandy. So after I swim, I dry off with my clean towel.
Entertainment
The beach is mainly a place to sit and relax in the sunshine. If you are going to be at the beach for any length of time you will want to bring something to do. I like to bring a book to read or a magazine. Sometimes we bring a bluetooth speaker and play some music. If you have room in your bag you could bring beach games, a football, a boogie board or whatever else you like to do.
A Small Cooler with Food and Drinks
You will definitely want to bring some drinks and snacks. To keep your cooler cold, I like to freeze some water bottles to act as ice packs. Then I drink the water bottles as the ice thaws. You definitely want to stay hydrated while at the beach, so drink your water!
Bring some snacks that can take the heat. I like to pack things like popcorn, crackers, grapes, cereal, snack bars, cut up fruit and vegetables. I find that it works best to cut up fruits and veggies the night before to save time.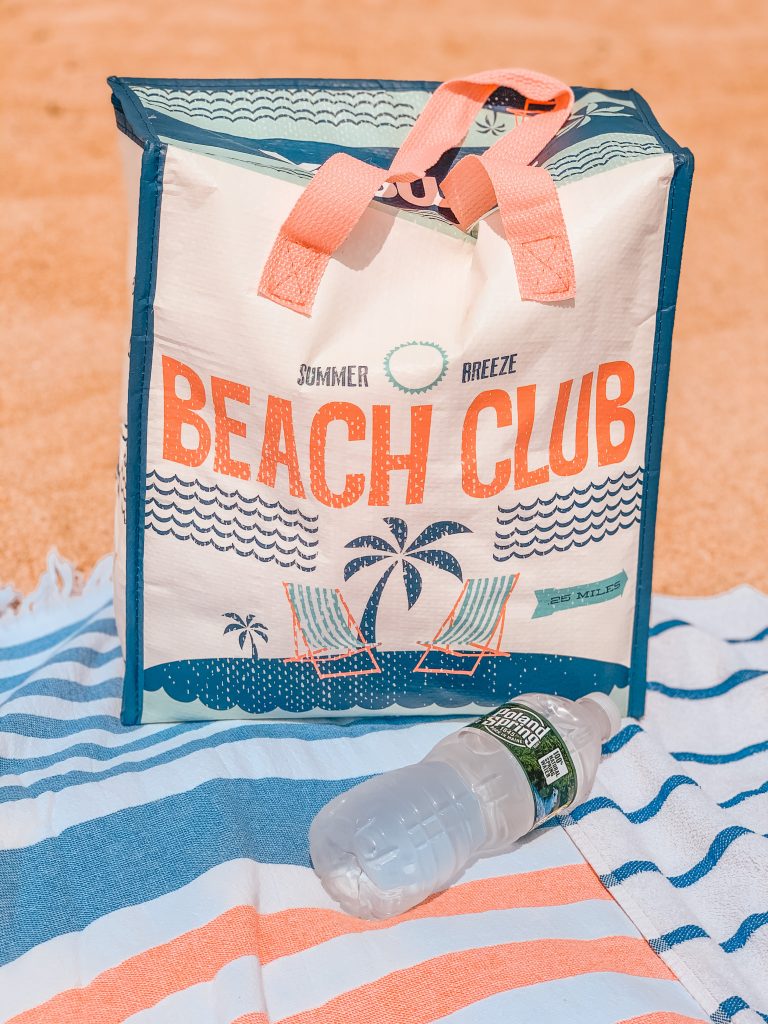 Toiletries
Every year we are in the same parking lot for the day. This lot is perfect because it is close to the beach and they have showers you can use after a day at the beach. Bringing a small bag of toiletries is not a bad idea. Things like deodorant, hand sanitizer, face wipes, body lotion and wet wipes.
First Aid Kit
I'm not saying you need to bring a giant toolbox full of first aid supplies, but you never know what is going to happen. Having some bandaids, a few OTC medications and alcohol wipes wouldn't be a bad idea.
The Hair
My hair has gotten so long and gets really tangled in the ocean water. In my toiletry bag, I keep a comb and some deangling spray to try and brush out the knots. I also bring some hair ties and a headband to keep it all back and out of the wind.
Flip Flops
Old Navy $4 flip flops are my go to beach wear shoes. They are lightweight, easy to clean, ok to get wet and inexpensive if they need to be replaced. Maine also had a lot of rocky beaches that are so pretty! If I am heading out to a rocky beach, I bring so closed toes shoes. I have a great pair of water shoes that are neoprene on the top and have a nice grip on the bottom.
Swim Suit Cover Up
A swim suit cover up always comes in handy when I want to walk into shops or go to a restaurant. There are so many styles when it comes to swim suit cover ups. I usually pick a dress style option, it is easy to slip on and off. A pair of gym shorts and a tank top work well too.
Plastic Bags
Putting your phone in a plastic sandwich bag can protect it from the water and the sand. You can also still use your phone through the bag! Packing a few sandwich bags can come in handy, so make sure to add it to your beach essentials list! I also pack a plastic grocery bag so that I can pack my wet clothing and towels in it. This prevents your wet bathing suit from getting everything else in your bag wet.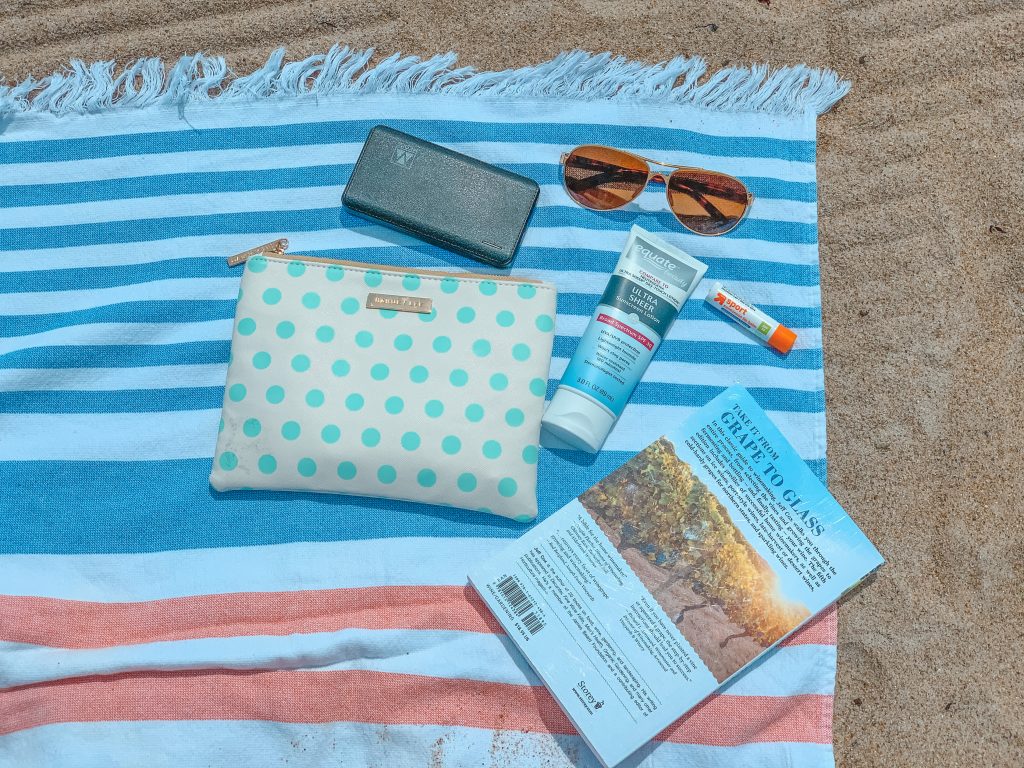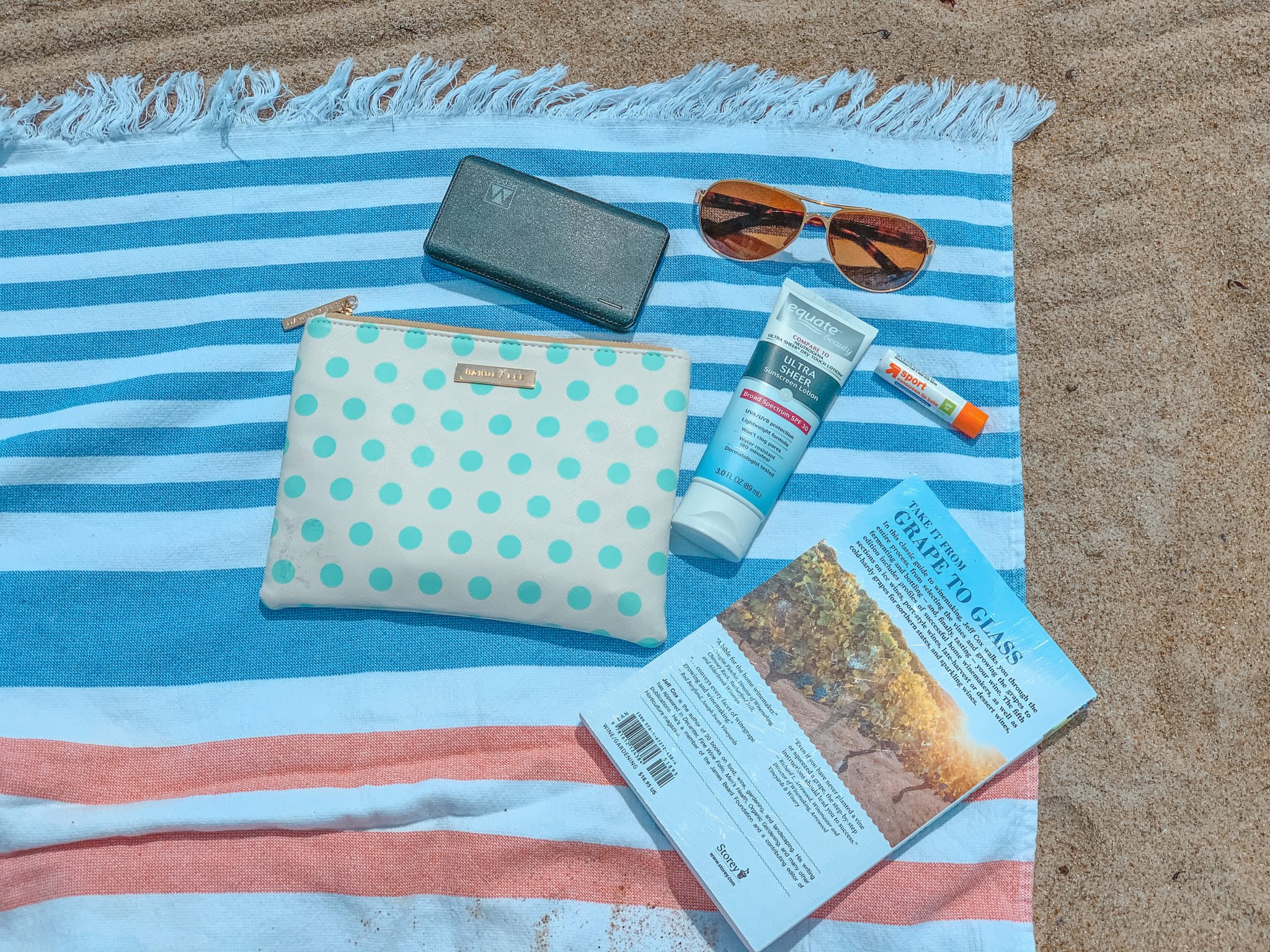 I hope that you found my beach essentials list helpful. If you don't have a beach near you, these are still great ideas for a pool day or a day at the lake. I feel so fortunate to have lots of beaches near by. If you ever get the chance to visit Maine, I highly recommend taking the time to visit the coast.
Save this post for later!