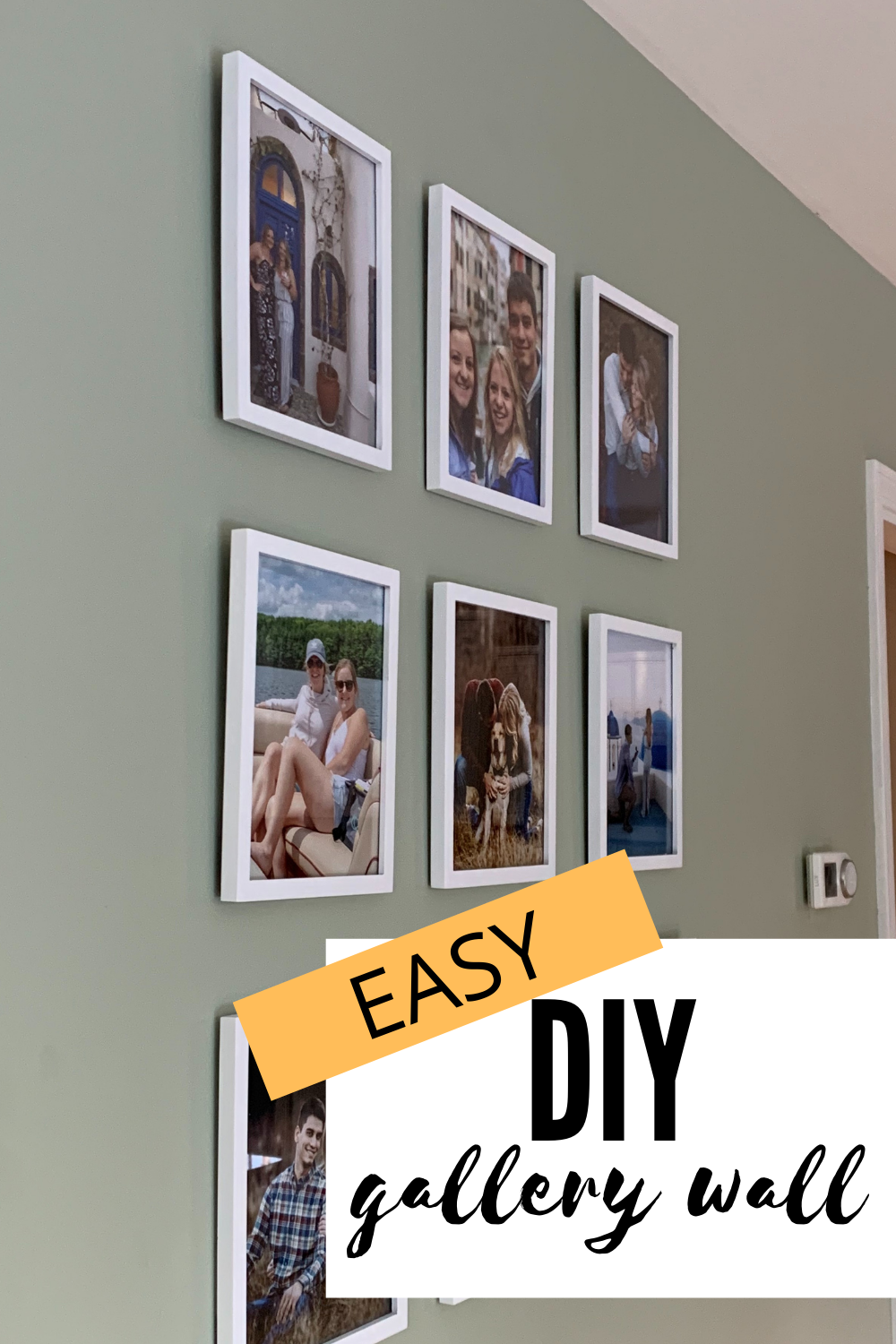 I have always wanted a photo gallery wall. I think they are such a beautiful way to display your favorite photos. However, buying all those frames can quickly add up. The idea of the project seemed like an easy DIY project. Once I got thinking about it, all the measurements and placement seemed a bit daunting. But I had so many ideas for my picture frame wall gallery that I was determined to do it myself.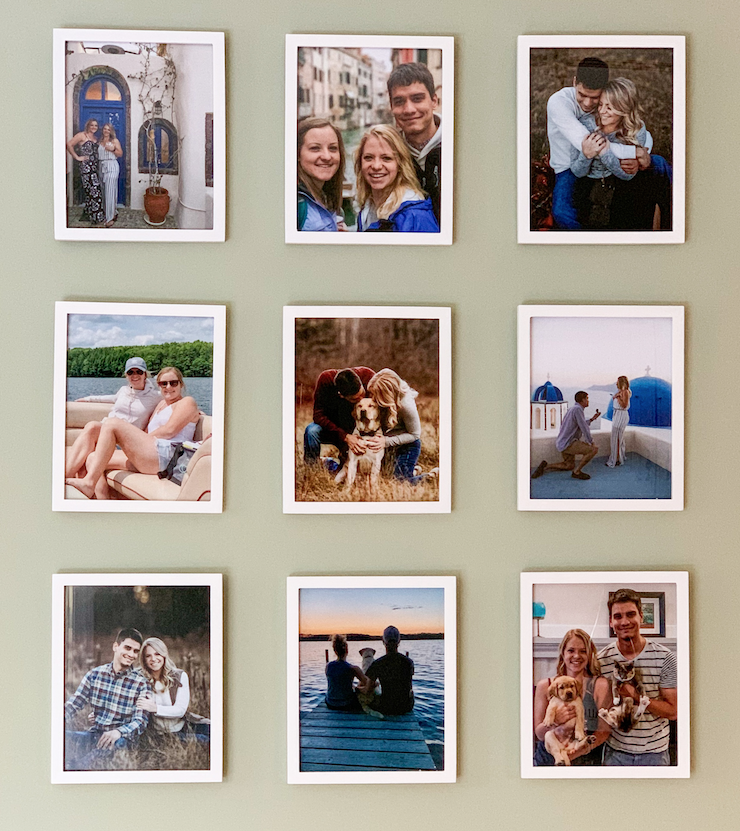 Picking out the Frames
It never occurred to me that you didn't have to buy all the frames as a set like you see on Amazon or Wayfair. An easy way to cut the cost is to pick out cheaper frames. I chose 8 x 10 picture frames, but I also really like the 8 x 8 photo frames as well. My hunt for the right photo frames started at Walmart. I was looking for the least expensive frames and I knew that I wanted them to be white. The frames with a mat were more expensive, but they also looked very classy. You could chose to buy the mats separately from the frames too. Because I wanted to keep this project under $50, I opted for the plain 8 x 10 frames with a white border. They were under $5 a piece and I bought nine to make a 3 by 3 gallery.
You can also make some very cool picture frame gallery walls with different size frames. I was looking for a more clean cut look so I chose to do all the same size.
What to Get
9 to 12 picture frames (I used 8 x 10 size frames)
9 to 12 photos ( I used all portrait orientation)
Command hooks
Measuring tape
Pencil
Level
The best part is you can order all this online and have it delivered right to your door!
Finding the Right Photos
Obviously you can put whatever photos you want in your frames. Make sure that the photos you choose are the right size for the frame and the correct orientation.
The source of your photos makes a difference as well, sometimes taking them from your phone can make them a bit blurry. I have the iPhone X and used photos I had taken on it and they came out fine. Other times I print from my phone and they are all blurry. It is a hit or miss. You can choose to print your photos from various sites online or print in store. I ordered mine online from Walmart. It was super easy to upload them, pick a size and hit the order button. I printed 8 x 10 photos and they were under $2 a piece. There is an option to ship to home or pick up in store. I chose to pick up in store. You can also print them in the photo center, but every time I went in the line was so long.
Hanging your Photo Frames
Sometimes I struggle at making things even, so I did two things to help myself out. Number one, I asked my fiance to help me. He got his measuring tape and level so we could make them as even as possible. Number two, I did not want to put holes in my walls so I bought command strip photo hangers so we could easily peel it off if we messed up. The wall I chose to hang them on had enough room for nine frames, although I would also consider doing a twelve frame wall somewhere else in my house.
It was easiest to start with the top row and measure down from the ceiling for all three frames. Then we measured one inch between the top row and second row and finally the top row and bottom row. We also measured to have a small gap between each photo, about one inch apart. The wall that I chose to hang the photos on was large, so I didn't necessarily want the gallery in the middle of that wall. You would understand if you saw how my kitchen was set up. If you are adding this photo gallery to a smaller wall, I would suggest making sure the gallery is centered. After the photos were hung, we used a level to make sure that they were all straight.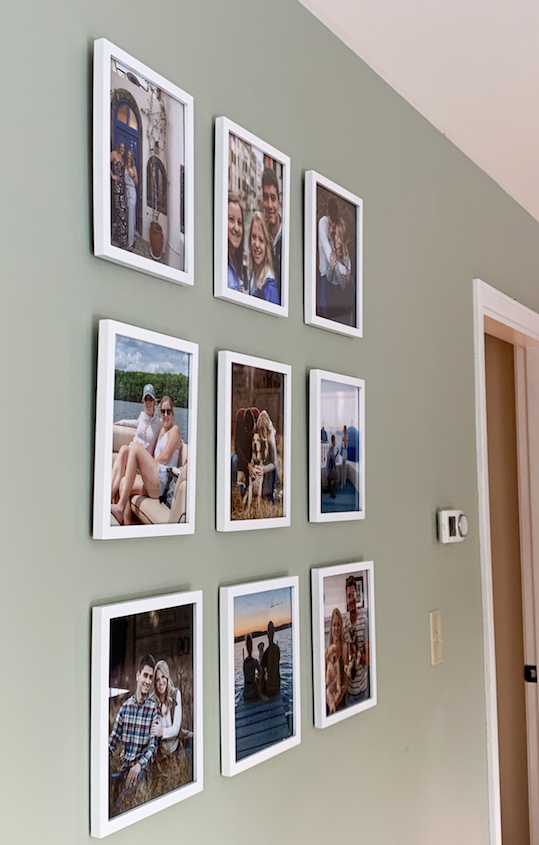 Hack
An after thought I had to help you visualize the wall, would to be to use the paper inserts from the frames as a template. You could take your measurements and tape them to the wall where you want them to go. This would make it so much easier to measure and mark the wall for the hooks.
I think a picture frame gallery wall is such an easy an inexpensive way to add to your home. I've always liked the thought of having some of our best memories on display for our guests.
If you are looking for more DIY ways to add to your home decor, check out my tutorial on DIY industrial pipe shelving. It is way easier than you would think!
Save this for later!